Jay Ducote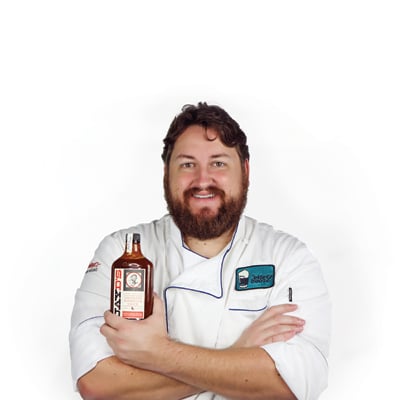 Jay Ducote didn't exactly plan to become a well-known cook, radio and television personality, and food blogger. The Baton Rouge native says he had a "typical Louisiana childhood, where there is always food."
But Ducote admits he didn't start cooking in earnest until he was a freshman at Louisiana State University in 1999. Ducote was at his first football tailgate party, hosted by his cousin.
"When I got there he handed me my grandfather's old barbecue utensils and just put me in charge of the grill. I had no choice but to learn on my own at that point," Ducote says. Word spread, and soon he was serving some 400 people on game day. "That tailgate party over the years grew into a legendary party of really rare status in the tailgating world."
Though Ducote enjoyed his time at the grill, he didn't immediately aspire to enter the cooking world. Instead, he left LSU with degrees in economics and political science – later returning to earn a master's in political science – and taught high school math for two years.
"That whole time I enjoyed cooking but never did it in any way other than just to feed myself or a few other people – or [for] recreational backyard cookout kind of stuff and tailgate parties," he says. Ducote later landed a job working for the State of Louisiana, but says he was "bored out of my mind."
That's when it dawned on him to launch a food blog, Bite and Booze, which he rolled out in 2009. "I started writing about what I had for lunch that day, just to pass time," Ducote says. "It was really more of an online food journal, but the more that I wrote about food, the more that I got interested in it, and I really found a passion for it, and I really wanted to learn more and more about it. That hobby just grew and grew from there."
Ducote's readership grew, and he started branching out into more freelance food and beverage writing. He also started entering cooking competitions, leading him to compete on a national level. In 2010, Ducote won the Tailgating Cookoff representing LSU, and in 2011 was cast as one of the top 100 amateur chefs on FOX's MasterChef. He launched a radio show on 107.3 in Baton Rouge in April of 2011, and in September of that year, he quit his day job and made food his full-time career.
In the fall of 2013, Ducote attended a casting call in New Orleans for season 10 of Food Network Star, a reality competition that awards the winner his own show on Food Network. Ducote moved through the process but ultimately wasn't cast. When casting took place last year for season 11, the network got in touch. He auditioned again and was chosen to compete.
Ducote's chops kept him alive in round after round of eliminations; he ended up making it all the way to the semifinals of the show, which aired earlier this year.
So what's next for Ducote?
"I don't know, and I don't necessarily want to know," he says. "I think there hasn't been an amount of planning that could have prepared me for everything that would happen so far. A big part of what I really enjoy about what I do is the adventure of it, and I'm totally comfortable not really knowing what's next. I get to eat and drink for a living in South Louisiana and that's pretty awesome."