Jeff Kleinpeter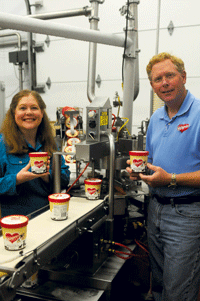 Green pastures, milk-giving cows, barns, ice cream and a large fleet of delivery trucks seem to make Jeff Kleinpeter happy.
Sure, he traverses the state on behalf of Kleinpeter Farms Dairy, working to make sure the company's customer base continues to grow, but it's an enjoyable endeavor because the 50-year-old is doing something that is programmed in his DNA. Kleinpeter is living the modern-day reality of his forefathers, who immigrated to Baton Rouge in 1774.
According to family lore, the Kleinpeters' trip to the Bayou State started in Switzerland with a brief stop in Pennsylvania. Religious freedom was the main reason the Kleinpeters left Europe.
"Yeah, we came to the U.S. because of religious persecution and a hope for a better life, a life that would be more up to the individual," Kleinpeter says. "And as a means of survival, you'd better know how to grow things to eat. That's what our family did, and today we happen to be doing what our family did when they came here. It has become a way of life."
Throughout his adulthood Kleinpeter has found himself bouncing back and forth between the dairy and his own personal interests, but there has always been some connection to his family's past that never allowed him to stray far.
Kleinpeter graduated from Episcopal High School in 1977 and went straight to Louisiana State University. Upon finishing a year-and-a-half of schooling, Kleinpeter got a job on one of the family's milk trucks for more than two years.
Eventually, he went back to LSU and graduated with a degree in marketing in 1984. Then he started a construction company.
Three years later, Kleinpeter found himself getting back into the dairy business full-time when his father, Ben, bought the company from his four brothers.
"Before that, the reason I left is that I didn't see a future there with five owners," he says. "It was my dad and his four brothers. They were all at the tail end of their careers, and the company was not energetic, optimistic or progressive."
Those missing elements aren't a problem anymore. Kleinpeter and his sister Sue Anne Kleinpeter Cox have taken the company into new territory – literally – by selling milk in different markets and putting ice cream on the streets.
Innovation is a hallmark of different generations of the family.
Original family members traveled to Louisiana down the Ohio River and then the Mississippi River before landing in St. Gabriel near the St. Gabriel Catholic Church. They moved to the area that is now known today as Highland and Perkins Road.
Kleinpeter says that his family was the first to grow a successful sugar cane crop in East Baton Rouge Parish.
"We were the first in Louisiana to have a steam-powered cotton gin," he says. "We also had a sweet potato dehydration system and a dairy."
Sebastian Louis Kleinpeter and Leon Kleinpeter Sr. started the family's modern-day version of the dairy business in 1913.
To get started, the family bought and transported 50 Guernsey cows from Wisconsin to Baton Rouge.
"All of that history makes me and my sister feel responsible that we have to hand the family business over to the next generation in better shape than we got it," he says. "And we're excited about the future of the family business."
Reflecting on the earlier generations of his family, Kleinpeter is able to remind himself that success is contingent on hard work, a sense of duty, innovation and a healthy respect for the past.
"Why in the world would you want to jump on a slow boat and take months to get to the United States?" he asks.
"Because our family wanted something better. And I'm so proud of what we've accomplished and even prouder that the people who work with us are extensions of our family."
Yet for all the history that the Kleinpeters have behind them, there is a formula the family uses to ensure that their company thrives for years to come: "You have to have a business with a solid foundation, keep it quality-minded, customer-oriented and execute new game plans on a consistent and flowing basis. Lastly, we give customers more than they pay for."
With every new and old customer Kleinpeter Dairy has, the story of the family will continue to evolve in Louisiana.
It's a tale that's centuries-old, and one Kleinpeter is happy to share.