Jennings Apiaries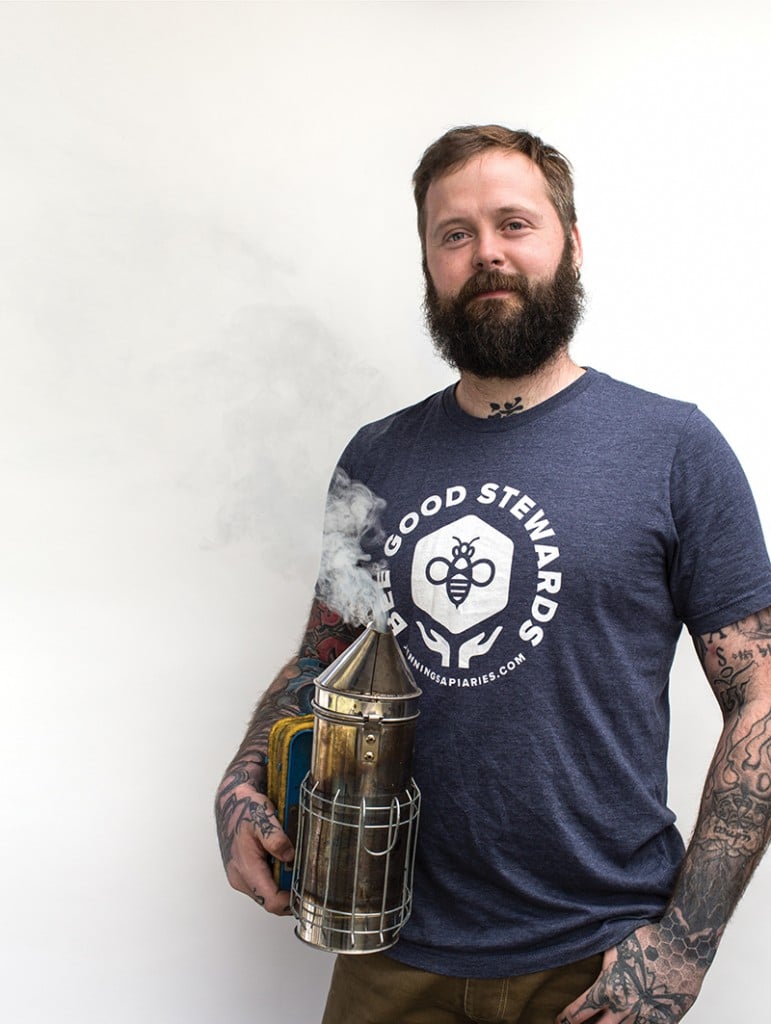 First the hum of the concrete explodes into the constant crunch of gravel. But before long that gravel gives way to little more than the whispers of the dust and a faintly familiar sound as the next clutch of beehives appears up ahead.
The heartbeat on the horizon is the buzzing that emanates far into the fields.
There's simply less out here among the hives. No conflict and no politics. The only technology in sight is a trusty old machine, that fundamental feeling of the rightness of work running on the knowledge that passionate adherence to a true purpose is what is most often rewarded in this life.
Aaron Jennings carries little with him — a veil, a standard smoker, his hive tool.
"If they get real testy," he says, "I'll put the full suit on."
But there's a lot more going on out here in the calm. When he's on the road making his weekly rounds to 120 hives dwelling on farmlands and in backyards across the parishes of Lincoln, Claiborne and Union, and harvesting honeycombs alone by hand, Aaron Jennings has plenty of time to reflect.
"It's soothing when I can observe the bees, because by watching over them, I've actually started observing myself more," says Jennings, his years of military service gleaming through when he talks about the honor of work. "The bees are so diligent. They are working before the sun comes up and work after it goes down."
Jennings' job is to render honey and wax from these hives for use in a variety of natural skin and hair care product recipes he has created — like beard oil, a tattoo care ointment, a lip balm and a honeybee face lotion.
The 33-year-old's latest creation is a richly-herbed Spicy Honey Cider, a new spin on the old folk remedy "cure-all" of apple cider vinegar. Jennings offers a raw unfiltered honey that is such a deep amber it could pass for hot gold.
Together with his wife, Lauren, Jennings packages and sells these products at markets and in stores under the banner Jennings Apiaries. Certified naturally grown, their products are antibiotic-and chemical-free.
Because nothing is treated chemically, Jennings must give utmost attention to every hive and assess what is best for each collective of bees. It might be his favorite part of the job.
But the Ruston native has always been detail-oriented and a thoughtful responder. As a senior in high school, Jennings proudly enlisted in the Air Force on September 13, 2001, and then worked four years filled with intense hours at air traffic control.
In his teens, a series of food allergies made him cognizant of what chemicals were going into his body. He began stripping processed foods from his diet, and this awareness influenced his choices of skincare products.
"Most people think of skin as this impenetrable barrier, but it actually allows things to pass through it into the blood," Jennings says.
After the Air Force, he worked as a massage therapist and quickly began researching and developing his own lotions and oils for clients.
How can I honestly say I'm helping to heal people if I'm adding more chemicals into their bodies, he thought.
Jennings has reacted quickly to everything from aching clients and acts of terrorism to his own heart when he finally felt a return home to north Louisiana and a slower pace to life was his percentage play. And here he met his wife. "I'm the brains, but she's the heart" behind the business, he says. Lauren kept coming up to his table at the farmers market and asking questions about bees, Jennings recalls.
From day one Jennings Apiaries has been about connecting. Growing business means ample opportunity to connect purposefully with locals and to hopefully impact their lives.
"No matter what business you're in, you're in the people business," Jennings says as he responds to Amazon reviews and emails about his products.
Fastidious. Just like his bees.
"We try to keep it real," Jennings says. "I get it. I buy things, too, and I like having good products, and we want to provide amazing products for people that highlight the work our bees do."
---
Q&A
What do you love most about living in north Louisiana? I genuinely like the feel of it here. I know every state and area has its own special thing, but this place for me is home. I love how genuinely friendly and caring people are for each other here. Ruston is a cool community, and it is one that is growing so much. It's exciting watching the town expand and all of the young entrepreneurs that are starting businesses here. For Jennings Apiaries and just for experiencing other great people and products ourselves, I really appreciate that Ruston supports local.
Do you have interests that help keep you balanced or fuel your creativity? I am an avid reader. I still play a lot of video games, too. I'm a self-proclaimed Nintendo fan boy. My wife is an amazing hunter and grew up spending time outdoors.
Have you gotten your hands on a Nintendo Switch? On launch day I did. Back in the day, I had an NES, SNES, and the N64 was the first major purchase I saved for and made myself. I'm surprised I don't have a Nintendo tattoo yet.
Last question: do you get stung? I get stung all the time, it's not that bad. The fear of getting stung is worse than the sting.