Jenny Ellerbe: Images from the delta parishes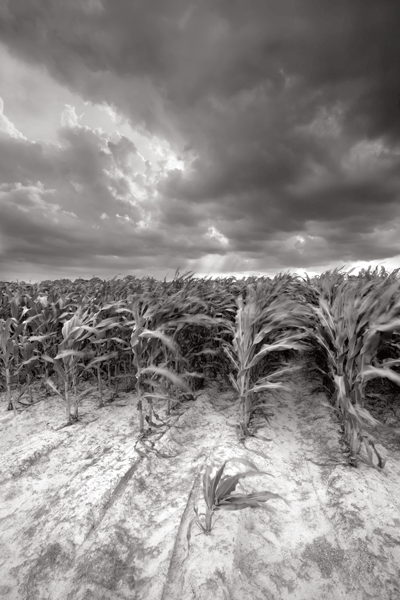 Here is Home": Those three words say almost everything about Jenny Ellerbe and her remarkable photographs of Northeast Louisiana. Here is Home is about a Monroe artist who has found her visual poetry in the dark bayous and shadows along the back roads and flat landscapes of Ouachita, Union, East and West Carroll, Morehouse and Richland parishes, Louisiana's delta country. They tell not of a personal journey that found expression in distant places but of self-discovery in a familiar landscape and among people known all along. Here is Home. This is Jenny Ellerbe's home.
"The small corner of Northeastern Louisiana [from Monroe east to the Mississippi River and north to the Arkansas state line] is too far north of New Orleans to be of much interest to anyone who doesn't live there," she says in her artist statement, describing the land she has come to know so well. "It is a region of contrasts –– elegant bayous that flow past decaying towns, rich farmland surrounded by abject poverty. It is a place that nurtured me through childhood, confined me as a young adult and called me home every time I moved away. It is a place where I have lived most of my life but that I have never fully understood. And it is that misunderstanding that has inspired me to explore what is so familiar on the surface and such a mystery underneath." She describes a region with worldly problems and of locally owned businesses where people know one another.
Here is Home is the title of Ellerbe's 2008 book –– an oversize collection of 45 black-and-white images that range from cotton fields in Ouachita Parish to a stand of sunflowers in Richland Parish. Published by Scotia Waterous in Canada, the straightforward imagery reminds one, at times, of Russell Lee, Walker Evans and other great documentary photographers who roamed the nation's rural back roads during the Great Depression to capture the real America, the suffering America. Others are like faded childhood memories of an earlier time in rural Louisiana when life was simple but hard. Still others, such as Cypress Cabaret and Black Bayou Lake Mist in Ouachita Parish, are wordless poems.
Ellerbe worries about some of her work being viewed as traditional in the sense of the documentary photographers of the 1930s. But she says: "I like the challenge. It's me and my camera, my lenses, and here's the world as I see it. The work has to be simple, straightforward and honest."
Ellerbe describes her thoughts beautifully in the essay she wrote for her book: "The photographs in this book all began as personal journeys for me. I needed to know how it felt to stand in the early morning mist surrounding a boggy marsh. And to paddle a small kayak through a bayou shrouded in deep fog. And to drink a cold bottle of Coke in a rundown store on a deserted two-lane in the middle of farmland. Mostly, I needed to know how I felt in all those places, how they affected me, and how they fit together into the life of a [S]outhern girl who always wanted to be somewhere else.
"I think sometimes that it's those quiet mornings that I am trying to photograph, sitting in a worn metal chair, with only birdsong and summer breezes to interrupt the deep silence that dwells way out in the country. Or maybe it's the feeling of belonging to a place as perfectly as a bald cypress in Bayou DeSiard or a cotton field in Richland Parish or my great-grandmother on that red clay hill in Wilhite."
She concludes: "I don't know how to explain that all of these photographs are of subjects that were new to me when I photographed them. But that, somehow, I have known them all my life. . . . There's no summing up here for me. My photography of home isn't wrapped neatly, tied with string and put away with the understanding that I have learned it all. There's still much for me to explore in this place where there is nothing going on –– nothing but lives being lived and earth being turned and time."
This poetry in Ellerbe's work is enhanced by her use of black-and-white photographs. Initially, she took color photographs during her kayaking journeys into the bayous and swamps. "Color is beautiful," she says, but there is something about black and white. "It's real but not what we see. It's like getting down to the bones of a thing without the color we see."
Ellerbe feels a spiritual connection to the delta. She talks about the flat land eroded for eons by the Mississippi River, the ancient dwellers of Poverty Point and the people who have farmed and worked the land for generations. "I feel those people, their spirit," she says. "My great-grandmother lived in Union Parish. When I was a kid, she had a vegetable garden. We all ate from that garden. I remember her out there shelling butter beans and her connection to the land and my grandfather's connection to the land. Maybe I miss that, and I find it somehow when I'm out there."
This poetry comes from the most unlikely beginnings. Ellerbe was a pediatric nurse for more than 20 years and now continues in part-time hospital consulting work to support her photography. Nursing gave her the ability to fulfill childhood dreams of being "somewhere else." For a time she lived and worked in St. Petersburg, Fla.; then Dallas; and finally in New Haven, Conn., where she worked at the Yale-New Haven Hospital. New Haven was a short train trip away from Manhattan. "I always wanted to live in New England and be able to take a train to New York," she says. "I thought that would be wonderful. Then we had the worst winter in a hundred years, and I sat in snow and started thinking about the bayou, moss and trees."
While working at Yale, she took a writing course, thinking she might like to pursue a writing career. For a class assignment, she wrote an article about the bayous and added a few photographs from back home to illustrate the story. That's when she realized how much she missed the Louisiana delta. "I was ignoring all the signals," she says. She packed up, quit her job and returned to Louisiana. That was 1997. Back home, she worked for a while at a hospital in West Monroe and then left in 2001 to pursue her growing passion for photography.
Since then, Ellerbe has begun an impressive career in photography. A self-taught photographer, she now shows her work at the Afterimage Gallery in Dallas and the Ansel Adams online gallery and in 2009 had a show at Panopticon Gallery in Boston. Her work also has been shown in galleries in New Orleans; Tampa, Fla.; Baltimore; Annapolis, Md.; Carmel-by-the-Sea, Calif.; Seattle; and Napa Valley. In addition to private collections, her photographs can be found in the permanent collections of the Museum of Fine Arts in Houston and the Masur Museum of Art in Monroe. The book with Scotia Waterous, which publishes limited edition landscape photography books, came about when Texas photographer David H. Gibson saw her photographs in the Dallas gallery, bought a couple of them and then recommended her to the editor. Gibson had done an earlier book on the Colorado plateau and Southeast Utah.
In 2007 her career took another major turn. She was invited to teach printmaking at the Ansel Adams Workshop at Mono Lake, Calif. A friend had given her a large photo printer that she didn't know how to use, so she went online and found Tom Mallonee at the Ansel Adams Workshop, who gave her a few tips. Mallonee had seen one of Ellerbe's black-and-white photographs of an old North Louisiana cotton gin in LensWork magazine, liked it and invited her to teach black-and-white photo printing at the 2007 workshop. She went back again in 2008 and in 2009 taught at Ansel Adams' famed studio in Yosemite in Southern California.
Most photographers imagine their work hanging from gallery walls. But Ellerbe thinks of her images as storytelling, as a book. In her studio, she places her photographs on a large magnetic board and then arranges them until they tell a story about the places and people who play out their roles in her imaginary storyline.
Ellerbe's growing success is only a means to continue her journey into the delta landscape. As she states on her Web site: "My goal is not just to document this area but to really crawl inside it and see what makes it unique. In black and white I am able to get closer to the bones of what I am photographing and discover images I never imagined existed.  Those discoveries, along with the sheer joy I experience through my camera, inspire me to continue."
But most important, she says, "I'd like to leave behind what it looked like and felt like when I was here."
Ellerbe's photographs can be seen at jennyellerbe.com.