"Just Say YAYA 2012" Raises Funds to Develop Young, Local Artists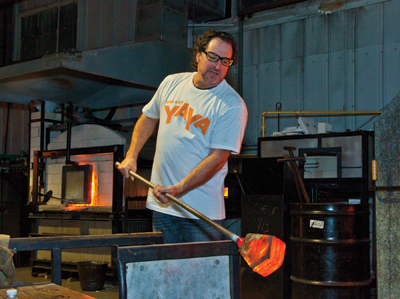 "Art for youth's Sake" was the name of the game in November at "Just Say YAYA 2012," the annual art show and fundraiser benefiting Young Aspirations, Young Artists, an after-school program that fosters artistic and professional development in New Orleans youth. This year's show also marked the first anniversary of YAYA's new Creative Glass studio in Mid-City.
Chair Beth Lambert and fellow co-chairs Tina Kern, Ashley Bright, Stephanie Huger, C.C. Langenstein, Michelle Reynoir, Linda Bjork and Katy Weil all organized an evening filled with art, music and above all positive change for our city's young artists.
The show featured original works for sale by YAYA's young artists, as well as fun and funky New Orleans-style entertainment, with musical performances by the Treme Brass Band and the Hot 8 Brass Band, and Thais Clark during the pre-event Patron Hour, which kept guests grooving. Felipe's Taqueria and Pinkberry Frozen Yogurt provided unlimited food and beverages – both big hits throughout the night.
Guests also enjoyed an exclusive live glass demo by internationally renowned artist Mitchell Gaudet, who demonstrated his impressive skills in both blown and cast glass techniques. His original pieces are now for sale on YAYA's website: YaYaInc.com.
YAYA is thrilled to have raised over $130,000, in addition to over $10,000 in art sales alone. This money directly funds the professional development and art programs that keep our youth safe with bright futures in store.
---
Event at a Glance
WHAT
"Just Say YAYA 2012," benefiting Young Aspirations, Young Artists
WHEN
Thursday, November 15, 2012
WHERE
YAYA Creative Glass Studio