katrina art: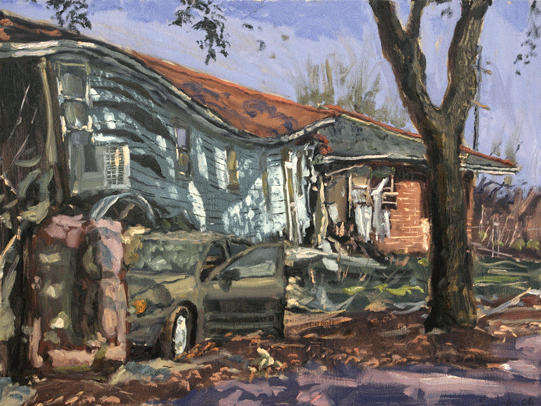 Last August, the skeletal steel hull of a long boat appeared in Lafreniere Park in Jefferson Parish to mark the fifth anniversary of Hurricane Katrina. Cut into the metal sides of the boat were quotes from Homer's epic poem The Odyssey, quotes that told of Odysseus' arduous 10-year journey home –– a journey that was more metaphysical than physical.
Singing Boat is a "boat of the psyche," says New Orleans artist Raine Bedsole. "It represents the plight
we're in. New Orleans is a water city. We're at the five-year mark, and we're doing well. Five more years, and we'll be there."
During the five years since Katrina almost destroyed the city that Tennessee Williams once described as "the last frontier of Bohemia," artists such as Bedsole have worked to express not only the physical destruction but also the unseen scars on their own psyches. Writers, poets and playwrights have vented their anger and loss in words while local painters, sculptors and photographers let the destruction and despair speak to their imaginations and art. They have felt compelled to document the catastrophe as it unfolded or in the weeks, months and years that followed.
They needed to visualize their fears about the real and mythical. They refused to be paralyzed by uncontrollable events that rushed before them. Art became an immediate catharsis.
Scores of photographers, mining the wreckage, despair and rebirth, have produced unforgettable visual documents of unimaginable horrors. As late as 2010, new books with their images continued to fill bookstores. Perhaps the most notable is Before (During) After (published in 2010 by the University of New Orleans Press), an account of how the hurricane changed the work and lives of 12 noted southeastern Louisiana photographers.
While photographers caught the immediacy of events, painters and sculptors took to their palettes and forges.
Plein-air painter Phil Sandusky was one of the first artists to climb through the ruins to capture the immediacy of the destruction. With painting buddy Diego Larguia, Sandusky spent the next three months working his way into New Orleans neighborhoods that had suffered the worst damage. First they traveled to Mid-City and then to the Lakefront around the destroyed Southern Yacht Club. They went on to Lakeview and the 17th Street Canal and finally the devastated Lower Ninth Ward. "Each time we set up to paint . . . I always had a sick feeling that we were going to be run off at any moment," he wrote in his post-storm journal. "There were so many officials and workers wearing hard hats and carrying clipboards and National Guardsmen. Quite the opposite was true. These people tiptoed around us (when not driving a front loader or Humvee) and treated us with an almost inappropriate respect." In all these areas, they caught the tragic –– homes and lives destroyed; broken and twisted ruins of shotgun houses resting upon crushed vehicles; a hulking steel river barge marooned in a sea of debris that was once a living, thriving community. His painterly plein-air works are silent but immediate images of
despair, of what had been lost and of uncertainty.
Not all artists, however, responded immediately. Rolland Golden's inspiration came slowly as the images of destruction consumed him. While painting the Katrina series Katrina – Days of Terror, Months of Anguish (featured at the New Orleans Museum of Art in 2007), Golden relived much of the same anger that drove him in the 1970s to paint the destruction of entire city blocks of 19th-century buildings in the New Orleans Central Business District to make way for parking lots and new high rises. "Emotion is easier to capture in difficult times than in good times," he said during an interview at the time. "It's like being a masochist and hurting yourself every day. We express our deepest souls during times like these. It was much more personal, and I'm in there by myself, living in this depression." Ironically, the storm and flood reawakened Golden's love for New Orleans. "I was tired of the making-a-living aspect of being an artist," Golden said in the interview. "I was ready to retire. It's a constant struggle, but this has inspired me and rekindled my passion for the city. What a shame it took such a terrible event to rekindle that passion. It's the crowning work of my career."
New Orleans painter and sculptor Robert Warrens and his wife, Sylvia Schmidt, evacuated to Baton Rouge as the storm approached. A week later, they returned to New Orleans to check on their houses and her gallery on Julia Street in the New Orleans Arts District. Bypassing guards, they eventually made their way to Julia Street but could not get into Lakeview. They thought they might enter by boat, but the water was too high, and electricity poles were down. It was too risky. Flooded Lakeview triggered an idea in Warrens' mind to paint an image of Sylvia and himself boating into their flooded neighborhood in search of Sylvia's house. Two months later, he completed the series Viewing Lakeview after the Levees Broke. "It was a fantasy rescue," Warrens says. Actually, all of the images in this series are fantasy. New ideas surfaced from the water.
Australian-born New Orleans artist Simon Gunning also felt compelled to capture the gut-wrenching enormity of what happened in the city, including the much-reported Lower Ninth Ward. He didn't have to go that far to witness the destruction. From a window in his crowded gabled studio, he could see his ravaged early-19th-century Marigny neighborhood, including a house burning in front of his eyes as he watched from his vantage point above rooftops. "It was very depressing for me," he says, recalling those days shortly after he returned in late September 2005 to an almost totally abandoned city. "There was nobody here, and [there were] these helicopters going over, dropping bags of water to put out the fire. It was very real." That scene resulted in the painting Looking North from My Studio Window, October 5. The destruction, the hopelessness, the silence were real and at his doorstep and as far as he could see. His challenge was to express that emotion on canvas.
New Orleans painter Henry Casselli, whose portrait of President Ronald Reagan hangs in the National Portrait Gallery in Washington, D.C., responded to the destruction and despair with a series of imaginary scenes of frightened and desperate survivors surrounded by putrid floodwaters. They have the immediacy, energy and drama that come from spontaneous and intuitive reactions to horror. In the graphite sketch Stranded, people sit on rooftops, water up to the eaves, waving flags at unseen helicopters or boats. We see the lawlessness in the menacing stares of four young men in the drawing Survival of the Fittest. Among the images of destruction and despair, Casselli offered a glimmer of hope for the city's recovery in Some Say Our Music Will Lead Us Back.
New Orleans sculptor Lin Emery's post-Katrina sculpture reflected her angst. One polished aluminum piece she called Katrina represented the "angry water" that destroyed so many lives in the city and region. She describes the piece as "much more violent" than her other work. "The shapes are not soothing," she says. "All my work is organic, but Katrina has harsh, sharp elements." Emery rode out Katrina in her Uptown New Orleans home. "I was terribly upset by Katrina," she says. "I was here watching everything flying around." Five days later she left town with a friend, first for Shreveport and then for New York. In borrowed space at the Art Students League in New York, she began sketching and making cardboard patterns for her new work, Katrina. "It was the direct result of my horror of what happened," she says. Emery returned to New Orleans in November 2005 and, with staff members still in town, immediately went to work on the metal sculpture.
Cuban-born New Orleans artist Luis Cruz Azaceta's response to Katrina is his series Local Anesthesia. Considering the power of his images, there is nothing anesthetic about this work. Rather than easing pain, they graphically reminded viewers of the great tragedy. The mixed-media paintings N.O. Pool and N.O. Flood, for example, drowned the city in pools of black water. His compelling photo-collages True Value: 9th Ward and Katrina Debris speak to the lives lost and homes destroyed. Here he pieced together photographs of lifeless neighborhoods; wrecked houses and churches; and mountains of felled trees, building materials and the remnants of people's everyday lives.
Perhaps the most poignant work in the series is At the Bottom of the Pot, a series of color photographs of storm destruction and survivors wading through floodwaters to safety. Mounted to the bottoms of metal pots and pans (a nod to the city's important place in American cuisine), photographs show the faces of the "bottom-of-the-pot" poor, elderly or infirm people who could not or did not evacuate the city before the storm struck. He captures their struggles to survive. The large installation piece, Cascade, with ordinary household goods strung out on wires "cascading" from a bicycle wheel, created the illusion of flood debris that covered the city like an 80-square-mile garbage dump after the waters receded.
Ironically, Katrina and its destruction produced great art, perhaps the most dynamic art in this city's history. As Rolland Golden said of his critically successful Katrina series, "It's the crowning work of my career."
Five years later, Odysseus is only halfway home.