Kermit Poling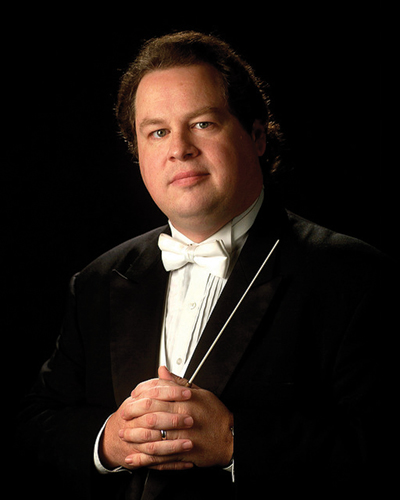 Kermit Poling is a man of many notes – music notes.
The Cleveland-born Poling first moved to Louisiana in 1985 as a concert master of the Shreveport Symphony Orchestra, a position he held for 27 years before becoming its conductor. He is now music director of the South Arkansas Symphony and the Shreveport Metropolitan Ballet and general manager of Red River Radio. If that weren't enough, Poling performs around the world as a violinist and conductor, and he's a busy composer. He's also in a string quartet.
It all started out innocently enough. Poling started playing the piano at age 5 and picked up the violin at 6 after he saw a demonstration of string instruments at his school. "My parents didn't find out about it until after they got the bill," he says.
Poling also started writing music at an early age. "As a kid I always used to write music on the piano," he says. "I guess I was blessed with a creative urge. But for a long time I didn't take my composition skills that seriously."
The band and orchestra teacher at Poling's high school noticed his talents and encouraged him to write for larger ensembles. This encouragement would prove pivotal in Poling's career trajectory.
Snow White, Poling's first ballet, premiered at the Shreveport Symphony Orchestra in 2003. His other ballets include The Wizard of Oz, Phantom of the Opera and Aladdin. The Oklahoma City Ballet commissioned him to write Beauty and the Beast, which they will premier in 2014.
Poling's list of works and accomplishments is long, but he has a few favorites. He's particularly proud of his work No Sound of Trumpet nor Roll of Drum, which honors the 150th anniversary of the start of the Civil War and premiered in 2011. Heavy research and period texts helped Poling frame the piece. "In a lot of ways it's one of my favorite works," he says.
Poling has written scores for silent films such as 2003's The Silent Treatment and a re-edited version of the original Tarzan of the Apes, which was shot in the Atchafalaya River Basin in 1917. He also contributed the score to the documentary Tarzan: Lord of the Louisiana Jungle, produced for the 100-year anniversary of the Tarzan character in 2012.
Poling's other accomplishments include scoring the plays The Glass Menagerie, Memoirs, Elektra and many more. In 1998, Emmy Award-winning artist William Joyce chose Poling to compose the soundtrack to his stage production of The Leaf Men and the Brave Good Bugs.
He's also transformed Red River Radio, where he's been the general manager for the past six years. "We've replaced all of the transmitters, put in beautiful new studios and all new technology," which involved a lot of tireless fundraising, he says. "It's exciting from a standpoint that it hadn't been done before."
As maestro, Poling has had the privilege of conducting orchestras performing his own works. "I've been fortunate to conduct most of my orchestra premiers," he says. But he does admit that after all these years, he still gets a little nervous.
"The premier is the most nerve-racking part for me," he says. But there's a deep satisfaction when the band strikes up and he settles in.
"There's nothing," Poling says, "like having musicians play your work."