Kerry Boutté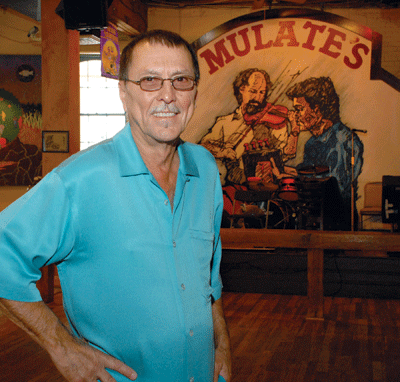 "Still today, I judge everything by what my mother cooked," says Kerry Boutté, the restaurateur of Mulate's fame.
Boutté rattles off his favorites of his mother's dishes: a "fabulous" crawfish bisque, rice and gravy, gumbo, fried chicken, slow-cooked beef. Boutté was born in tiny Arnaudville, the son of an oil-driller and a cook – his mother owned a restaurant called Teche Drive-In. It was here Boutté first began cooking.
After stints in the military and as a butcher, he went to work for Don's Seafood restaurant in Morgan City. Boutté learned the restaurant business inside and out, gaining the experience he needed to open his first restaurant, the original Mulate's in Breaux Bridge,in 1980.
"I had the idea to do a Cajun restaurant," he says. "There was really no such thing until I decided to
do it." His restaurant opened before Cajun cuisine, music and culture became commercialized.
"We started out in a little place, and we had a staff of four people," Boutté recalls. "And no one came."
Business was slow until Boutté connected with bus tours coming through the area. The tours would stop at his restaurant, and almost overnight the venture became successful.
"We got so famous so fast," Boutté says. That first year, 40 tour buses came to his restaurant, and it later ballooned into 800 buses a year. "That's when it evolved into a tourist idea."
Boutté knew he had a concept that was salable with out-of-towners who wanted a taste of Cajun food – and music.
He started hosting Cajun musicians early on, creating an atmosphere that has made his restaurants famous.
Boutté says moving into the New Orleans market was a natural progression for his business. "New Orleans was always a place I wanted to be," he says. "New Orleans is a tourist mecca. Hotel concierges love to send
them to us."
In 1990, he opened Mulate's in New Orleans on Julia Street, just across from the Ernest N. Morial Convention Center: the perfect spot for drawing out-of-town patrons.
"We've been in New Orleans for 20 years, and on any given night you can go into the restaurant and see the smiles on people's faces," Boutté says.
He describes his dishes as: "a classic taste with our spin. You can't really say you created any of these dishes; you just tweak them." His chefs serve up such staples as crawfish étouffée, red beans and rice and seafood gumbo, in addition to unique dishes such as grilled alligator pasta, miniature meat pies and Cajun-style barbecue ribs. It's a menu that's won numerous awards and media attention over the years.
The restaurant business is a risky one, but Boutté seems to have an inborn knack for filling tables night after night. "I'm kind of a Cajun pirogue gambler," Boutté says. "I don't have an education, but I have creativity."
Boutté's daughter, Monique Christina, joined her father's business in 1997. An accountant, she adeptly took over the financials, ensuring the restaurant's continued success. "My daughter, she is my heart and soul," Boutté says.
"She has been a blessing to me. She transformed the restaurant with a lot of good management and marketing."
Boutté laughs as he recalls his 20 years in the restaurant business, hosting celebrities including Joe Cocker, Bob Dylan, Geraldo Rivera and more. "There are hundreds of names," he says. Robert Duvall stayed at a home of Boutté's while filming The Apostle. Duvall, who acted in and directed the film, named a town in the movie Bayou Boutté after his new friend.
But the ultimate highlight has been sharing his beloved culture and cuisine with the world.
"It's such a great honor and a privilege," Boutté says, "to own something that exposes the essence – the
joie de vivre – of our Cajun culture every night."