Kip Holden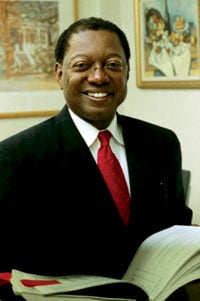 State Sen. Melvin "Kip" Holden, a Democrat, made history Nov. 2 when he was elected as Baton Rouge's first black mayor-president. East Baton Rouge Parish has a consolidated city and parish government, and for Holden, the big challenge was getting elected in a parish where only 36 percent of the registered voters are black.
Holden, who had lost two previous bids for mayor-president, said the key to his victory was his perseverance and his ability to cross racial lines to get the support of white voters. He added that the big difference was the long list of endorsements he received from white, high-profile elected officials and business leaders.
During the campaign, Republican incumbent Mayor-President Bobby Simpson unleashed a barrage of political ads that attacked Holden as a pro-tax, anti-business liberal. Looking back, Holden says he thinks Simpson's ads backfired. "When he first started running those attack ads, he seemed to pick up a couple of points in the polls. But then he started dropping."
Simpson emphasized his ability to continue delivering city services in spite of the economic setbacks caused by the terrorist attacks of 2001. But public safety also emerged as a major issue in the 2004 mayor's race, due in part to the terror generated by two serial killers who roamed Baton Rouge streets during Simpson's term.
A major plank in Holden's 2004 mayoral campaign was to improve community policing and to settle the long-running labor dispute with the police labor union that had dogged Simpson for his four years in office. Holden easily won the endorsement of the International Union of Police Associations, which represents the officers of the Baton Rouge Police Department.
After winning the Nov. 2 runoff against Simpson with 54 percent of the vote, Holden pledged to deliver the $8 million per year pay raise that Baton Rouge City Police labor unions had unsuccessfully demanded of Simpson. "We will have safe neighborhoods again. We cannot prey on one another, we must pray for one another," Holden said. Besides public safety, Holden emphasized the need for the mayor-president to get involved in improving the public school system. Three days after his election, Holden announced a diverse group of leaders that included a black minister, a black school board member and three white supporters that would help organize his new administration.
Holden's success isn't surprising to John Cade, a former Scotlandville High School teacher who taught Holden for three years. Cade remembers Holden as an honor student and track star with a talent for organizing students. A long-distance runner in high school, Holden got his nickname from Kip Keino, the Kenyan runner who won medals in the 1968 and 1972 Olympics.
Cade recalls that during a high school class trip to the Louisiana Capitol, Holden talked his classmates' way into the Governor's Mansion. "I remember telling him, 'Kip, Gov. McKeithen is not going to let you into the Governor's Mansion.' But you know what? The governor did," Cade says.
Holden was elected to the Louisiana Senate in 2001 after serving 13 years in the Louisiana House of Representatives.
A lawyer and adjunct professor of law at Southern University School of Law, he served as a Baton Rouge councilman from 1984-88. Prior to that, he worked as a reporter for New Orleans and Baton Rouge radio and TV stations.
Holden still lives in the Scotlandville neighborhood where his parents ran a local bar called Holden's Powerhouse. The new mayor and his brother still operate the bar today. "We keep it open as a tribute to my parents," Holden says.
After graduating with honors from Scotlandville High, Holden enrolled in predominantly white Louisiana State University, where he earned an undergraduate degree in journalism. Holden went on to earn a master's degree in journalism from Southern University and a juris doctorate from Southern University School of Law.
He is a recipient of the Brown Pelican Award sponsored by the Friends of the Environment and Citizens for a Clean Environment. Holden is also a recipient of two Outstanding Legislator awards, one presented by the Sierra Club and one by the Louisiana Association of Educators.
Despite his past experience and honors, Holden will be entering the highest-profile job of his career when he is sworn into office Jan. 3 – a job that could also make him an influential player in state politics.
For Kip Holden, the story is just beginning.