Lafreniere Park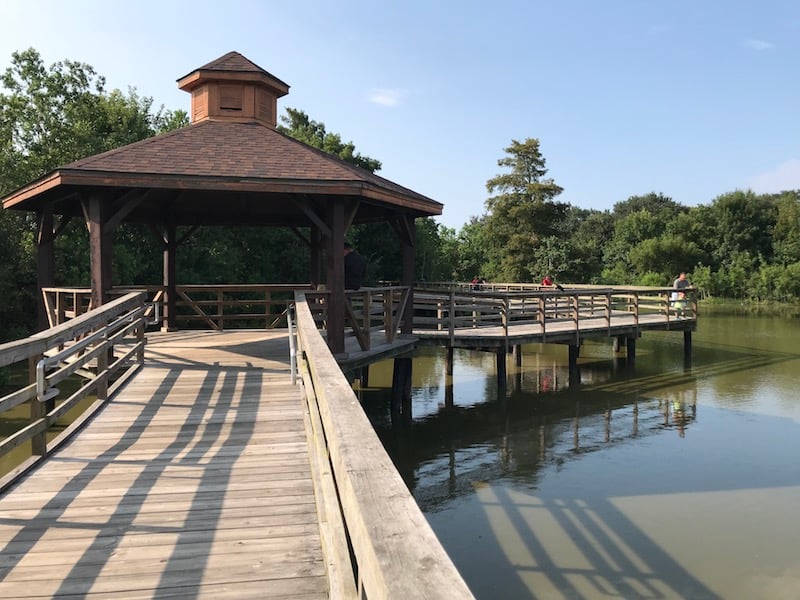 New Orleans has two centralized parks — the historic and beautiful City Park and Audubon Park — that offer a wealth of activities for visitors and residents alike. One of the lesser-known parks in the New Orleans metropolitan area, that's also a must to visit, is Lafreniere Park in the suburb of Metairie.
Lafreniere was built as a green space for nature lovers with landscaped gardens, boardwalks through man-made ponds and a bird sanctuary, multi-use sports fields, a championship Frisbee golf course, dog park and a children's spray park, among so much more. Future plans include a labyrinth and additional picnic shelters to complement the numerous places for families and friends to gather.
One of the park's favorite features among visitors is the trail that skirts the lakes, travels through covered picnic areas and gazebos, gardens decorated with fountains and statues and alongside a bird sanctuary that attracts a variety of wildlife, including ducks, wetlands species and migratory birds. On a recent Saturday afternoon we spotted a huge group of black-bellied whistling ducks with their trademark orange bills and legs, ducks more common to Texas and south Florida. They share space with white ibis, a bird of the wetlands that visitors will love to spot, and swans, geese, more common ducks and cormorants. Waking along the boardwalk we also spotted several raccoons and an adult nutria followed by her baby.
The Spray Park featuring 4,000 square feet of water fun for children ages 10 and under is open from noon to 7 p.m. daily from Memorial Day weekend through Aug. 16. From now until Sept. 28, 2018, the 13 water features are only open on weekends. The cost is $5 per person per 90-minute session.
Picnics and family gatherings are welcome in Lafreniere Park and sporting events occur regularly. Follow the Lafreniere Park Facebook page for a listing of upcoming events, which include live bands, the Metry Market at the Park farmers and seafood market, fireworks displays, holiday happenings and the Nov. 2, Pet Fest.
facebook.com/LafrenierePark
facebook.com/metrymarket