Lakefront Legacy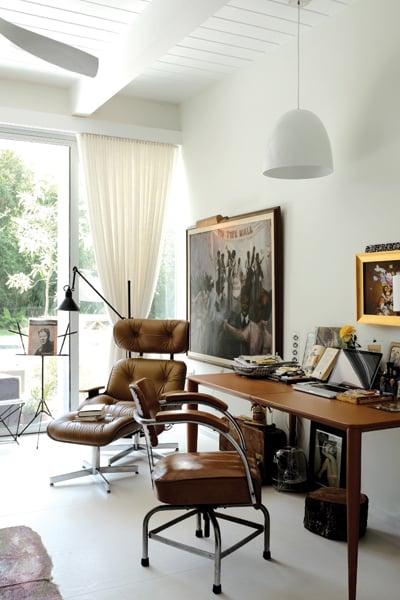 Seven years ago, Maury Strong and her husband Ron Caron were living in a condo in a 19th-century Garden District building when the former got the itch to move. Strong is a filmmaker, architecture aficionado and serial mover and renovator and Caron is a teacher, poet and musician. Lying in bed on a Saturday morning, she trolled the net for real estate listings and came upon an iconic, 1953, midcentury modern house designed by renowned architects Curtis & Davis. (The Mercedes-Benz Superdome is one of the firm's most notable projects.) The next day, Strong and Caron went to a showing of the house with their friend, architect Wayne Troyer in tow. Fifty-plus years, flood damage and a poorly handled renovation by previous owners had left the Lakeshore property in need of repair.
Nevertheless, the couple who lived in Sydney and Los Angeles before returning to their native New Orleans, connected with its California-modern lines, indoor and outdoor living spaces and notable pedigree. So did a slew of other buyers. Four offers preceded their own and the dream was put on the backburner.
Two months later, all of the other parties dropped out and owning the home became a reality. The couple spent two years collaborating with Troyer to restore elements of its original architecture and give it a fresh reinterpretation for today.
"We had a big dream and those things take time," says Caron, who coincidentally grew up a half-block from the house. "We had to do it right."
Top Left: The master bedroom's platform leather and walnut Parallel Wide Bed, Design Within Reach Outlet eBay Store. Bedding from West Elm. Top Right: The pool is surrounded by painted smooth concrete coping. Bottom Images: The Ipe wood deck acts as a pool edge at the pool entrance. The lily pond next to the pool contains gold fish, lily pads, lotus plants and a lucky crawfish named Lefty. A light cove behind the entrance acts as a night-light through the transom window above the door. Additional landscaping in front is by Taylor Williams of Will Garden.
Troyer and studio associate Natan Diacon-Furtado worked closely with the clients to develop a restoration and remodel that expressed their personalities. Their mandates included a pool (the 12,000-square-foot corner lot provided ample space), a large master closet, a kitchen where they could indulge a shared love of cooking and an environment that combines aspects of their favorite places — Sydney, Los Angeles and Palm Springs. Troyer, who had the original architectural plans, also considered every component of the project with Curtis & Davis in mind. "His motto was 'if Curtis and Davis were alive today with the technology available and they would have done it, then we'll consider doing it,'" says Strong. The striking renovation was featured in the May 2017 issue of Dwell.
Key to the restoration was the recreation of the four-foot cantilever over the sliding glass doors overlooking the yard. The rectangular footprint, exposed beams, clerestory windows and window bays overlooking the yard were all original, but the previous renovation eliminated the overhang by extending the outer wall of the house.
"It was a defining quality of the house as well as a strategy for shading that needed to be restored," says Troyer.
New architectural iterations also took their cues from the original architecture. Troyer respected the grid layout when reconfiguring rooms to allow for a large master bath and walk-in closet and designed walnut wing walls to replace the wood partitions that originally stood in their place. The pool, a collaboration between Troyer and Evans + Lighter Landscape Architecture is so similar to the house in its simplicity and economy of design that it's hard to imagine the house existed without it.
The interior — a marriage of white walls, French limestone floors, custom walnut cabinetry, contemporary lighting and modern furnishings, both vintage and reproduction — is undoubtedly lighter than its 1953 incarnation. The home's minimalist design manages to evoke authentic period style while also being very of-the-moment, a combination that suits the owners well.
"We love it so much," says Strong. "We thank Wayne every time we see him for giving us our dream home.

Maury Strong and Ron Caron.


Left: The living room's vintage Barcelona chairs belonged to Al Hirt, Ron's former, late father-in-law. Velvet Como Sofa from Design Within Reach Outlet eBay Store, French limestone flooring from Stafford Tile & Stone. Right: The pool was designed by Wayne Troyer of Studio WTA and Evans+Lighter Landscape Architecture.


Left: The wet bar's custom cabinetry is by Conner Millworks. Right: The remodeled kitchen features a tile backsplash by Stafford Tile & Stone.