Late Season Holiday Adventures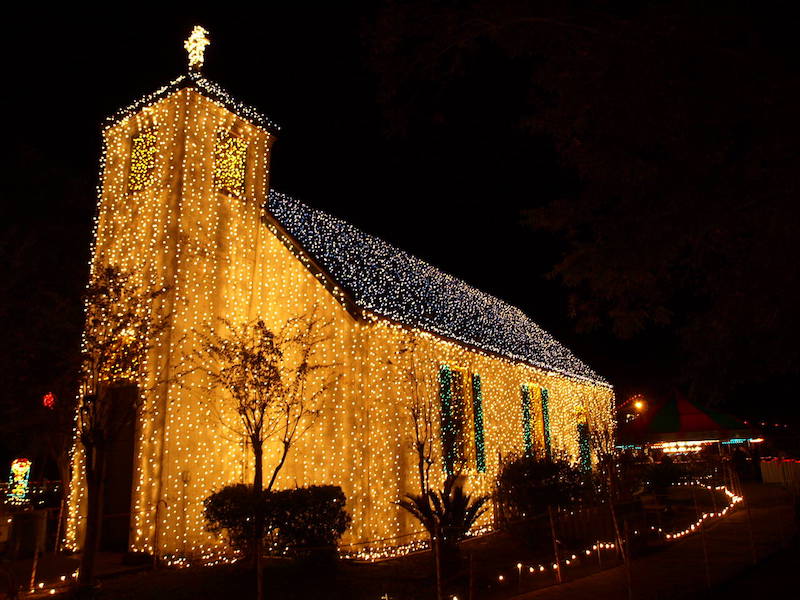 As we head into the holidays, the events trickle down and the kids are home from school, you might wonder what there is to do to keep the little tykes busy. Across Louisiana the lights are twinkling, the right opportunity for a car ride once the sun sets, and a few places still have holiday events. Here are a few to choose from.
Lafayette
Until Dec. 23, Acadian Village will be lit with half a million lights as well as serve up Cajun food and live entertainment from 5:30 p.m. to 9 p.m. nightly. This annual fundraiser is a crowd pleaser and doubles as a great shopping experience in their store full of local gifts. Cost is $10 at the gate, $8 in advance. Info: (337) 981-2364, AcadianVillage.org.
Natchitoches
This year marks the 93rd annual Festival of Lights, with more than 300,000 lights and 100 lighted sets illuminated in downtown Natchitoches and Cane River Lake. The festival offers lots of events through Jan. 6 but the lights turn on every evening at dusk. Additional information can be found here.
New Orleans
A million lights have been placed within the oaks and throughout 25 acres at New Orleans' City Park for the 33rd anniversary of Celebration in the Oaks. Enjoy the lights or take the opportunity to visit the Botanical Garden, Storyland and Carousel Gardens Amusement Park.
Also in New Orleans late in the season is the NOLA ChristmasFest Dec. 20-31, a family friendly event that includes a 50-foot Ferris Wheel, ice slides, nightly children's book reading, ice-skating with Santa and the Tinsel Terrace Tavern Bar for adults. NOLA ChristmasFest will be open 11 a.m. to 9 p.m. daily, rain or shine, at the New Orleans Convention Center.
Ruston
It may not freeze this December but Ruston offers ice skating through Dec. 22 at its Historic Fire Station, 220 E. Mississippi Ave. in downtown Ruston. Admission is $10 per person for an hour of skating. Hours are 4 p.m. to 9 p.m. Thursday and Friday, 10 a.m. to 9 p.m. Saturday and 4 p.m. to 9 p.m. Sunday. Additional information.
Baton Rouge
The Baton Rouge Zoo offers a festival mile-long illumination with sculptures of animals and holiday displays from 5:30 p.m. to 8 p.m. nightly (except for Christmas Eve and Christmas Day) through Dec. 30.
Lake Charles
The 12 Days of Christmas with thousands of festive lights are posed along Lakefront Drive in Lake Charles, but you can also spot lighted oak trees along Shell Beach, a Christmas tree at Prien Lake Park and an eight-minute, computerized musical light show at Trinity Baptist Church, among others.