Leather Bound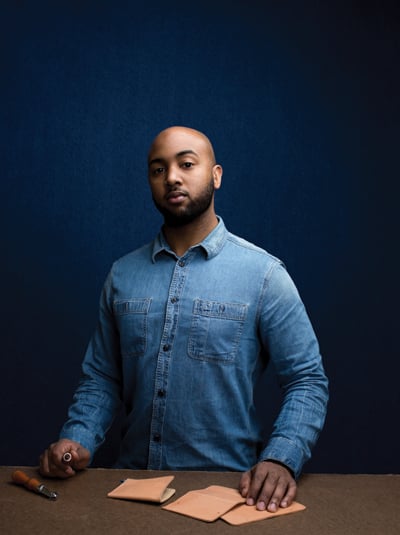 At first glance Damien Mitchell's workspace, nestled in one of Baton Rouge's older residential districts, could be mistaken for the home base of just about any creative in the newly surging, social media-fueled makers movement. A smattering of Apple products lay about the clean lines of a Mid-Century modern couch.
Alabama Shakes and Tame Impala record covers rest on the wall. And tacked above piles of schematics, drawings and work-in-progress are hand-written goals, polished sketches and tangential inspirations on a mood board of sorts aimed like a Nerf gun at the year ahead.
Clad in a red flannel shirt with lumberjack check and burgundy-brown leather boots, the 25-year-old pours herbal tea for his guest.
One of his own creations, not for sale unfortunately, is an image of old-school Air Jordan sneakers levitating above the ground and subverted with a sharply succinct caption: "Vanity." Swoosh.
It's no surprise then that the maker label has not sat well with Mitchell until very recently.
"I struggle with the 'maker thing,' because it kind of gets a bit cliché," Mitchell says. "A lot of times it's just traditional patterns, nothing unique, nothing original to the design, but it's nice materials and it's handmade the maker can charge an extreme amount of money for it."
Where many makers are devoting themselves to preserving practices that are in some cases long lost, Mitchell's goal is innovation. He studied industrial design at the University of Louisiana-Lafayette where he worked on projects for new electronics, clothing, automobiles – one of his professors was on the team that designed the very first Ford Mustang – and even pitched futuristic conceptual designs to director Rian Johnson (Star Wars: Episode VIII), for the filming of Johnson's 2012 thriller Looper in New Orleans.
Mitchell keeps a day job as a designer at a local engineering firm, but this son of a seamstress who grew up around his aunt's tailoring shop has a real passion for working with his hands.
"Any time there's a pen in my hand, I'll be drawing a shoe," he says.
In college, Mitchell apprenticed at Musso Shoe Repair where he learned how to make footwear from men twice his age. For the past two years, he has worked almost exclusively with leather. His slim wallets reveal a love for Japanese minimalism and all things Apple. They look a bit like two U-shapes spooning each other and are perfect for the man that doesn't want a cheeseburger-thick back-buster in his pocket.
Mitchell sources his material from Tandy Leather Factory in Metairie, making the trip there twice a month to flip through hides and brush his hands over each piece.
"I like to make sure I'm getting the best ones," he says.
Though he has notebooks filled with more complex handbag and backpack designs and even some completed shoe prototypes, he knows he has to take things slow. He's a one-man operation – for now.
"The challenge is to create products simple enough for me to manufacture on my own but good enough for people to want," Mitchell says. "That's the struggle. How do I get past that roadblock? Continue to make better designs. Good design will get me there."

Q&A
There are so many smaller brands out their taking a more hand-made approach to their products. But who do you see being innovative?
Tanner Goods in Portland is great. I like a lot of their products. I'd say their leather turntable slip mat is my favorite of theirs, because it's such a simple product that typically wouldn't get much attention, but because of Tanner's execution you want to show it off. There's also a French company I like called Côte Et Ciel. Their approach to backpacks is unorthodox but still completely functional. I like their Isar rucksack.
Do you have any inspirations that might surprise people?
I find graphic design inspiring. Massimo Vignelli basically revolutionized advertising and graphic design in the States when he came over from Italy. Women's fashion is inspiring. I don't know if it shows up in my work, but I look at it a lot. I follow Anna Wintour, Vera Wang and Chanel on Instagram.

Let's say you can only own and wear three pairs of shoes for the rest of your life. What do you choose?
Clarks Desert Boots, a pair of Air Jordan 1s, and some Vans Authentics.

What do you do for fun when you're not working?
When I'm not working, I'm working. I'm always drawing and trying to make new things. I play darts at Radio Bar. I have a motorcycle, and I work on that a lot, ha ha. I probably work on that more than I ride it.

What's the best piece of advice anyone has ever given you?
"Don't try to figure everything out before you start. Learn along the way."
More information, damienmitchell.us