Let's Make Carnival Parades Better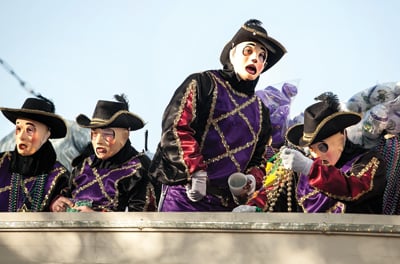 By now practically every Carnival organization in the state with enough gumption to stage a parade also has a website, even if it is put together by a neighbor's 14-year-old. Looking at what is online I have concluded that there are some organizations that should have neither a parade nor a website.
I won't reveal its name but on one website there was a picture from a float that was absolutely sloppy. The riders on board where a bunch of guys mostly bedecked in various sweatshirts, or in whatever was left hanging in the dorm closet. They wore no masks. They had no costumes. They looked sloppy.
Many other parades in various communities have no greater standards, and Carnival suffers because of it. There is a fine line between rigidity and celebration but sometimes it takes structure to make the celebration worthwhile. Imagine a football game if the players dressed how they like; there would be no look, no symmetry, but just a bunch of guys being haphazard. Suppose the marching band had not practiced, so instead of uplifting fight songs, there were discordant notes. Spectacles, when done right, need to have some style.
In New Orleans there are laws in the books that riders must be masked and must be costumed and the same floats cannot be overly repeated on the same streets. The really good parades design their own floats, have themes and stage original parades each year. Their riders throw beads, but the experience is not about the throws but of staging an ancient urban celebration – one worth seeing.
Granted, doing right is more expensive, but that is OK. On matters of Carnival I am a Darwinist. If a krewe cannot afford to put on a good show, it should not be allowed on the public stage. It is better for a community to pool its resources and have one really good parade than to block the highways for a group of embarrassments. And if done correctly the parade could reflect local cultures and create work for designers and costume makers. Each community could develop its own quirks and style.
My concern about bad Carnival parades is that they disillusion those who have heard about Mardi Gras in Louisiana and who think that what they see is representative of the whole. Also, without the magic there is nothing to inspire a new generation to want to be involved other than for the shallow experience of tossing beads while drinking a beer on a moving vehicle. Carnival should deliver more than that.
Several years ago Jefferson Parish, which borders New Orleans, became concerned about its parades devolving. There were too few bands; the floats were worn out; masking was not enforced. One council member took the initiative and, working with Carnival promoters, introduced breakthrough legislation that, over several years, set standards for better parades, including setting a minimum for the number of bands. Jefferson Parish did the right thing, and when the law fully kicks in, its people will have a celebration that they deserve.
Carnival, I realize, is dismissed as a trivial matter and not worth the extra attention, but, if done right, it can do much to enrich a region. Being about quality is a message that every community should want to send to its people.