Life's a Peach in Ruston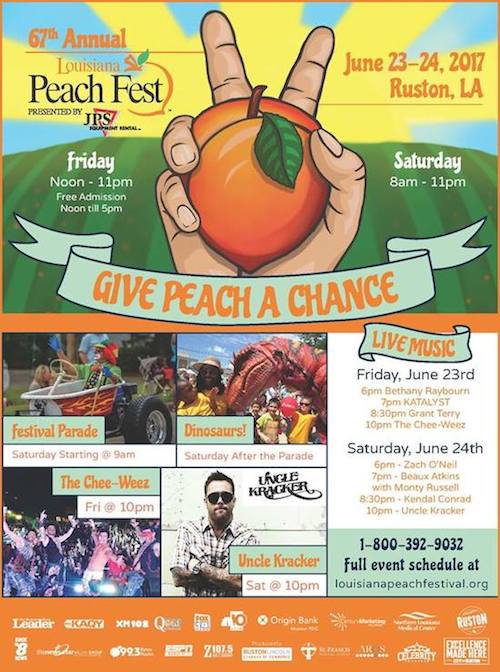 Now is the time to sink your teeth into a succulent Ruston Peach, with its nectar dripping down your hand the very moment you take a bite. But, be sure to do it in the town which celebrates this divine fruit. The city of Ruston is gearing up for its 67th annual Louisiana Peach Festival, one of the most successful and historical festivals in the state.
It's the peak season for this celebrated fruit – which is found in a plethora of delectable dishes and treats all around town – and, in a big way, at the festival – which this year will be held June 23 and 24.
You will surely get your fill of Vitamin A and potassium as you take in the festivities and savor the traditional sweet confections like peach cobblers, peach ice creams and peach cake. The peaches used in these culinary delights come from orchards throughout Ruston and Lincoln Parish. In fact, the largest peach orchard in the state is located here, Mitcham Farms, which dates back to 1946. (Fact: In 1957, J. E. Mitcham, president of the Fruit Growers Association, and Walter Smith, the first chairman of the Louisiana Peach Festival, were responsible for promoting the first festival featuring the Dixie Gem Peach.)
The Peach Festival has morphed into an event that has not only been crucial to Ruston's economy, but is also the event of the year not to missed by Louisianans and visitors alike. In fact, thousands of tourists and locals pour into downtown for the two-day event, which has nearly 100 sponsors. This year's theme is "Give Peach a Chance," and is produced by the event's longtime supporter, the Ruston-Lincoln Chamber of Commerce. Once you witness this festival, you can't help but be drawn into the revelry driven by the heartwarming locals and the generations who've celebrated life (and peaches) at this annual festival for nearly seven decades.
The wide array of offerings at this year's festival is sure to please everyone, too. There's an arts and crafts show (with more than 200 crafts and merchandise vendors), a Peach Cookery, live music, Peach Pageants, and a Cobbler Gobbler Eating Contest. If you need more fun and entertainment, there's a Peach Parade, antique car show, fishing tournaments, a diaper derby and a 5K color run. Need other options? There are games, rides, an art exhibit, treasure hunt and much more. Put on your paleontologist's hat, because new this year is the IDEA Pace Dino Dig, where participants can dig up real fossils. There are nine bands performing during the two-day event, for those who want to dance, with headliners including The Chee Weez and Drift Away with Uncle Kracker.
Be sure to take home some fresh peaches, jams and preserves to enjoy for days after this celebration. All of the fun kicks off at noon on June 23 and continues till 11 p.m. (Tip: There's free admission from noon to 5 p.m. on Friday.) The festivities start anew on Saturday at noon and run till 11 p.m. (Tip: You can purchase a weekend pass for only $15.)
Stay a little longer because along with the Peach Festival, Ruston is celebrating its culinary scene. For a week, beginning June 19, participating restaurants are offering several peach-inspired dishes like the mouthwatering prosciutto-wrapped peach salad from Social Bites and grilled shrimp tacos with peach pineapple salsa from Rosemary's Kitchen. Do you love burgers? The Peach-O de Gallo burger from Sundown Tavern is another great choice. (Tip: Be sure to wash it down with a delicious peach libation like a peach margarita from Ponchatoulas or a refreshing Ruston Peach Old Fashioned from Beau Vines Steakhouse.) Also, you need to taste the delicious peaches and cream French toast from Beau Vines Steakhouse, a brunch dish only offered on June 25. You'll never want mama's homemade French toast again.
For more information go to www.louisianapeachfestival.org.