Lifting The Veil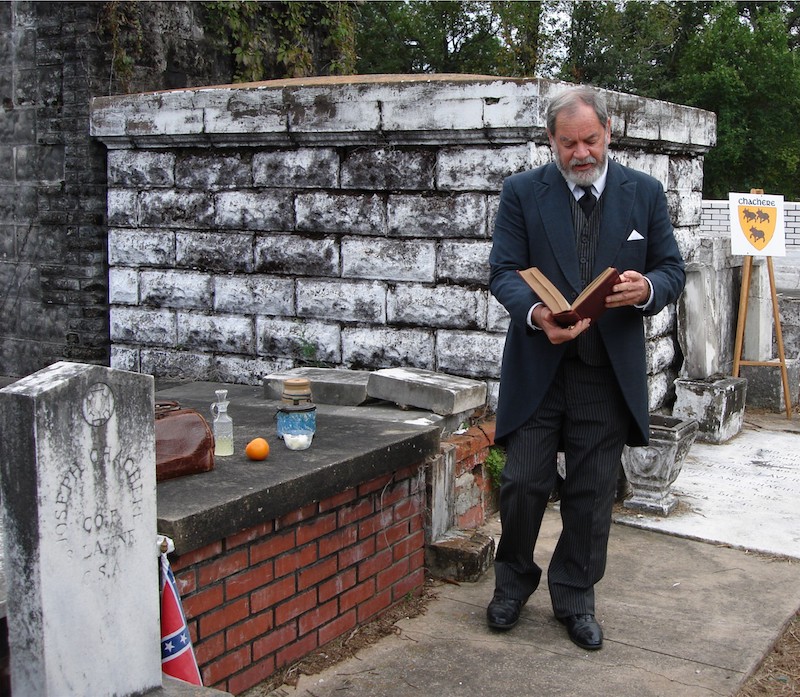 They say the veil between the living and dead grows thin as we head toward All Hallows Eve on Oct. 31, a day that's otherwise known as Halloween. But at the St. Landry Catholic Church Cemetery in Opelousas, visitors can take that literally.
Ever year historical reenactors bring former Opelousas residents to life for the annual St. Landry Catholic Church Cemetery Tours and Historical Reenactments. The annual popular tours are scheduled for Oct. 13-14 and 20-21 with Saturday tours beginning at 6 p.m., followed by tours every half hour until 8 p.m. and Sunday tours at 2 p.m. and 3 p.m. At the 3 p.m. Sunday tours, the eight "spirits" will come to designated spots to accommodate handicapped visitors.
Want a sneak peek of who will be there?
Frank Boyance Sr. will appear, a blacksmith who made many of the iron crosses seen at the St. Landry Catholic Church Cemetery.
Michel Prudhomme II, the son of Michel Prudhomme, donated land for the St. Landry Catholic Church and the Michel Prudhomme Home in Opelousas is believed to be the oldest structure still standing in St. Landry Parish.
A general of the War of 1812 will visit, Gen. Garrigues de Flaujac from France who is buried in St. Landry Parish.
Rachel Gradnigo is a Creole icon, who owned several businesses and helped to establish Opelousas as a thriving community in the 1840s.
Agatha Dupré Lafleur was the mother of Lt. Father Verbis Lafleur, a WWII POW who lost his life saving the lives of men aboard the sinking ship, Shinyo Maru.
And there will be plenty more historical legends greeting visitors.
Tickets are available the day of the event at the cemetery.
"We don't sell ahead of time because of the weather," said coordinator Yvonne Normand, explaining that rain will cancel any tours.
All proceeds from the cemetery tours fund the Cemetery Historical Restoration Project. For more information, visit facebook.com/stlandrycemeterytours or stlandrycatholicchurch.com or call Normand at (337) 308-3474.
For more information on Opelousas and St. Landry Parish, visit cajuntravel.com.