Living History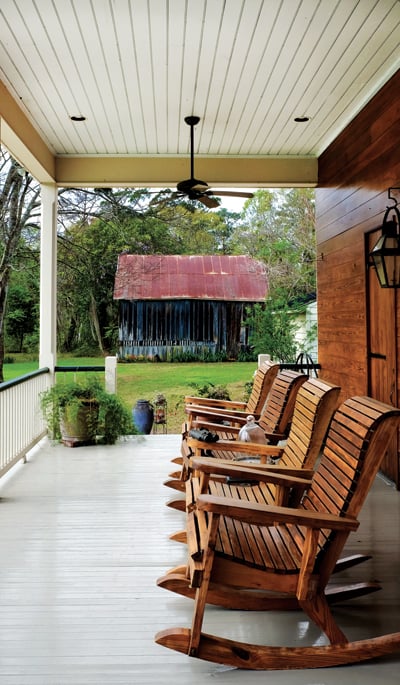 Not far from the center of St. Francisville is one of West Feliciana Parish's most significant historic landmarks: Wyoming Plantation. A place of exceptional beauty and history, it's best known as the site where artist John James Audubon stopped on his way to tutor young Eliza Pirrie, daughter of Oakley Plantation's Pirrie family, and also as the home of Robert Wickliffe, governor of Louisiana from 1856 to 1860. Given the setting 1,100 acres with a 106-year old raised cottage, several centuries-old barns, live oaks dripping with Spanish moss, lakes, azaleas and camellias it's easy to imagine Audubon's arrival in 1821 and the governor's antebellum household several decades later. But Wyoming is more than a window into the past. It is a cherished, full-time residence. Owner Leonard Sullivan and his late wife Elaine, who purchased the home from Elaine's family in 1988, have lovingly preserved, elegantly furnished and comfortably renewed it for generations to come.
"There is so much history in St. Francisville and we live it every day," says Sullivan, a native Mississippian whose children and grandchildren visit Wyoming as often as possible. "It's important to me that we keep all of the area's old homes like they were as much as we can."
Wyoming is in the Sullivan's blood. Elaine's grandfather, Sam Vinci from New Orleans, bought it in 1928 and built the current house for his family in that same year (the original home, built in 1805, burned in 1911). Though Sam and his wife never lived there fulltime, Elaine grew up at Wyoming and is interred on its peaceful grounds today. Leonard carries on the couple's quarter-century-long tradition of caring for the home. In March, it was part of the Annual Audubon Pilgrimage, a spring festival that celebrates the heritage of the area.
The first project the Sullivans completed was a full renovation of the house. Working with architect Billie Ann Brian, whose experience included practicing with A. Hays Town, they extended the front of the house on both sides, moved the original interior staircase, opened the central living area and used rustic materials such as rough-hewn beams and old brick to enhance the character of the home.
With help from interior designer Patrick Tandy of St. Francisville, they decorated the house with period antiques, references, and art. Highlights include pieces by Prudent Mallard and Alexander Roux, block printed wallpaper depicting a 19th century panorama, and a portrait of John Dawson, a former owner of Wyoming. The Sullivans purchased the painting (which hung in the original house) when it came up for sale at Neal Auction and returned it to Wyoming.
The porch walls are made of old cypress. To the left of the porch is a bricked parterre garden designed by Michael Hopping.
They also refurbished its gardens (Elaine was a master gardener), one of the barns (now outfitted with a bar, tables, and other amenities for parties and fundraisers), and a three-bedroom guest house overlooking several of the lakes.
Future projects include restoration of the carriage house and of re-establishment of the cemetery, both of which date from the 1800s.
"People are always asking 'how do you keep it this way?'" says Sullivan, who loves the task. "It's constant upkeep and a work in progress."
(Left) Old brick, used in the original home, rustic beams and 125-year old heart pine floors from a school in Memphis add to the historic character of the house. (Middle) Leonard Sullivan on the front porch of Wyoming Plantation. (Right) The library is home to an antique baby grand piano. (Bottom) Antiques in the breakfast area include a 19th century Irish Wake table, Windsor chairs from England and a verdigris hunting scene chandelier. French doors lead to the parterre.