Local McDonald's Restaurants Offer "Sleeves for Support" to Benefit Ronald McDonald House Charities of South Louisiana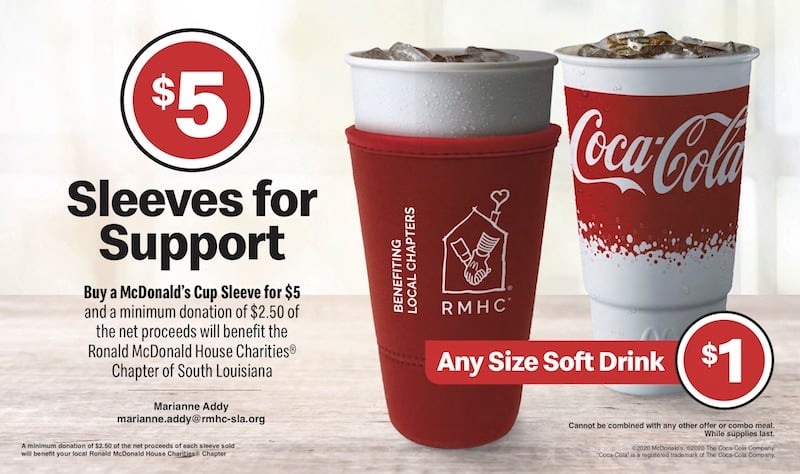 NEW ORLEANS (press release) – Local McDonald's restaurants will offer a new way to support Ronald McDonald House Charities® of South Louisiana (RMHC-SLA) with the addition of the Sleeves for Support program. The fundraiser was developed in partnership with Coca-Cola and will generate funding for RMHC through sales of insulated beverage sleeves designed to hold 30-ounce cold beverage cups from McDonald's. Sleeves will be available for purchase beginning September 1 at $5 each while supplies last.
"Many spring and summer fundraisers benefiting RMHC-SLA were canceled or postponed due to COVID-19 and this is an opportunity for us to help offset those shortfalls," observed local McDonald's Owner/Operator Jade Colin. "RMHC of South Louisiana provides a 'home away from home' for many families of sick children needing medical treatment. Last year, we served 483 families from 42 Louisiana parishes, 13 U.S. states and four foreign countries. The average stay was 7 nights, and families saved over $750,000 on hotels. Since opening the doors in 1983, RMHC-SLA has served over 20,000 families."
In October 2019, Children's Hospital New Orleans and Ronald McDonald House Charities of South Louisiana announced plans to jointly fund a new, expanded family housing space on the Children's Hospital campus. The $6 million project will expand the current Ronald McDonald House New Orleans program, bringing much-needed housing to families from across the state and region whose children receive vital medical services in New Orleans.
"The Sleeves for Support campaign is one of many avenues used by McDonald's to support RMHC," said Marianne Addy, Executive Director for RMHC-SLA. "The Ronald McDonald House has always relied on support from the community to keep our operations up and running. Now more than ever, that help is needed to keep our mission alive and provide comfort to those in need."