Local Wedding: Laborde – Dunn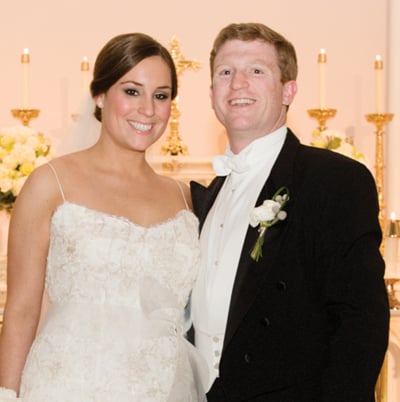 Monique Anne Laborde and James Edwin Dunn III met in Washington, D.C. The two married on December 29, 2012 at Monique's high school, Academy of the Sacred Heart, and guests spent the evening celebrating the love of Monique and James. After the wedding, the two spent their honeymoon and New Year's Eve in Bora Bora and returned back to New Orleans, where Monique is a fourth grade teacher at Trinity Episcopal School and James is earning his MBA at Tulane.
---
Bride's Parents: Mr. and Mrs. Cliffe Floyd Laborde
Groom's Parents: Mr. and Mrs. James Edwin Dunn Jr.
Date of Wedding: December 29, 2012
Ceremony and Reception Location: Academy of the Sacred Heart
Coordinator: Aimee Barousse of Plan B Weddings & Events
Celebrant: Reverend Matthew R. Clark O.S.B.
Ceremony Music: Harry Hardin
Wedding Gown: Monique Lhuillier
Maid of Honor: Celeste Laborde McNulty
Bridesmaids: Elizabeth Brookner Barnhardt, Isabel Maria Castelerio, Catherine Holt Dunn, Charlotte Newmann Kohlmann, Rebecca Bertucci Laborde, Emily Margaret Lane, Sarah Polk Lapeyre, Helen Claire Looney, Sydney Joan Paul and Margaret Granger Tickner
Bridesmaids' Dresses: Trina Turk
Flower Girl: Braelyn Rae Laborde
Ring Bearer: Emeric Parker Laborde
Groom's Attire: White Tie from Perlis
Best Men: Fletcher Willingham Dunn and Hanes Myers Dunn
Groomsmen: James McGill Tartaglia, Thomas Mason Tillett Jr., George Grey Littlewood, Paul Howard Glenn, Ashton Paul Laborde, William Polk Holliday and Michael Jesse McNulty
Ushers: Joseph Staurt Sanford, Kenneth Staurt Pannill and William Gordon Pannill
Groomsmen's and Ushers' attire: White Tie
Florist: Roland Montealegre and James Clawson of Urban Earth Studios
Caterer: Saffron Catering, Mr. Vilkhu
Wedding Cake and Groom's Cake: Cakes by Leah
Photographer: Elizabeth Dondis Photography
Videographer: Studio Vieux Carre
Music: Simply Irresistible from Atlanta