Local Women 'Go Red' for the American Heart Association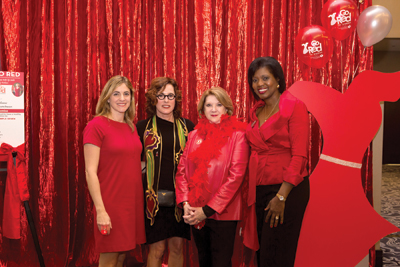 Guests were "seeing red" at the Hyatt Regency, which hosted the "Go Red for Women Luncheon" this February as part of the American Heart Association's Go Red for Women Movement, a national campaign to educate the public about the greatly increased risk of heart disease in women and to promote regular heart health screenings.
Event chair Kathleen Robert expertly coordinated the luncheon, which also commemorated the 10th anniversary of national Wear Red day. The luncheon "[was] a celebration on the impact that the American Heart Association has made on awareness and prevention of heart disease and a reflection on the work left to be done," says Linzy Roussel Cotaya, communications director of the AHA.
Held in the luxurious Hyatt Regency Hotel, red boa centerpieces adorned each table and displayed the words, "Open your heart." Lovely ladies were vested in the color red from head to toe, while the male guests sported red ties in solidarity. The decadent dining options provided by the Hyatt Regency included grilled amberjack with truffle mashed potatoes and, fittingly, red velvet cake. Guests placed bids on a fabulous silent auction that featured "Purseonalities:" purses donated by outstanding women in the New Orleans community, each assembled with the donors' favorite items inside. The entertainment also included a "fashion strut," with clothing provided by Chatta Box boutique and hair and makeup by Paris Parker Salons.
Guests were able to participate in free health screenings as well as an educational seminar about heart disease prevention.
---
Event at a Glance
What: "Go Red for Women Luncheon," benefiting the American Heart Association
When: Friday, February 22
Where: Hyatt Regency Hotel