Louisiana Art & Science Museum Hosting "Love Your Heart Day" on February 25 for Heart Awareness Month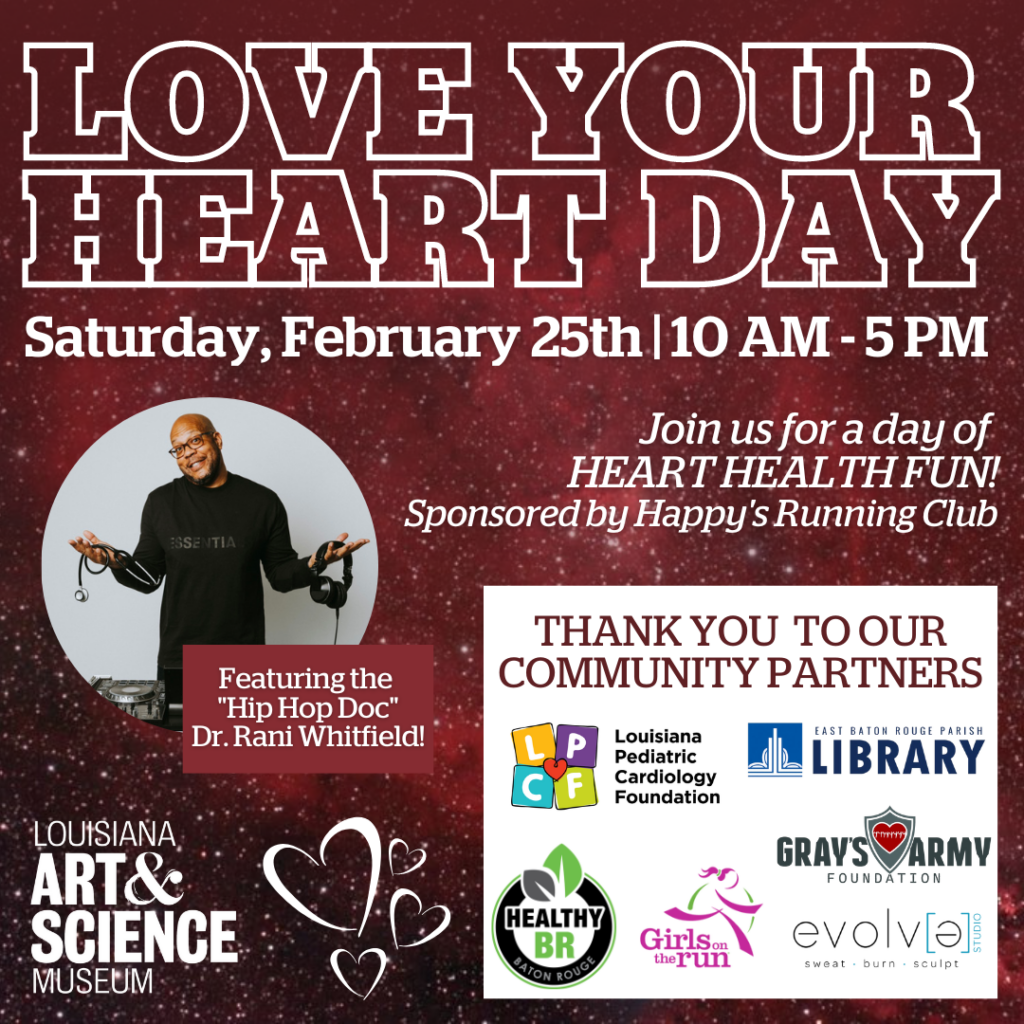 BATON ROUGE, La (press release) – The Louisiana Art & Science Museum (LASM) will host "Love Your Heart Day" in recognition of Heart Awareness Month on Saturday, February 25th, from 10 a.m. – 5 p.m. LASM, in conjunction with the Illustrating Health exhibition in partnership with the VISTA (Visual Integration of Science Through Art) Center at Louisiana Tech University, is planning a family-focused, all-day event that will include heart health-related activities. "Love Your Heart Day" family-friendly activities are included in the price of general admission, and the event is sponsored by Happy's Running Club.
"Creating and viewing art are both ways to relieve stress, which is fantastic for the heart," states LASM Curator & Public Programs Manager Tracey Barhorst. "LASM's goal for 'Love Your Heart Day' is to provide a variety of ways for museum visitors of all ages to surround themselves with art, get their bodies moving, relieve stress, and have a chance to show their hearts some extra love."
Visitors can join in on the heart health fun with a "DJ Dance Party" at 12:30 p.m., provided by "Hip Hop Doc" Dr. Rani Whitfield, with a special guest appearance by Baton Rouge Mayor-President Sharon Weston Broome. The mayor will speak on the importance of heart health, as well as the Healthy City Initiative, which identifies and coordinates community efforts into a unifying commitment to better health.
Other activities will include a BASF Pop-up Science activity featuring chromatography hearts, a "Weighing of the Heart" activity related to Egyptian mythology, and more. BASF's Kids' Lab workshops focusing on Playful Polymers will also take place in the LASM Science Lab all weekend, with sessions at 11 a.m., 1 p.m., and 3 p.m. on Saturday, Feb. 25, and at 1:30 p.m. and 3 p.m. on Sunday, Feb. 26.
LASM and Rivers Hughey with Evolve Studios will offer a Sculpt & Flow class at 10 AM in our Main Gallery, which currently features Diamonds of History: Mighty Women by Ashley Longshore. The price of the Sculpt & Flow class will be included with the price of general admission and free for LASM members, and those wishing to participate are asked to bring their own yoga mat.
Community partners will be available during "Love Your Heart Day" to provide information and awareness about heart-health-related resources in our community. The Gray's Army Foundation founder Michelle Temple will provide education about preventing sudden cardiac arrest and death in children, teens, and young adults. Angelle Bourgeois, the Director of Operations & Heart Warrior Mom for the Louisiana Pediatric Cardiology Foundation (LPCF), will provide information about the services that the LPCF provides to families of children with heart issues and will be signing high school athletes up for free heart screenings from LPCF.
"Our motto, 'Save A Heart. Save A Life,' sums up our mission of protecting the heart health of local student-athletes and babies born with congenital heart defects," states Bourgeois. "The Louisiana Pediatric Cardiology Foundation provides grants to families to help ease the financial burden of out-of-pocket expenses when their children are undergoing life-saving heart surgeries and also provides FREE heart screens (EKGs and ECHOs) in an effort to detect various cardiac abnormalities in high school athletes."
Other community partners, including Happy's Running Club, Girls on the Run, and the East Baton Rouge Parish Library, will provide information about their future events during "Love Your Heart Day." LASM will conclude the event day by presenting visitors with a chance to unwind with Sunset Meditation in the Irene W. Pennington Planetarium at 4:00 p.m.
"The LASM is committed to helping people make connections between art and science," states LASM President & Executive Director Serena Pandos. "The 21st century is an exciting time for art and science because it has only been since 2015 that neurological scientists in Bavaria, Germany, have proven that arts participation promotes wellness by reducing stress. Similar experiments are happening in biomedical science— scientists see a reduction of the stress hormone cortisol because of arts participation. Meditation and access to resources are also key factors for wellness. "Love Your Heart Day" in conjunction with the exhibition Illustrating Health does it all—  another outstanding way that the community can bridge art and science while having some fun exploring how it works! We look forward to welcoming everyone to enjoy all there is to do and see at the LASM and Irene W. Pennington Planetarium."
"Love Your Heart Day" is generously sponsored by Happy's Running Club.
Visit lasm.org for more information on "Love Your Heart Day" and other public programs at LASM.