Louisiana Art & Science Museum Tickets on Sale for 60th Anniversary Gala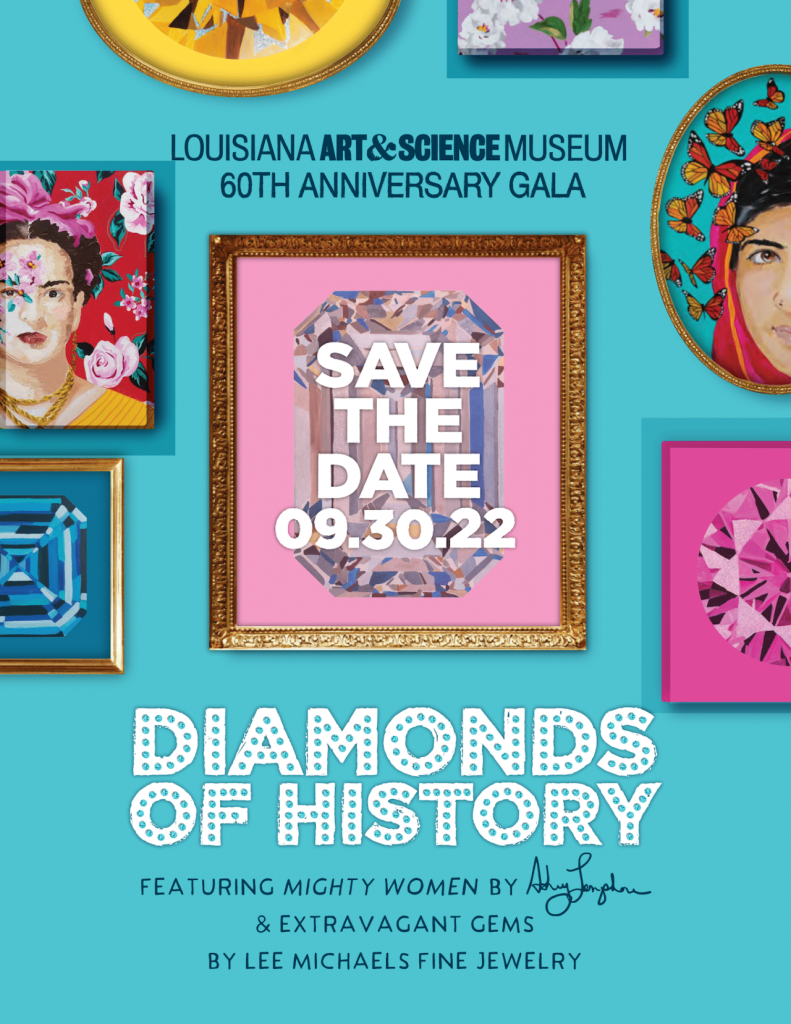 BATON ROUGE, La (press release) – The Louisiana Art & Science Museum (LASM) has announced its 60th Anniversary Gala: Diamonds of History and is scheduled for Friday, Sept. 30, from 7 p.m. to 11 p.m., and event tickets and raffle tickets are officially on sale now. Co-chaired by Adrienne Connelly Adams, Chelsea Norris, and Lexie Polito, LASM's 60th Anniversary Gala: Diamonds of History will celebrate not only the museum's sixty years of service to the Baton Rouge community but also the opening of Diamonds of History: "Mighty Women" by Ashley Longshore, a New Orleans-based pop artist.
"I am so excited to co-chair and promote a Gala that is as exuberant and bold as Ashley's artwork alongside my fellow Gala chairs Adrienne Adams and Chelsea Norris and the team at LASM," states Gala Co-chair and Longshore collector Lexie Polito. "Fun, Instagram-able moments at the event will serve as catalysts to raise funds for and awareness about the museum's important history and role in nurturing our next generation of artists and scientists."
The night will also include a display of extravagant gems and a raffle for diamond earrings generously donated by Lee Michaels Fine Jewelry; a variety of entertainment; gourmet food and spirits; and a silent auction.
"This year, all funds raised by the Gala will directly support the renovation of LASM's Science Station into 'The Seed.' This will be the first of four phases to renovate our hands-on children's spaces by 2025, the 100th anniversary of our building's construction," states LASM President & Executive Director Serena Pandos. "'The Seed' will be an innovative space where young artists and scientists can grow through hands-on exploration of STEAM (Science, Technology, Engineering, Art, and Mathematics)."
Gala raffle tickets are also officially on sale. This year's prize will be a pair of 18K White Gold double pave diamond open circle drop earrings, valued at $12,500 and generously donated by Lee Michaels Fine Jewelry.
"We are so grateful for Scott Berg and Lee Michael's Fine Jewelry for once again providing such an exquisite piece for our raffle," continues Pandos. "This year, Lee Michael's will also feature a display of extravagant gems on the night of the Gala only. Be sure to get your Gala tickets now so you don't miss out on this exclusive experience!"
Admission and raffle tickets can be securely purchased at lasm.org/gala. The annual fundraiser will occur at the museum in downtown Baton Rouge, and the dress code for the evening is cocktail or costume attire.
For more information, contact LASM Development & Fundraising Events Manager Megan Boucvalt at mboucvalt@lasm.org.