Louisiana Business News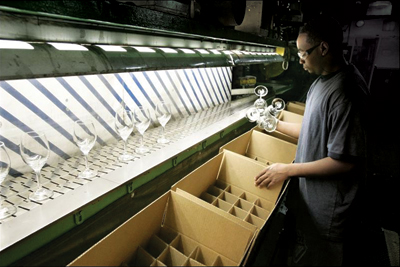 It is a measure of the industrial boom underway in Louisiana that South African energy company Sasol's $16 billion integrated gas-to-liquids and chemicals project in Westlake was named Foreign Direct Investment Deal of the Year at the recent a recent forum on such investments in Shanghai, China. The largest new plant project in the state, the Sasol plant is one of many facilities being developed or expanded in Louisiana as companies invest some $70 billion in chemical, refining and related operations that can take advantage of low natural gas prices.
Here are highlights of some of the other industrial and non-industrial projects on tap around the state.
---
The Glass is Half-full
SHREVEPORT – Glass manufacturer Libbey Inc. will invest $20 million to upgrade its factory with new technology, research and development. In February Libbey cut about 200 jobs at the plant and moved some equipment elsewhere as it discontinued some products. Louisiana offered the company incentives, including a $500,000 tax credit, to encourage the plant modernization. Louisiana Economic Development says the upgrade should produce about 70 jobs and help retain some 500 existing Shreveport jobs. The Toledo, Ohio-based company will install new equipment at the factory over the next two years.
---
Software a Shot in the Arm for Medicare Services
NEW ORLEANS – The central business district of the state's largest city will become home to a medical software maker that will employ 50 people producing applications for doctors, hospitals and clinics. ChenMed, a subsidiary of Chen Technology Inc., already operates four medical clinics in the area under the JenCare brand, employing about 80 people who see patients in Kenner, Metairie, New Orleans and Gretna. The software products are designed to improve services for Medicare-eligible patients at both ChenMed's clinics and for other providers. The site of a major medical center now under construction, New Orleans is likely to draw considerable new health care-related investment in coming years.
---
Jobs to Rain on Local Communities
COVINGTON – A company that formed in Louisiana and moved to Texas following Hurricane Katrina is returning and bringing jobs. Rain CII Carbon LLC, which produces calcined petroleum coke for the making of aluminum, will employ some 70 people at its new headquarters in Covington and operations in Chalmette, Norco, Gramercy and Lake Charles. Construction is slated to begin in first-quarter 2014, with operations to start up in the final quarter. Salaries at the company are expected to average about $100,000 annually, according to Louisiana Economic Development. Rain CII has previously invested about $100 million in Louisiana, including an energy co-generation plant completed in Lake Charles last year to support its power plant there.
---
Technology Footprint Grows in Capital City
BATON ROUGE – A recent downtown groundbreaking marked the beginning of a $55 million project by IBM Corp. to build a software development center expected to generate 800 professional, digital media and software-engineering jobs. The project includes a partnership with and expansion of LSU's computer science program and the construction of a mixed-use office and residential center that will contribute to the reinvigoration of downtown. Slated for completion in mid-2015, the IBM Services Center is expected to boost LSU's stature among computer science programs around the country.
---
Environmental Jobs Pump up Lafayette Area
CARENCRO – Texas-based Newpark Resources Inc., a provider of environmental waste management services and other fluids management for the oil and gas industry, will invest $41 million to expand its Carencro location and add a research and development center. The investment will double the size and estimated output of the plant and may produce 35 new jobs and an equal number of construction jobs.
---
Company Galvanizes Local Commitment
ROBERT – Pineville-based Crest Industries recently announced the company will build a $15 million galvanizing plant that will furnish galvanized protective coatings used in the electric utility and petrochemical industries. The south Tangipahoa Parish plant will employ some 70 people directly and generate about 230 construction jobs, as it brings in-house services that formerly were provided by outside vendors to the 55-year-old company.
---