Louisiana Culinary Trail Guides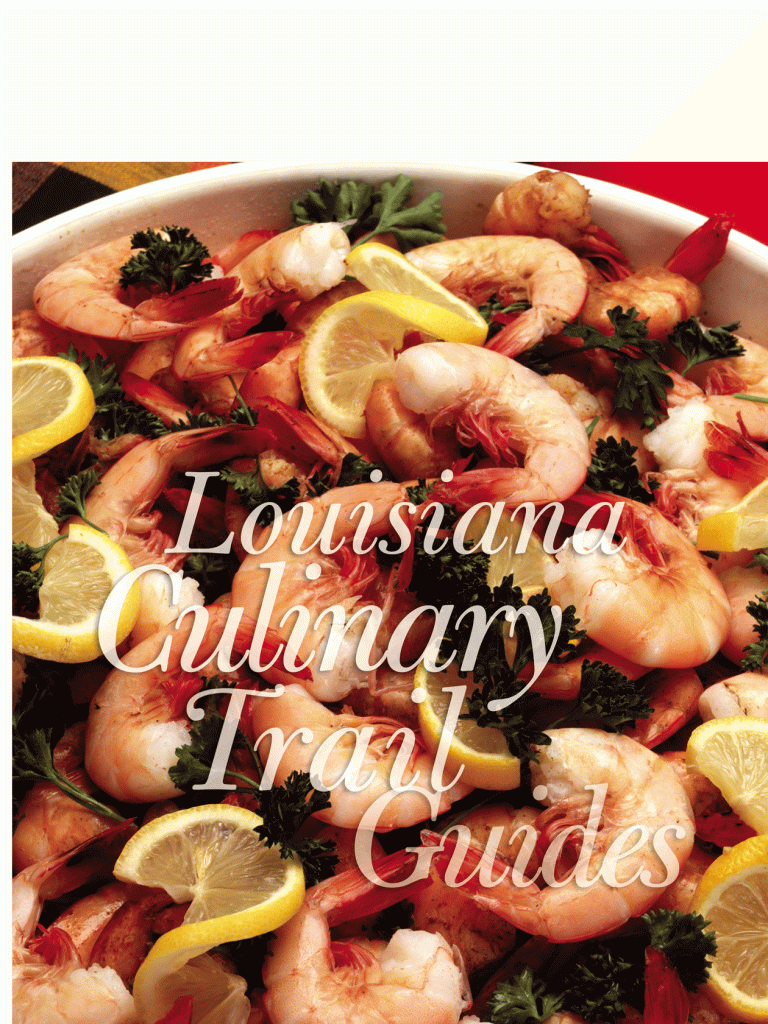 In Louisiana, when two or three people gather for lunch, the conversation almost always turns to food: "What did you eat for breakfast? Where are you eating supper?" Cooking and eating are a big part of Louisiana culture, and our diverse population results in a cuisine that bubbles over with flavors from every part of the world, all seasoned with Southern hospitality.
To help visitors savor Louisiana's offerings, Lt. Gov. Mitch Landrieu and the Department of Culture, Recreation and Tourism, in partnership with the Louisiana Travel Promotion Association, put together seven Louisiana Culinary Trail Guides. Each trail concentrates on a geographical region of the state. Stops along the trails were chosen by a team of travel writers and include all types of eateries, from white tablecloth restaurants to corner cafes and outdoor markets.
Big Easy, Baton Rouge and bayous
New Orleans has been called the capital of the culinary world, and the Creole Fusion Culinary Trail, which takes in the "Big Easy" and surrounding parishes, shows off the flavors of the city and its surrounding parishes.
A good starting place is the French Quarter, a mecca for foodies of all types. The grande dames of the Quarter include such venerable restaurants as Antoine's, Arnaud's and Galatoire's, all famous for their elegant surroundings, impeccable service and delicious food. Families might enjoy one of the Quarter's less formal spots: beignets and café au lait at Café du Monde, for example, or a muffaletta from Central Grocery. Muffalettas are overstuffed sandwiches of meats and cheeses topped with olive salad and served on round loaves of Italian bread. Make like a local and enjoy your muffaletta while sitting on a bench along the Mississippi River. Bring plenty of napkins!
New Orleans and its suburbs are dotted with poor boy shops. Poor boys – sandwiches made on French bread – come in every variety, including fried seafood and roast beef, and are usually "dressed" with lettuce, tomato and mayonnaise.
Across Lake Pontchartrain, the parishes of St. Tammany, Tangipahoa and Washington are also home to well-known restaurants and cafes. Try Juniper, a classy café in Mandeville, or La Provence, a taste of France along Highway 190 in the little town of Lacombe. More casual fare is available at Palmetto's on the Bayou in Slidell, where you can dine outside in pleasant weather.
Following the Great River Road along the Mississippi River takes you along the Capital Cuisine Culinary Trail. Many of the River Road's finest plantation homes also serve meals, either in restaurants or to bed and breakfast clients.
In nearby towns like Laplace and Reserve, sample some of the Louisiana's famous andouille (a spicy pork sausage). If it's lunchtime, you're in luck because area restaurants like Connie's Grill in Reserve dish up heaping plate lunches. Shrimp, fried catfish, butter beans and rice – you won't go away hungry.
Once you reach Baton Rouge, you'll find restaurants of every description. A local favorite is Juban's, on Perkins Road, where the menu includes fried soft shell crab and bouillabaisse of fresh Gulf fish and shrimp.
Also worth visiting are the northern river parishes. St. Francisville is a great spot for plantation and garden tours and shopping. Down the Mississippi in New Roads, try the seafood and country dishes at Morel's Restaurant and Antiques, which is built directly over False River.
Gumbo, etouffee, tasso, jambalaya, boiled crawfish – the Cajun Country Culinary Trail will introduce you to a whole new language of good things to eat. Freshness is the hallmark of Cajun Country cuisine, which features local produce, seafood and meats prepared with just the right amount of spice.
Lafayette, sometimes called the capital of Cajun Country, is a good place to begin this trail. The city is filled with beautiful old houses and restaurants of all types. One favorite is Charley G's, noted for its deep, rich gumbo.
Other spots along this trail include Breaux Bridge, which celebrates its bountiful "mudbugs" every year at a crawfish festival; St. Martinville, where the beignets are fresh and hot; and New Iberia, home to both the magnificent plantation Shadows-on-the-Teche and the country's oldest rice mill.
Head south to Avery Island and you will find the home of the world-famous Tabasco factory as well as a 250-acre wildlife refuge called Jungle Gardens. In Thibodaux, drop by the aptly named Country Café for shrimp and okra gumbo, crawfish stew and crab balls.
Seafood, stews and more
In Southwestern Louisiana, food takes on a rustic, hearty flavor. Here the specialties include seafood, stews, wild game and rice. Lake Charles, the region's largest city, is a good jump-off spot for the Seafood Sensation Culinary Trail. At the Seafood Palace, plates are piled high with boiled crabs, shrimp and crawfish. Don't worry if you're new to "peeling and eating" – someone will be glad to show you the technique.
The 180-mile Creole Nature Trail All American Road is a beautiful way to explore this wetlands section of Louisiana. Along the Nature Trail are many opportunities for fishing, boating and birding.
Interesting highlights of the Seafood Sensation trail include:
Crystal Rice Plantation and Heritage Farm, where the crops are rice and crawfish; Rayne, a small town that calls itself "Frog Capital of the World," a great place to try some fried frog legs; Kaplan, in Vermilion Parish, home of Suire's Grocery and Restaurant, which serves up shrimp and egg stew (with whole hardboiled eggs) and turtle sauce piquant; Steen's Syrup Mill, fragrant with the aroma of pure cane syrup.
Central Louisiana is noted for its varied topography, which includes prairie land, hardwood forests and lakes. The Prairie Home Cooking Culinary Trail is just as varied, with its mixture of good old Southern cooking and spicy Cajun dishes. You can find yourself diving into a plate of fried catfish and hush puppies, or feasting on sandwiches piled high with smoked meats, depending on which part of the region you're visiting.
Opelousas, known as the home of zydeco, is a great place to combine music and food. Locals love the Palace Café, known for its crawfish etouffee and stuffed eggplant. In nearby Port Barre, Bourque's Super Store is famous for its boudin and its jalapeno sausage cheese bread. Barbecue is big in this neck of the woods, too; in Eunice, drop by Allison's Hickory Pit for ribs, potato salad and rice dressing.
Along Highway 71, as you drive from Cajun Country to the city of Alexandria, satisfy your sweet tooth with a visit to Lea's Lunchroom in Lecompte. The aroma of freshly baked coconut, chocolate, pecan, sweet potato and peach pies will make you want "one for the road."
The menu is a little wilder in Marksville, where you can sample venison, wild boar and buffalo. Marksville State Historic Site makes an interesting side trip, with its earthen mounds and ring levees built by prehistoric peoples.
If you follow the Red River and Highway 1 to Pineville, more nature is on tap at the Kisatchie National Forest. After working up an appetite hiking or taking a nature walk, stop by the Paradise Catfish Kitchen in Pineville for fried catfish, shrimp, oysters, stuffed crabs and hush puppies.
Another slice of history is on display at Kent Plantation House in Alexandria. This Colonial-era home is open for tours, and you can see cooking demonstrations over an open hearth.
Bounty from the Delta, Red River
The rich farmland of northeast Louisiana makes for delicious fruits and vegetables, and the region's lakes and rivers supply a bounty of fresh seafood. Together, they make the Delta Delights Culinary Trail a food lover's paradise.
Ruston, known for its juicy peaches, makes a convenient beginning to this trail. Fried chicken, smothered steak and cornbread are highlights of the menu at Blue Light Café, while Dowling's Smokehouse specializes in barbecue.
The Delta's twin cities of Monroe and West Monroe are separated by the Ouachita River. Not-to-miss restaurants in this area include Gabbeaux's Bayles Landing, where you can get crawfish by the bucket, and the Waterfront Grill, along Bayou Desiard.
Next, take a drive toward Winnsboro and admire the many restored antebellum homes you see along the way. At Johnny's Pizza in Winnsboro, even the pizza pies take on a Southern flavor; toppings include crawfish, andouille sausage and crab.
The Delta region is also home to Frogmore Plantation, a 1,800-acre cotton farm with 18 restored buildings. With one of the best demonstrations in cooking hoecake over an outdoor oven.
The region of Louisiana near the Texas border is noted for its riverboat casinos, hot music spots and abundance of fresh seafood. Shreveport, which borders the Red River, has a thriving entertainment section that includes cafes, restaurants and shops. At Herby K's, Shreveport's oldest eatery, the dish to try is Shrimp Buster – a bed of buttered French bread topped with jump shrimp, served with a spicy brown dipping sauce. Across the river in Bossier City, cafes serve up Southern-style lunch plates heaping with greens, beans and cornbread.
One of Louisiana's most picturesque towns, Natchitoches, was established in 1714 and is the original Louisiana French colony. It's a fine place to tour plantation homes, visit an alligator park, go antique-shopping, and dine on the city's famous meat pies – tasty pork and beef enclosed in half moon-shaped crust. At Cane River Kitchenware, pick up some Louisiana seasonings to take home and enjoy free samples of hot coffee and gumbo.
As you drive south from Natchitoches, you'll see lots of pecan trees. The nuts are a central ingredient in lots of Louisiana's favorite dishes. Visit Natchitoches Pecans or Louisiana Pecans, both in Cloutierville, for boxes of flavored pecans and melt-in-your-mouth pralines to take home.
Learn more about each of the culinary trails, or design one of your own, by visiting www.LouisianaTravel.com/eat/culinary for information on hundreds of restaurants, tour sites and accommodations.
Food and Festivals
Louisiana's many festivals are famous for their great music, arts and crafts, and food. In fact, cities and towns hold festivals centered on the produce or seafood their community is known for. Here are just a few food-oriented fests coming up this summer:
Sample some of Louisiana's sweetest watermelons at the Beauregard Watermelon Festival in Deridder, a small town in west Louisiana. This year's fest takes place June 27-29 at the Beauregard Fairgrounds and includes bluegrass music, activities for the children and a seed-spitting contest. Call 800-738-5534 for details.
If it's peaches you love, don't miss the Squire Creek Louisiana Peach Festival in Ruston, located in north Louisiana between Shreveport and Monroe. From June 27-29, families can enjoy gospel music, a pet show, a diaper derby for the small fry, a kids' fishing rodeo and a peach-eating contest, along with 200 artisans and vendors. More information is available at 800-392-9032.
Seafood takes center stage at the Greater Mandeville Seafood Festival, held this year from July 3-6. Mandeville is just a short ride across the Causeway Bridge from New Orleans. This year's festival takes place in beautiful Fontainebleau State Park. If you like your seafood fried, boiled or heaped on a New Orleans-style poor boy, this is the place for you. There will be rides and games for the kids and craft booths for the shoppers. Get the details at 985-624-9762.
It's shrimp every which way at the Delcambre Shrimp Festival, Aug. 13-17 in Delcambre, about 20 miles southwest of Lafayette in Cajun Country. Sample a real fais-do-do, enjoy the rides and music, and get ready for mouth-watering shrimp as fresh as they can be. Call 337-685-2653 for more information.
Whether you're hungry for blueberries, yams, catfish or crabs, chances are Louisiana has built a festival around it. To find out about other food-related festivals in Louisiana this summer, go to www.louisianatravel.com.