Louisiana Life Magazine Wins 2023 International Awards
Renaissance Publishing announces Magazine of the Year award finalist, other honors in editorial, photography, art direction and more during the 43rd Annual International Regional Magazine Association Awards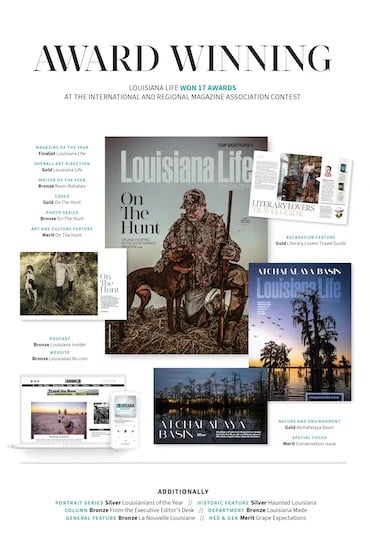 NEW ORLEANS (press release) – On May 8, Louisiana Life Magazine won 17 awards, at the 43rd annual International Regional Magazine Association (IRMA) awards presentation in Portland, Oregon. Louisiana Life was a finalist for Magazine of the Year.
IRMA members include state, province and regional publications from across the United States, Bermuda, and Canada. The awards were granted for work published in 2022 and judged by an independent panel of industry experts. Executive Editor Errol Laborde accepted the awards on behalf of the magazine during the annual event.
"It's an honor for us to be awarded these prizes for our work from our peers," says Melanie Warner Spencer, the editor of Louisiana Life. "The IRMA awards competition is always a tight race and we are fortunate to have so many talented colleagues to compete with year after year. Our mission for Louisiana Life is to celebrate the colorful culture and significant history of Louisiana. There are so many rich and interesting stories to tell, and we are honored to be the ones who get to tell them."
In addition to its award as a finalist for Magazine of the Year, Louisiana Life also took home the top prize in the design category winning gold for Louisiana Life for Overall Art Direction by longtime art director Sarah George. 
The magazine was also awarded gold in the Cover category for its "On the Hunt," story about Upland hunting, as well as gold for the Recreation Feature category for its "Literary Lovers Travel Guide to Louisiana," and gold in the Nature and Environment category, for its feature on conservation efforts in the Atchafalaya Basin. The magazine's "Louisiana Insider" podcast, hosted by Executive Editor Errol Laborde and produced by digital editor Kelly Massicot, won Bronze in the podcast category and the magazine's website, louisianalife.com also took home a Bronze for Digital: Special Feature or Website.  
Below is a complete list of awards. 
About Renaissance Publishing
Based in New Orleans, Renaissance Publishing publishes eight in-house publications, including Acadiana Profile, Louisiana Life, New Orleans Magazine, Biz New Orleans, New Orleans Bride, New Orleans Homes and St. Charles Avenue, as well as multiple custom publishing for various businesses and entities around the Greater New Orleans area.
About IRMA
IRMA is a non-profit association composed of 25 regional magazines from across North America. Since its founding in 1960, IRMA has provided an unparalleled environment for open communication, support and trust among member magazines. Regional magazines are defined as having general interest, lifestyle, or tourism editorial content about a specific region. Our members are: Acadiana Profile; Adirondack Life; albemarle Magazine; Arizona Highways; Arizona Wildlife Views; Avenue Calgary; Big River Magazine; Bucks County Magazine; Cottage Life; Delaware Beach Life; Discover Concord; Down East: the Magazine of Maine; Downhome; KANSAS! Magazine; Louisiana Life; Maine Boats, Homes & Harbors; Mountain Home; New Mexico Magazine; Oklahoma Today; Saltscapes; Texas Highways; Texas Parks& Wildlife Magazine; The Bermudian; Wyoming Wildlife; and Yukon, North of Ordinary. See more at http://www.irmamagazines.com
About the IRMA Awards
To evaluate the achievements of member magazines, IRMA annually selects a panel of industry experts from outside IRMA who choose winners from the pool of submitted entries. The various award categories include editorial, design, and photography. Example categories include Reader Service Article, Photo Series, Art Direction of a Single Story and Magazine of the Year. Winners were announced at the annual conference on May 16th at the beautiful Andaz Hotel in Ottawa, Canada. 
Complete List of Louisiana Life Awards/Magazines with 34,999 or less circulation
Finalist Magazine of the Year – Melanie Spencer and Sarah George
Gold Overall Art Direction – Sarah George
Gold Cover – On the Hunt, Kevin Rabalais, Sarah George, Melanie Spencer
Gold Recreation Feature – Literary Lovers Travel Guide to Louisiana, Cheré Coen
Gold Nature and Environment – Atchafalaya Basin, Kevin Rabalais
Silver Historic Feature – Haunted Louisiana Cheré Coen
Silver Portrait Series – Louisianians of the Year, Danley Romero
Bronze Writer of the Year, Kevin Rabalais
Bronze General Feature – La Nouvelle Louisiane, Misty Milioto
Bronze Podcast  –Louisiana Insider, Errol Laborde and Kelly Massicot
Bronze Column – From the Executive Editor's Desk, Errol Laborde
Bronze Department – Louisiana Made, Jeffrey Roedel, Danley Romero, Sarah George, Melanie Spencer
Bronze Photo Series – On the Hunt, Kevin Rabalais
Bronze Digital: Special Feature or Website – LouisianaLife.Com, Kelly Massicot
Merit Art and Culture Feature – On the Hunt, Kevin Rabalais
Merit Hed and Dek – Grape Expectations, Kevin Rabalais
Merit Special Focus  – Conservation Issue, Melanie Spencer, Sarah George