Louisiana Life Travel: A Guide to Antiquing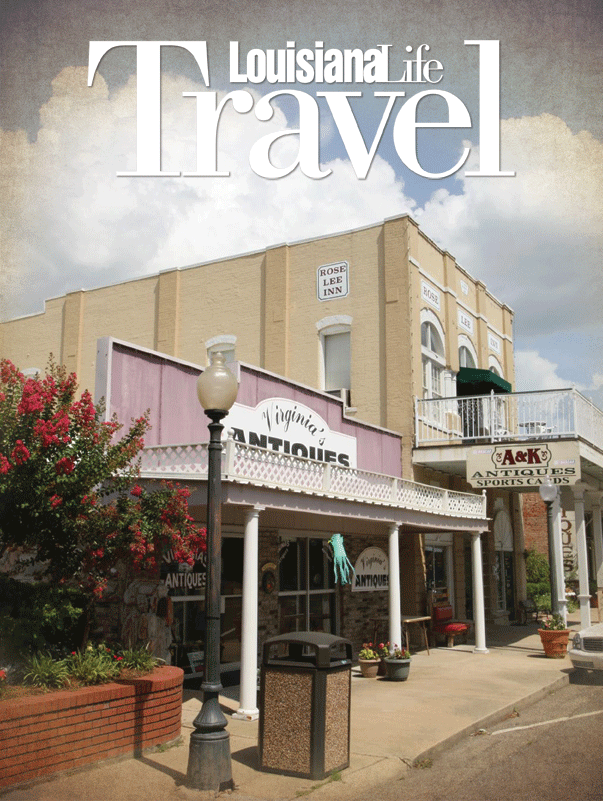 Since the beginning of time, Louisiana residents have had a fascination with grand homes, elegantly appointed with fine furnishings, silver and china. Today's residents are no different.
This state is fortunate to have cities and towns that feature streets lined with antique stores, some in storefronts that date back more than a century. Some areas are world-famous; others are out-of-the-way hamlets. All contain treasures from the past, just waiting to find a new home.
GREATER NEW ORLEANS
New Orleans
A walk along elegant Royal Street in New Orleans' historic French Quarter provides a visual feast for those who love the highest-quality antiques. In a three- or four-block stroll, one can find museum-quality furnishings, chandeliers, jewelry and art. Is it any wonder that travel and shelter publications consistently rank New Orleans' antique-shopping among the best in the world?
For many of these merchants, antiques are more than a business or passion. It is part of their DNA. "My grandmother founded Keil's Antiques, on this location, in 1899," says Andree Moss, whose sons are now the fourth generation in the business.
The vast inventory of exquisite antiques on Royal Street stuns most first-time shoppers. Shop owners and staff generously share their expertise with shoppers and browsers alike. A visit to Royal Street is like reading a great classic: One leaves the experience more knowledgeable, more anchored to life and wanting to learn more about the subject.
Find several floors of French antiques at the French Antique Shop. Waldhorn & Adler boasts a fine collection of French and English antiques as well as one-of-a-kind estate jewelry. Keil's and its sister stores, Moss and Royal, also specialize in French and English antiques and accessories. M.S. Rau Antiques showcases a breathtaking array of silver, including Tiffany and Revere, and a charming assortment of antique walking canes. Make sure you visit the secret room in the very back of the store, just for the fun of it. For a bit of whimsy, visit Sword & Pen and gaze at the hundreds of antique lead soldiers. This shop also features military antiques, such as a sabretache and binoculars from the Crimean War.
Just around the corner is Chartres Street, where antique stores dot the blocks from Canal Street to the St. Louis Cathedral. From antique and used books at Crescent City Books and Librairie Book Shop to the highest end of European antiques – all are on this eccentric street. A personal favorite is Lucullus, where owner Patrick Dunne's world-class shop features heart-stopping culinary antiques, from beautiful Directoire dining tables to much-worn copper pots with perfect patinas.
Magazine Street, which cuts a 6-mile swath across the city, has long been another antique mecca. To do the street justice, do some homework before you set out. The sheer quantity and quality are mind-boggling.
For French antiques, consider Piranesi, Mac Maison LTD, Wirthmore and Balzac. For Swedish, visit Source. or Maison de Provence. For an eclectic array of European antiques, visit Williamson Designs and Uptowner.
Complement your purchases with stunning antique silver from As You Like It Silver Shop. Wouldn't an 19th-century silver epergne or massive silver turkey bell be just the piece to make your home sparkle?
Oriental antique furniture, porcelains and one of the largest collections of santos figures in the country adorn Orient Expressed Imports. Dunn & Sonnier has a beautiful, ever-evolving display of European furniture and drop-dead gorgeous garden accessories. Hip vintage clothing and accessories pack Retro Active, and vintage furniture often can be found at Loisel Vintage Modern. The consignment shop Oops Décor, just off Magazine Street on Josephine, has high-end vintage and antique pieces.
Truth be told: Almost any antique your heart desires can be found in New Orleans. Make the Crescent City and its miles of antique-shopping possibilities your first stop.
www.magazinestreet.com
www.neworleansonline.com

M.S. Rau Antiques
The Northshore
In the late 1980s, Ponchatoula's Chamber of Commerce and the publisher of the town's newspaper, Bryan McMahon, decided to re-invent their small town on the north shores of lakes Pontchartrain and Maurepas. These city leaders set about to make their town "America's Antique City." Today, many of those small stores that line West Pine Street and Railroad Avenue are filled with antiques and open for business.
"Antiques are definitely one of our main draws," says Liz Anderson of the town's Chamber of Commerce. "Tourists from all over come here to shop."
Nearly a dozen stores feature a full range of shopping opportunities. Mary's Antiques showcases Depression-era glassware, quilts and jewelry. Mary's also refinishes antiques, a unique service. Ponchatoula's newest shop, Acquisitions of the Bygone, is 6,000 square feet and has more than 30 dealers to entice shoppers.
Twice a year, the town hosts its Antique Trade Days – Arts & Crafts Fair, attracting more than 15,000 visitors each weekend. On the first weekends of March and November, more than 200 vendors from all parts of the United States descend on Ponchatoula with an amazing diversity of possibilities.
"Collectors can find things they couldn't find anywhere else," says Mary Scandurro, owner of C.J.'s Antiques & Collectibles and a volunteer with the antiques event. "There is Victorian and primitive furniture, antique collectibles like coins, buttons and furniture made from reclaimed barn wood."
Antique and arts and crafts booths fill the entire town. Live music, food and children's activities round out the weekend.
Begun in 2005, the semiannual show recently won the coveted tourism award as a Top 20 Tourism Event from the Southeast Tourism Society, making this nonprofit, all-volunteer event a must-see for antique-lovers and an effective economic engine for this quaint little town.
Lee Lane in Covington has a handful of high-quality, interesting shops, providing collectors with another Northshore destination. The Copper Rooster's overstuffed mall of stalls features items from 10 vendors. Look for vintage jewelry, holiday memorabilia and shabby-chic painted and distressed furniture. Just down the street is Cottage Antiques, with 10 rooms filled with an eclectic mix of antiques. It is here one can find unique architecturals such as cypress cornices, religious memorabilia, antique mirrors, vintage linens and china. Located in a charming center hall Creole cottage is Walker House, an upscale shop featuring antique jewelry; cut crystal; and an impressive collection of Civil War memorabilia, including guns, medals and swords.
Just around the corner from Lee Lane on East Boston Street is Villa Vici, the town's most chic shop. Mixed in with the minimalist, modern furnishings are a few sleek antiques, some original and others made from reclaimed elm.
Lee Lane merchants host several events to draw in shoppers. Christmas in the Country begins the Friday after Thanksgiving and ends at Christmas. There are also citywide art walks in the fall and spring, giving shoppers ample reason to make this area a welcoming, entertaining experience.
www.ponchatoula.com
www.louisiananorthshore.com
BATON ROUGE AND PLANTATION COUNTRY
Baton Rouge
Although Baton Rouge does not have a cluster of shops to attract visitors, the city has two massive antique stores that are destinations unto themselves.
Located on Perkins Road in a 18,000-square-foot facility, Fireside Antiques is one of the largest importers of fine-quality European antiques and accessories in North America. Founded 30 years ago by interior decorator Susan Roland and her mother, Cheri McDaniel, the store recently welcomed a third generation, Laura Roland, to the business.
Fireside specializes in clean-lined, classic French antiques. Formal and provincial furniture, elegant mirrors and beautifully appointed accessories – from tea caddies to needlepoint pillows – grace the store. More than half of the store's sales are to out-of-state buyers. The rest are Louisianians.
"We find that our Louisiana clients are very sophisticated and love to live in their homes and be surrounded by fine furnishings," Susan says. "They have a real lust for life. The antique business is big and broad in this state. In Louisiana, we love our culture – our food, homes, antiques and furnishings. We enjoy entertaining our friends and family in our homes. It's part of who we are."
In addition to her large collection of fine antiques, Susan recently began creating custom-made, handcrafted reproductions in an adjunct business, Made at Fireside. "I saw a need for fine furniture in modern dimensions, with painted or walnut-stained finishes," she says. Although this division is a small part of her business, it attracts a younger buyer, whose interest in fine antiques will grow in time.
"Louisianians are very rooted," she says. "There's a market for all antiques. The man who collects Civil War memorabilia might come to our store for a beautiful antique cabinet in which he could display his collection. We all have our passions, and every customer is different."
Now in its 21st year of business, Inessa Stewart's Antiques & Interiors has expanded beyond Baton Rouge and into two cities in Texas. Her flagship store on Bluebonnet Boulevard was built in 2002 and encompasses 25,000 square feet on two floors. Built to resemble a French château, the store is filled with a massive display of ornate European antiques, country French and primitive furniture as well as Old World accessories, all personally selected by Inessa in bimonthly trips abroad.
More formal antiques and accessories are found on the first floor of the Baton Rouge store, with more casual and provincial styles on the second floor. Look for a large selection of culinary antiques, trumeaux mirrors, tapestries and lighting to complement your home décor. A fine collection of art is also in-house.
One unique service Inessa Stewart's provides to customers is that of adapting fine antiques to modern use. A 150-year-old buffet can be made into a media center, with a lift for a flat-screen television. King- and queen-size beds can be made from antiques. An armoire can be made into a full-service wet bar. Once its doors are closed, no one knows what is hidden inside.
"Adapting antiques for modern-day use makes total sense," says John Stewart, who works in tandem with his wife. "It only increases the value and use of a piece."
John is proudest that the store has survived the economic ups and downs and taste changes in the past two decades. He's optimistic about the future of the antiques business.
"The younger generation, especially the smart ones, see the value of buying an antique," he says. "We see newlyweds come in and want to buy one good piece a year, something they know will last generations and won't have to be replaced. They know they aren't buying just a piece of furniture; they are making an investment that will grow in value."
www.firesideantiques.com
www.inessa.com

Grandmother's Buttons
Denham Springs
In the early 1990s, Denham Springs merchants embarked on an ambitious plan to create an antiques district along its main streets. At that time, storefronts were empty, with only two open for business. Today, the town of 11,000 residents boasts more than two dozen vibrant shops, all located in an easy-to-walk three-block radius.
Most shops are located on North Range Avenue in buildings that date back to the 1940s. A few are also found on Benton and Hummell streets. All retain their original façades and roof lines, making for a step-back-in-time ambiance. A strong historical commission ensures that these streets preserve their original character.
Denham Springs' merchants' association and its city government, tourism entities and Main Street committee closely work together. Like many art and antiques areas in Louisiana, this town's antique district has been designated a Cultural District by the state, allowing purchases of original works of art to be tax-exempt, an added incentive for buyers.
"The secret to making a district like ours work is the strong partnership we have with all agencies," says Donna Jennings, Main Street manager. "These coalitions are golden."
Jennings also points to an aggressive merchants' association that markets the district regularly. And it's paid off.
Almost any antique or vintage piece can be found here, drawing novice and experienced collectors. Movie set designers regularly flock to the area to purchase authentic items for their productions.
"We get a large number of out-of-town visitors who come here just to shop," says Julie Guidry, owner of the Rusty Rooster on North Range Avenue, the main shopping street. "They come for the whole weekend and go from store to store, stay in our hotels, eat in our restaurants. They bring new revenue into the town that otherwise might not be here."
Guidry's large store of nearly 7,000 square feet houses 25 different antique-dealers. Painted and distressed furniture is a big draw. However, she's found a different trend emerging: collectors who are looking for the vintage industrial look. She recently acquired a large steel horse trailer topper that could be retrofitted as a wall hanging or used as a handsome stove vent. Another recent find was a trendy floor lamp made from galvanized vent tubes.
"Industrial pieces like these look really great when mixed with shabby-chic antiques or primitive pieces," Guidry says. "Mixing the old with modern pulls everything together with a fresh new look."
Making the old work with the new is just what this town has done on a macro level. Country Roads magazine has honored Denham Springs as Favorite Main Street and Best Antique Shopping, and in 2011 AAA Southern Traveler named the town to the Top 3 for antiques. City residents couldn't be prouder.
www.denhamspringsantiquedistrict.net
St. Francisville and Jackson
Considered one of the loveliest small towns in the South, St. Francisville looks like a town that was designed by central casting. Peek around any corner and you're sure to find a breathtaking antebellum home or perfectly maintained gingerbread cottage. So of course, a walk down the town's busiest street, Ferdinand Street, reveals some very interesting shops.
Most of the antique stores feature quirky, rather than fine, antiques. Bohemianville Antiques, a large mall, has a little bit of everything – vintage kimonos; massive antique doors from Egypt; and fine antique dresser sets complete with combs, brushes and corset hooks. St. Francis Art and Antiques is a good place to grab vintage table linens, quilts and books. Bayou Pickers has a collection of Civil War memorabilia belonging to William A. Spedale, a Baton Rouge author. Here you'll find Civil War bullets, buttons, breastplates and more. Grandmother's Buttons, a gift shop in a beautifully restored bank on Royal Street, features a vast collection of antique and vintage buttons, some made into timeless jewelry.
Just east of St. Francisville is Jackson. Now in its 48th year, the Jackson Assembly Antiques Show and Sale takes over the small hamlet of Jackson on the last weekend of March. More than 20 dealers from seven Southern states bring their finest antique silver, Oriental rugs, furnishings and collectibles. Visitors can find kiosks with period furniture, porcelain and linens.
The three-day event attracts collectors from all over the South, many of whom make the Jackson Assembly an annual treasure hunt. And why not? The $10 admission fee is good for the entire three days and includes a self-guided Historic District tour of Victorian and Greek Revival homes and three historic churches. Members of the Jackson Assembly also sponsor the Gumbo Kitchen, where homemade sandwiches, gumbos, soups and decadent desserts feed visitors. Find this in the basement of the McKowen Building. When you get tired of looking at antiques and dining on home-cooking, visit the art show, which features works by regional artists that will complement your newest antique purchase.
There are two antique stores in Jackson also worth visiting year-round: The Southern Belle Station has a nifty display of antiques that are sold on consignment, many upscale, and Milbank House's Old Post Office Gift Shop is a great place to find vintage clothing and original Louisiana plantation dolls.

www.stfrancisville.net
www.felicianatourism.org

M.S. Rau Antiques
NORTH
West Monroe
In the past 25 years, the Cottonport Historic District in West Monroe has become one of the most active and interesting antique-centers in the state. Known as Antique Alley, this area houses more than 40 stores, including 15 independent antique stores, seven large antique malls and many small specialty stores. Most are found on Trenton Street, with others gracing the intersecting streets of Wood, Cotton and Natchitoches.
Most of the stores are located in two-story buildings that were built between 1880 and 1920. Charming brick storefronts with awnings line the streets. Many, such as Trenton Street Antiques, still bear original tin ceilings, weathered brick walls and broken plaster.
Within a half-mile radius, antique-shoppers can find American and English antique and vintage furniture, china, linens and kitchenware. Trenton Street Antiques boasts an impressive array of antique watches, pocket watches and jewelry. It is also one of the few stores in this part of the state that sells Newcomb pottery and original Clementine Hunter paintings.
Although the bulk of customers are longtime collectors, merchants along Antique Alley have noticed a recent change. "Right now we're seeing a lot more young people – singles and couples – purchase antiques," says Mike McMahan, president of the Antique Alley Association. "They are finding they can get better quality items at an antique store than they can find new. And I guarantee, for antiques and vintage items from 1880 to 1970, these West Monroe stores have the best prices in the state."

www.antique-alley.org
Arcadia
Just 60 miles north of Natchitoches and 20 miles west of Ruston is the small town of Arcadia, where antiquing takes a different twist. Known as the site where gangsters Bonnie and Clyde were taken after they were killed, Arcadia celebrates the infamous couple with Bonnie and Clyde Trade Days, held on the Friday, Saturday and Sunday before the third Monday of each month. Here more than 200 vendors from four states sell antiques, crafts and more.
If you can't make it to Arcadia for the Trade Days, there are several antique stores along Main and Myrtle streets that are worth visiting. "You can find almost anything from fine furniture to china, silver and old farm tools at one of the antique stores," says resident Jan Sims.
Take time to visit the Bonnie & Clyde Ambush Museum in Gibsland, 8 miles away, and the Bienville Depot Museum, a 1908 wooden depot filled with 1930s and '40s railroad memorabilia, historic documents and photos and military items.
Admittedly, Arcadia had more opportunities for antique-lovers before the 2008 recession, but the city is making a big play to replace those venues that were lost. But for now, the two-story brick buildings along Main and Myrtle, all dating back to the early 1900s, might be the kind of places you can poke around and find just the item that's been on your wish list.
CAJUN COUNTRY
Washington and Sunset
For many years, Washington was one of the best-kept secrets in Louisiana antique-shopping. But over time, many of the old favorite storefronts have closed, and some longtime former shoppers feel city fathers haven't been as aggressive in pursuing the antique business as in the past. Still, this quaint but tired-looking small town has a lure for buyers who long for the Washington they once knew.
Main Street now has only a couple of stores to poke around. But just a few blocks away from Main Street is the Old Schoolhouse Antiques Mall, a 40,000-square-foot former school with more than 100 vendors. Classrooms display wicker, quilts, Louisiana antique furniture, odd pieces of silver and whatnots. One old classroom bears shelves of used books, an appropriate addition to the former school.
For those looking for a shopping treat, drive about 20 minutes away to Sunset, a small town that is creating a lot of buzz among antique-collectors. Spend some time at Antique Woods of Louisiana, a 13-acre complex. The main building is a former sweet potato warehouse that features exquisite antique European doors, chandeliers and sconces. There are also large assortments of centuries-old olive jars from Greece and European chandeliers. "We typically see an upscale customer who is building or renovating a second or third home and has some discretionary income," says Shawn Burks, owner. "Louisianians have a big thirst for antique woods and want the best. That's what we have."
If you have a certain idea in mind for a piece of antique furniture or a need for wooden doors with unusual dimensions, Burks will custom-make the item for you out of antique wood. Your dream acquisition will have the patina and wear of an antique worthy of a page or two in Architectural Digest.
There are nine other shops in Sunset, with something for every taste and budget. The Sunset Market and Auction House takes up two buildings, both former sweet potato warehouses. Vintage and antique furniture, farm tools and bins, cypress shutters and primitive Louisiana antiques fill 7,500 square feet of space. The Sunset Market is also reproducing antique sweet potato labels into 8-foot-by-8-foot murals, perfect for that large wall begging for a burst of color.
The Sunset Rail Stop Flea Market has 30 vendors and is located in a former feed store. This is another unique venue for vintage tableware, lighting, shutters and more. Lacy first communion gowns, old phonographs and ironstone china are available for purchase. "We're just at the beginning of what we can do with Sunset," says owner Karen Domengeaux, who has lived in the town for 63 years. "We like to say it's sunrise in Sunset!"
The Funky Flea is a smaller shop filled to the brim with antique furniture and local art. Looking for a bargain or a piece of Cajun gris gris art? This is your place. Bayou Some Stuff, a longtime thrift shop, occasionally has antique furniture at bargain basement prices. "We get new stuff in every day," says Marvel Guidry, owner. "I find antiques at auctions and anywhere I can, and it flies out the door. You never know what you'll find in Sunset."
Most stores are only open on weekends, so check hours of operation before you set out for this upbeat little town.
www.townofwashingtonla.org
www.sunset.govoffice2.com
www.antiquewoodsla.com
CENTRAL
Alexandria and Pineville
Central Louisiana has had its ups and downs with antique stores, but there are a few that are worth a visit.
Maison Pompeii Antiques and Interiors specializes in that Old World, old money look. Owner and physician Dr. Larry Menache scours estate sales and auctions to find upscale items of interest. His large selection of unique lamps – from mid-century modern to antique brass – provides accents to any room. He recently sold a rare 72-inch round English Regency dining room table with a chinoiserie top. Menache has decorated homes throughout the United States, Mexico and Costa Rica.
Another intriguing high-end shop is Corner Antiques, owned by Janice Gravel and Tom Kennedy. Kennedy has more than 40 years of "picking" experience and knows a fine item when he sees it. Look for a three-piece antique Tiffany desk set, Newcomb pottery, an elegant half-tester bed, armoires and sideboards.
"We are very fair on our prices," says Kennedy. And yes, there's wiggle room on every price tag.
Just up the street is Miss Lily's Antiques. Amid the worn, distressed walls, Miss Lily's is a good place to find antiques of a more rustic version. Look for furniture, lighting, glassware and good old curiosities to add personality to your home.
Across the Red River in Pineville is Elderberry House Antiques & Uniques. Large armoires, primitive art and collectibles dot the store. Of special interest is the collection of antique cotton baskets and newly made artistic baskets. This small family-owned business showcases an assortment of period pieces, silver, clocks and a nice array of chairs.
Beaten Path Antiques, located about 5 miles out of Pineville on Highway 28, is a spacious antique mall with seven vendors who display their goods. Here the shopper can find an assortment of sturdy oak furniture, pottery, old canning jars and a few walnut pieces. Look for the display of Czechoslovakian items with jewelry, beaded purses and glassware from that country.
Note: Hours and days of operation differ from store to store. Call ahead or check Web sites to find correct times.