Louisiana Made: Arts and Sciences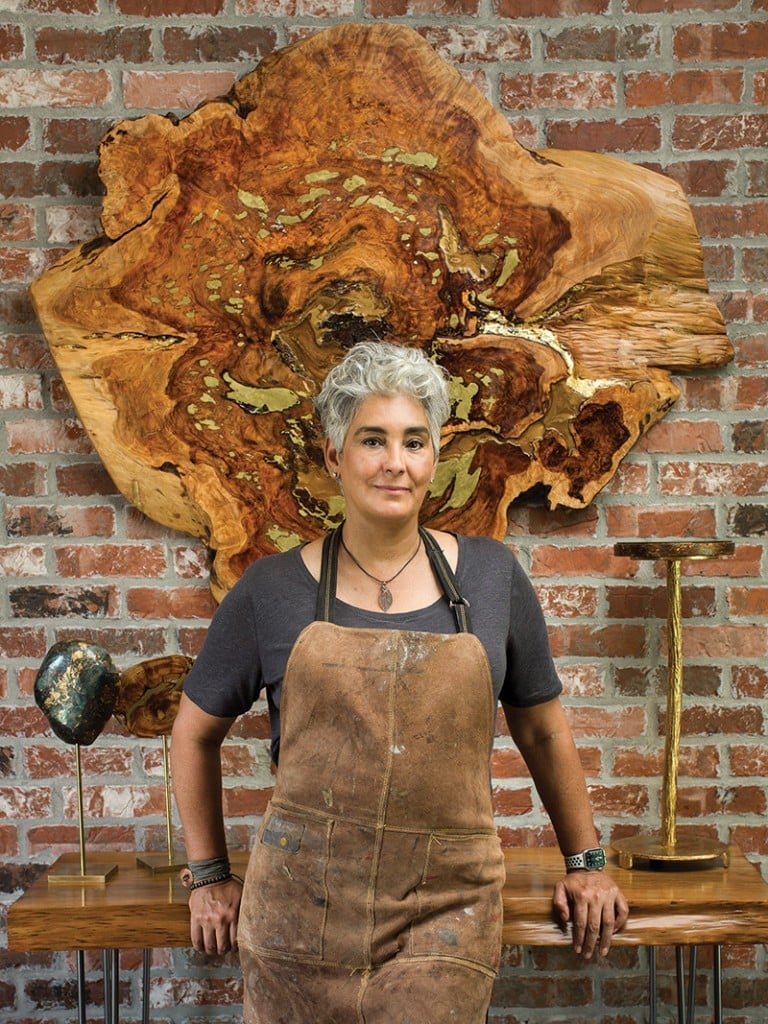 You see a lot of things out in the wild, but if nothing else, Sandra Walkin believes in resurrection.
Reaching out beyond her sun-drenched, glassed-in porch, thousands of pines, pecans, winged elms, river birches and more stand as towering reminders of the work the 58-year-old and her husband Patrick have put into the land. It was the early 1990s when the couple bought a fallow rice farm on the outskirts of Lake Charles and began evolving the property into the veritable arboretum it is today.
Walkin describes her life as a love affair with nature — she studied dendrology at McNeese — and being a caretaker for her extensive patch of earth every single day, the Louisiana native has developed a uniquely creative language, an extra sense, of sorts, that beckons on her long walks through the woods.
"Every tree has a story, and I listen," she says.
A pharmacist by trade — she met her anesthesiologist husband through work — Walkin has always stayed busy through continuing education courses. While building their home, she took a finishing class for cabinetry, then a course on plaster, and even an apprenticeship with the acclaimed George Olivier of Olivier Woodworks in Natchitoches.
"I was really prepping for a career in wood art without even knowing it," she says.
After Hurricane Katrina hit New Orleans in 2005, Hurricane Rita struck Acadiana with equal force, downing many of Walkins' beloved trees. Six years ago, she pulled out some of the stored wood from those storm casualties to inspect it.
"They were riddled with holes, but I thought, 'Wouldn't it be cool to fill the holes with metal?'"
Her early work was chosen to complement a local exhibit on the architecture of Frank Lloyd Wright.
"I never thought of myself as an artist until then," Walkin admits. "I thought 'I'm a science person.'"
Her furniture pieces are a beautiful combination of science, creativity and pure craftsmanship.
She does all the sanding and cutting and finishing herself — the "diry work, " Walkin jokes. She designs the metal pieces for her fabricator, and she employs her chemical skills from pharmacy to develop rich patinas and rivers of vivid colors as accents on her work. She doesn't have to hunt for precious slabs of sinker cypress like she did at first. Walkin is well-known enough across Southwestern Louisiana that friends and strangers call her when they stumble upon something they think she may want. Discarded, overlooked, abandoned.
They know Walkin believes in resurrection.
"I choose pieces of wood that a typical woodworker or contractor wouldn't want. When the wood has these voids in it, that's where I can get creative," Walkin says. "There's beauty in imperfection."
---
Why cypress?
When you open up, or mill, a cypress log it is like treasure hunting. It is always a surprise and a thrill.
Where does your love for patina come from?
Straight gold looks too 'blingy.' I love using chemicals to bring out certain colors and patina in the metal and the wood. It's all about the control rate of absorption of mild acids on the metal surface. That's where my chemical background comes in. It's like Forrest Gump said, 'You never know what you are going to get.' The patterns of color are never the same.
If you could create a piece for anyone famous who would it be and why?
Ellen DeGeneres wrote a book showcasing homes she renovated. As I perused the pages of her book, I could 'see' my pieces in her home. My style would blend beautifully with her style.
Is there a type of furniture you haven't made that you would like to make?
I would like to make a low-profile bed with a live edge headboard. Maybe with floating side tables built into the headboard. I've already built it in my mind. Many times.
---
→ for more information visit sandrawalkin.com
---