Louisiana Made: Dream Weaver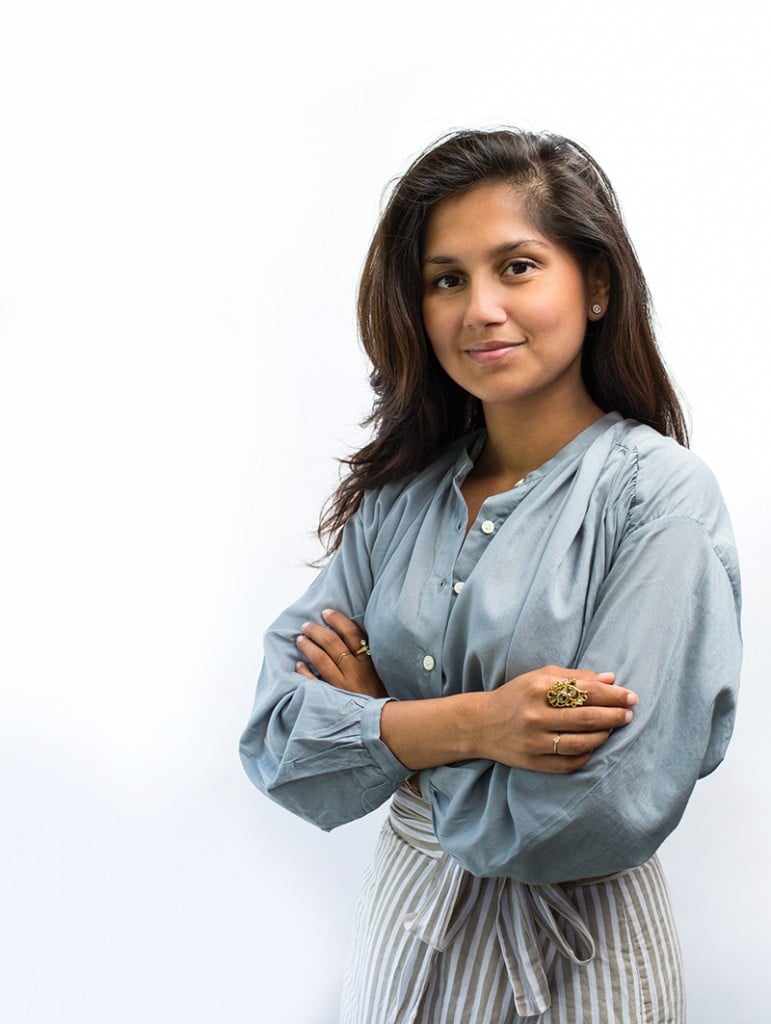 The opulent palaces and forested expanses of foothills stretching up to the highs of the Himalayas were enthralling, but Trishala Bhansali found her creativity molded more by muslins and silk brocade and block prints. The entrepreneur witnessed these among the kinetic colors and gold-embroidered, floral-splashed textures pouring out in raucous hives all along the crowded street markets of Mumbai.
"I always ended up hunting for fabrics in the stalls," Bhansali says of childhood trips to her parents' homeland combing through bandhani tie-dye dresses. "I was sketching designs and would bring material we found to our family tailor in Bombay who would craft the clothes based on my drawings."
From this colorful chaos experienced as a child, the now 31-year-old artisan designer's clothing line is an elevated reaction to disorder, a seeking of simplicity. Her brand Lekha is built on living slowly, connecting with intention, and investing in an Old World craft and the caretakers who practice it.
Even so, Bhansali is in the middle of Lekha's first measurably manic moment.
It's a steamy May afternoon in New Orleans, and the entrepreneur has less than a week to organize inventory and finalize marketing for a summer-long pop-up at Destination Haus in The Hamptons.
A month ago, a glowing feature in Garden & Gun — the first deep dive on her nearly two-year-old line of artisan dresses, blouses, pants and skirts — resplendently raised Lekha's voice in the regional conversation about organic, ethical and slow fashion trends. It almost maxed out her Spring 2019 collection.
"It's been bananas," Bhansali says. "Since that article, we've had a lot of unintentional fast growth, and it's hard to keep a lean team, but the smaller I can keep Lekha while we grow, the better it will be."
Packing up her life in New Orleans for exploration in Amagansett, New York, is just another summer away from Louisiana in a life filled with seasonal adventures.
Bhansali grew up in the Crescent City raised by her immigrant father, a cardiologist, and surrounded by Indian traditions, food and fabrics. But her mother had returned to India and her family's royal roots to pursue a career in politics when Bhansali was young, so every summer the designer would travel to Mumbai, Delhi and across the country.
After 10 years grinding in New York City fashion retail and attending NYU and Parsons School of Design, Bhansali felt a need to prove herself creatively and to connect on a deeper level with the two places she considered home before the Big Apple.
Bhansali was working for a large home goods brand using ethically-sourced materials, many from India, when her "ah ha" moment arrived.
"I started to make the connection that this was something I could do and something I should do myself, my own way, with a new brand," she recalls.
In 2017 she returned to New Orleans and began connecting with women's artisan groups and nonprofits in India who could manufacture her designs. Those partners include the Nabha Foundation, the Kala Swaraj Foundation and the Saheli Women's Group.
In April 2018, Bhansalie opened a by-appointment showroom in the city and began taking online orders. Lekha was born.
"I don't think you leave New Orleans thinking it will be forever," she says. "It's not easy to pursue your muse. It takes courage. It took a lot to get the push to do something, and the feeling of wanting to get back to New Orleans was my push."
Lekha blends Bhansali's love of traditional Indian fabrics like breathable linens, cotton, silk, and muslin — all of which work well in the similarly humid, hot climate of south Louisiana — and her desire for comfortable designs flexible enough for all body types and occasions.
"You can wear it all day," Bhansali says. "If you fall asleep in it you don't feel horrible in the morning."
Most importantly, the designer wants her line to support hard-working, creative women in India, just as her pieces are worn by talented, empowered women in Louisiana and beyond.
"I admire how calm and level-headed Trish is," says Cheyenne Ellis, founder of Make Movements, a yoga-driven corporate wellness business in New Orleans. "I can see how easy it is to have your attention diverted as an entrepreneur, but she remains stable and dedicated to smart, sustainable production and the heart of her brand which is to support these women and authentic community. It's inspiring."
Bhansali calls her clothing "warm, soft female armor," and for her, Lekha is more about building thriving communities than thrilling closets.
"I've met these incredible Southern women, and creative souls in New Orleans who are finding their footing and the strength to pursue their passions," Bhansali says. "I hope Lekha can bring more of those women together."
---
Q&A
You are well-traveled; what is one place outside of Louisiana that really inspires you?
Every single time I go to Jaipur — in Rajasthan, India — I see or experience something new, whether its the marigold flower market, the pink and terracotta hues across structures, the fabric stalls filled with bandhani, brocade and block printed fabrics, or even people-watching. You'll see men with their white muslin kurta pajamas and brightly-dyed turbans or women with their lime, red, fuchsia or tangerine sarees decked out with assorted bangles, earrings and nose rings.
Where are you most likely to be found in and around New Orleans?
What do you like to do for fun? One of my favorite things to do in New Orleans is to take a walk through Audubon Park or City Park. Both are beautiful in their own right.
If you could design a piece for any one specific person, who would you choose, what would you make, and why?
I wish I could have dressed Georgia O'Keefe in some of my longer, voluminous muslin dresses. I'm a huge fan of her work, and I think that the backdrop of the Southwest, along with her palette, works so well with the Lekha aesthetic I strive to create. She was a woman of intense talent, gentle strength, subtlety, and independence — and appreciative of natural surroundings. I love how all of these qualities are reflected in her work. I often look at old photos of her for inspiration.
What, when push comes to shove, can be spicier: Traditional Indian cuisine or Louisiana cooking?
Indian heat hits hard and deep, while I think Louisiana spicy is more topical. I can definitely handle Louisiana heat better than Indian!
Is there a particular misconception or myth about fashion design that you'd like to dispel now or that you're working to combat with your brand?
I think Lekha is unique because we are working with artisans and organizations across the world, entrepreneurs and small business owners stateside, and alongside our incredible customer base. I love that the brand is completely built on all of this connectivity.
---