Louisiana Made: Make it Grain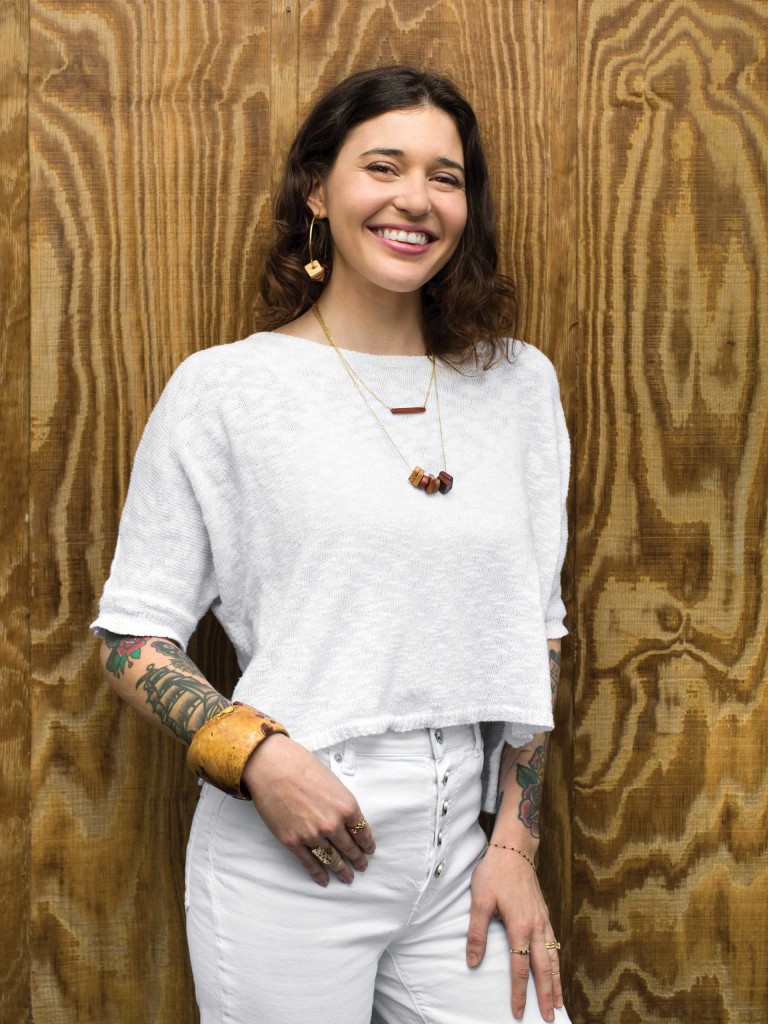 From castaway to runway, that's the dynamic journey the salvaged, handcrafted pieces of Molly Taylor Hatcher's Beneath the Bark jewelry line have made.
The south Louisiana creative's work begins life as discarded scrap sourced from local woodworkers — shards of walnut, cherry, spalted pecan, even Louisiana sinker cypress — saved from the fire or the junk heap, and taken into Hatcher's hands to become wearable art-like earrings, bracelets, necklaces, cufflinks and more.
"All of it was happy accidents," says Hatcher, who made a name for herself as a singer-songwriter in Baton Rouge before launching Beneath the Bark in late 2014. "I didn't have a lot of money for Christmas presents, and I was dating a woodworker at the time, so I started messing around with his scraps, and came up with jewelry for friends and family."
Hatcher posted her results on social media, and soon she was fielding orders from friends and strangers alike.
In 2019, Beneath the Bark was invited to New York Fashion Week, her work starkly contrasting the high and fast fashion roaming the catwalks. Vogue and Vanity Fair covered Hatcher's successful debut, and the 30-year-old says the whirlwind was an inspiring wakeup call.
"This is recycled, sustainable jewelry, and it feels good to be recognized for that," she says. "I felt like a five-year plan flashed before my eyes at Fashion Week."
A return was planned for 2020 before the pandemic hit, and the shift turned Hatcher inward. She was a newlywed with musician Denton Hatcher and together they left Baton Rouge for her family's farmland outside of Covington. He set up their recording studio. She began making leather handbags with the same trial-and-error exuberance she employed on her first jewelry pieces six years ago.
"It's best to just get the work out and then take feedback and refine things," Hatcher says. "I am not afraid to ask opinions."
Hatcher's goal for 2021 is to increase her productivity and product offerings in brand new ways.
Finally settled into her new home, Hatcher is building a workshop out back so she can move her leathermaking process out of her laundry room and into a real creative space.
"Everything that's in my head and has been an idea for three years, I want to take it and finally get it out in physical form," she says, including further leather explorations into belts, bags and wallets, fresh wood accessory designs and a full album of new music. "Why am I holding this all in? Why wait? My goal now is 'get it done'."
Years ago, these ideas may have felt tangential to her more modest initial jewelry explorations, but the polymath who throws herself into raucous jams on drums and electric guitar to channel extra energy knows more than most that all forms of self-expression are connected at the root.
Today, she relaxes on walks through the same trees, down the same footpaths and over the same fields that first connected her with nature in a powerful way as a child. Now she takes in these views with emboldened, purposeful eyes.
"I think people are starting to get it, now that the pandemic has happened, more people are starting to make things at home and from scratch and that's a fantastic thing. We need to wake up and take care of our planet. Everyone is at home more now and the Earth is our house, too. Do we not take care of our house?"
As the pandemic has taken a toll on retail and live events like festivals, Beneath the Bark has grown steadily the way it always has, through sales via Facebook and Instagram.
"The power of social media is a reason I have a business," Hatcher says.
While embracing the many commercial facets of monetizing her work as a creative entrepreneur since the fervent experience of NYFW, the creative is becoming more like her raw materials, better adept at letting her own grain show.
"I've learned so much, from trees, from Fashion Week, from this past year," Hatcher says. "I've learned that there's just something incredibly beautiful about being unique."
→ For more information visit Beneaththebarkjewelry.com
---
Q+A
When you're not creating, what do you enjoy doing in Louisiana?
Denton and I love canoeing, especially in spring and summer on the Bogue Falaya. But also, we do so much now, to recharge, we often just do nothing. We just spend time together.
Do you find that taking a break from jewelry or bags to play music is beneficial? Whether it's jumping from leatherwork to writing lyrics, or woodcrafting to playing drums, how do you see your different creativities intersecting?
I find that taking a break from anything you do is very important for your creativity. I love switching things up during the day and bouncing from one creative outlet to another. I find I get the most inspiration that way.
You mentioned learning a lot through your experience of New York Fashion Week—what was your biggest takeaway?
The number one thing I learned from Fashion Week is patience. Things don't happen overnight, and it took over a year to plan for it.
Tell me about one of your custom pieces?
A customer once brought me some wood left from her parents' home in Gatlinburg after it burned to the ground. She wanted some jewelry for them made from the wood as a memory of the good times in that home, so that's what I did. I'll never forget that.
---