Louisiana Made: Metal Winner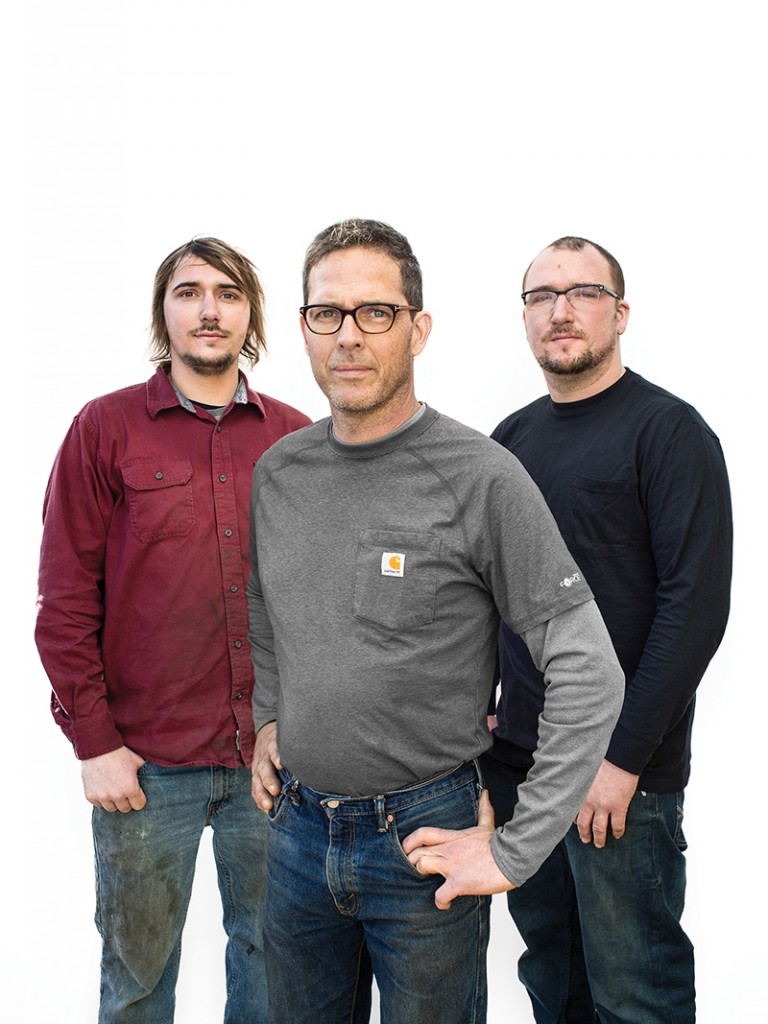 As far as daily commutes go, David Cano's is hard to beat. It runs from the recently renovated second-floor loft apartment directly above his wife's letterpress studio to just down the street at the expansive metal fabrication shop where, with help from longtime employees and welders Matt Booksh and Craig Booksh, as well as two other employees, he creates artful gates and fences, windows, vent hoods, all manner of furniture, and even the shimmery steel bike racks that now dot Baton Rouge promoting exercise and connectivity.
In between his residence and his office sits a brick building boasting bright murals that he purchased last year. It houses WHYR, Baton Rouge's community radio station. Just home from an install, the 50-year-old — who looks 40 with his Paul Newman blue eyes — has scarfed down a quick sandwich and now saunters past the station to check on things at the shop.
Even with a myriad of projects and planning tomorrow's fishing expedition on his plate, his mind meditates on this building's potential as he looks it over. He can't hold his excitement for rethinking the subdivided offices and common rooms that remain empty inside. It's just that bending and cutting metal 60 hours a week for Iron Design LLC, has kept him from making the time to do it.
"I just want to 'vanilla box' it as they say in the industry, to attract some new businesses and artists to be good neighbors for the radio station," Cano says. "I want to be able to say 'Hey, this neighborhood is coming back.'"
Be it for the quieter side of Mid City Baton Rouge where both he and wife Kathryn Hunter of Blackbird Letterpress live and work, or the timeless welding and design skills he's preserved and championed for years through his elegant metalwork for commercial and residential projects, much of what drives Cano is a strong desire for revitalization.
In this and other ways, Cano's creativity bears all the hallmarks of the home state this Louisiana native has never left. Like many in this region rich with outsider artists made good, Cano's craft is self-taught. His career is one he eased into over a winding path littered with a few lean years. His idea of relaxation is skimming across the bayou and casting his line into a rippling expanse of dark water. His community is built on nothing less than homemade, laboriously-prepared food shared warmly around a table.
Cano grew up in Baton Rouge as an amateur mechanic, working on his father's old Volvos and a VW Beetle bus from a young age, and longing to create custom pieces and additions to automobiles. But it was his work for a successful landscaper that led to his first experiments with welding. After gaining his boss' support, Cano bought a welding machine and studied the instructions at home, drawing designs on his concrete floor.
"If I got something wrong I would just beat my head against it until I succeeded," he says. "It was actually years and years of teaching myself and doing things twice so I can go install the one I got right."
While still in landscaping, Cano began creating ornamental pieces for the luxuriously-manicured lawns of the Capital City's well-heeled, and soon he was taking custom orders at a local arts market where he attracted the attention of business owners and homeowners alike.
"Construction," Cano says with emphasis, "is collaboration. Sometimes I get to do whatever I want, and that's fun, but it's really enjoyable to work with other professionals because they are incorporating what you're making with other things going on in the house. I like that back-and-forth and creative relationship."
To create a spiral staircase, casement-style door, an elegant range hood, or even a large wine rack takes intense communication with architects and interior designers even before the requisite hours of designing on AutoCAD, overseeing his team in the fabrication shop, then managing the installation.
"I like the design distilled down, simple lines," Cano says.
Though recent work includes a lot of interior steel design for the Walk-On's franchise of restaurants and leans more to the decorative and ornamental than a structural build, Cano still prefers a minimal, classic aesthetic.
Outside his kitchen window is a monolithically rust-colored metal wall with clean geometric shapes that stand in stark relief. Facing it directly, the edifice feels plain at first glance, but over time it marvels. As the sun arcs across the sky throughout the day, the shadows cast evolve and entertain.
"He has never said, 'I cannot do that,'" says Kevin Alford, architect with Remson Haley Herpin Architects. "Every time we have asked for something difficult he has given it a shot. He may come back and say, 'I found a different way to get the look you want,' but he has never said something is impossible."
Cano's "impossible" jobs include encasing artist Stephen Wilson's massive and mesmerizing stained glass wall overlooking both the atrium and meditation room at Mary Bird Perkins Cancer Center.
Though Cano spends more time on the design phase than welding or computer numerical control (CNC) router cutting himself these days, that's intentional. He trusts his team of four, but also appreciates the value in using design to find and solve problems on a computer screen or paper before they arise on site with materials and laborers on hand and time ticking away.
"Sometimes that can make the job go a little slower, and that adds stress on me personally, but it's important," Cano says. "I can feel like I'm waiting to be productive while in the design phase, but that isn't really true. Catching problems in design is very productive. And install goes faster with a perfect design."
Using this process for problem-solving on the front end of a job is part of Cano's process of refining his work in total, honing it down to the precise essentials — just like his favored minimal designs and the cleanest of welds. His is the art of practicality.
"There's craftsmanship there, certainly, and time and practice," Cano says. "But do I consider myself an artist? I don't know. I just care about what I do."
---
"I like the design distilled down, simple lines."
---
Q&A
Is there something in particular about your metal design that is specifically inspired by Louisiana?
I would say it has to be the south Louisiana tradition of taking a minute to visit and not just rushing through things. Sometimes a job needs this [change of pace] also. It can slow down the work, but sometimes I have to let a problem percolate for a while to find a good solution. I have to stop and visit with the problems.
What is it about fishing that you love so much?
I go as often as I can because I enjoy being out in wilderness. It's like hiking. That same feeling. You're out and away from it all, so it feels nice and peaceful. And I love just being on the boat, just moving through the marsh.
Where do you venture the most?
Pointe-aux-Chenes is where I go fishing. I launch from Isle de Jean Charles Marina. The marina is more than a place to launch your boat and get bait. It is a hub of the community, and people from the area come there to hang out and visit with each other and not just fish. I will end up at the marina visiting for hours. I feel close to many of those people. The sign on the marina says a lot: "Great salt water fishing, tackle, cold beer, good company."
---
---