Louisiana Made: So Fresh and So Clean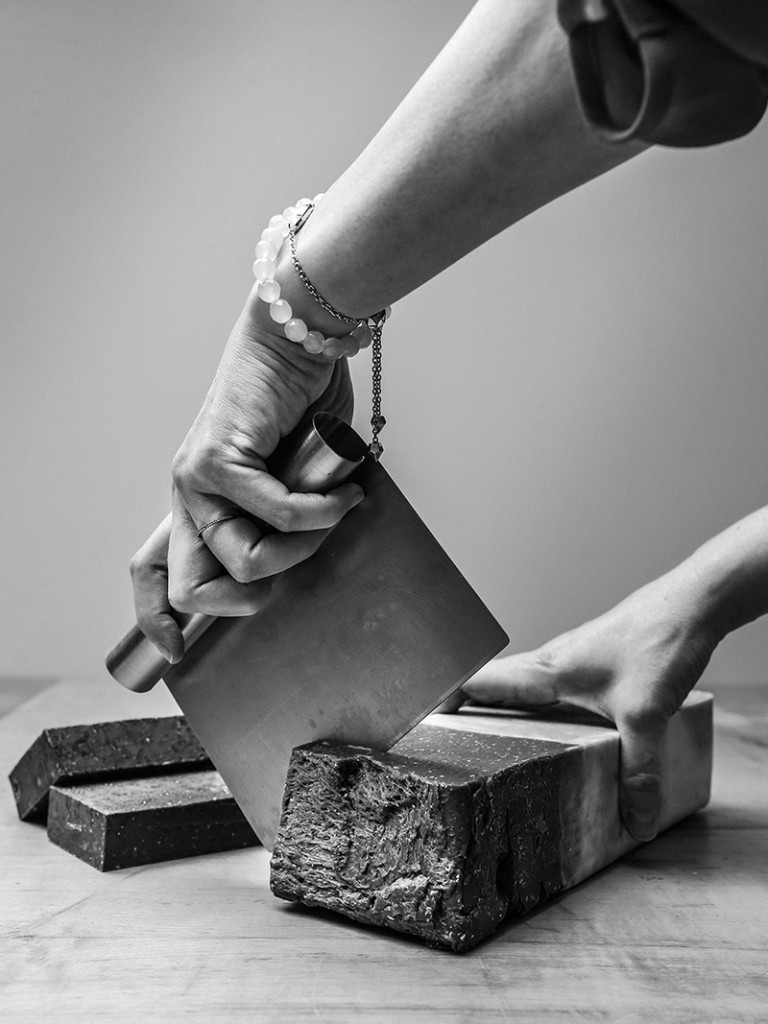 When bathing (thankfully) began trending again in the 19th century, the search was on for ways to produce affordable soap on a large enough scale to keep the working class disease-free, healthy and able to fill the factories and fields of a rapidly industrializing America. Driven by market demands, research and development were poured into chemicals and catalysts that were soon refined enough for animal-based bars and liquid soaps to roll off the lines of a number of pioneering companies.
Though processes have evolved, and automation taken over, the ingredients and methods of making mass-produced soaps have, by and large, remained consistent. This, according to Mandeville maker Kelsey Conner, should be of concern.
"Might as well grab some detergent and rub that on your skin," says the veteran soap-maker and founder of Cake Face Soaping Company. "Mass-produced soaps leave your skin feeling raw and stripped of natural oils."
For a decade now, the Slidell native has been offering her growing customer base a healthier alternative. Free of synthetics and toxins, her vegan, all-natural soaps come in a variety of inventively handcrafted scents and textures like Eucalyptus Tea and Rosemary Orange.
"It's so interesting that with a bath or shower, people say 'I feel like a new person,' but it's true," Conner says. "You've sloughed off all the old skin, so you are, in some ways, literally, new. This is still an underrated feeling, though, because too many people are using the chemical stuff."
Cake Face soaps can be found at a dozen Rouses supermarkets across the state as well as Whole Foods. When Conner has time, she'll pop-up for New Orleans arts markets.
Inside a corner building in quaint old Mandeville not far from Lake Pontchartrain and her home with her electrician husband, Cody, Cake Face Soaping features Conner's storefront then opens into a slender, savory-scented workshop lined with everything from fragments of samples to large batches ready to ship.
Like slabs of marble, rows of fresh soap in colorful cuts are stacked just about everywhere.
She's apologetic about having to meet later than originally planned — turns out Whole Foods needed an emergency batch to fill an end-of-the-aisle pod, leaving the 32-year-old craftswoman just a few days to fill a large order.
Conner works alone, handling research and experimentation, cooking, packaging, shipping and account management.
"My stress level is on 10 most the time," says the animal lover, looking out her window past a collection of cat-themed coffee mugs. "Even when there's less to do, I'm thinking, 'What am I not doing that I should be doing?'"
Conner began slowly by selling homemade bars on Etsy and then at local markets.
"It's not something you can run through a machine and have it come out exactly the same," she says, stepping back into the small workshop where she "cooks" soap among a wild library of raw ingredients like fresh lavender, beetroot, essential oils, even coffee grinds. "You never get the same exact product from batch to batch no matter what you do. I don't use any synthetics. That's the fun — I like that about it."
That process of discovery is exciting for a creative who studied painting in college and once thought she'd pursue a career in fine art. On display in the Cake Face store, but somewhat neglected, are a few flamboyantly-hued landscape paintings, Conner's handiwork, though she softly admits she hasn't picked up a brush lately.
"Soap is very creative, so it's that creativity plus using natural elements for personal health that has been the combination of my career," Conner says. "It's impossible not to let your creativity out."
With sales growing, Conner wants to remain open to opportunities and outcomes she can't quite predict, not unlike the pleasantly unexpected results of experimenting with a new soap recipe.
"Whether it's work or its life, you make a plan, but then something better happens on its own," she says. "I'd rather introduce two materials and experience the surprise of what happens."
---
Q+A
How long does it take to make a typical bar of soap? Typically, a batch of soap takes about two hours to make, 24 hours to sit in the mold, and I cure it for about 10 days before selling it.
Do you recall making your very first batch and how that went? Vaguely. I made a recipe that I found online, and as I recall it went well. I didn't start making mistakes until I began experimenting and creating my own recipes!
How would you describe being a maker in Louisiana? Louisiana is so supportive. Cajun culture is a tight-knit group. We've been through a lot together. People are close to their ethnic routes here, and there's something to that genetic makeup where we want to support our own.
A lot of people say Louisiana is its own country. I've heard that from a lot of people. It's why a lot of people who are born here don't move away. There are great places and beautiful places elsewhere but it's not the the same. Nothing is like New Orleans and Louisiana.
---
→ for more information visit cakefacesoaping.com
---