Louisiana Made: Stick With It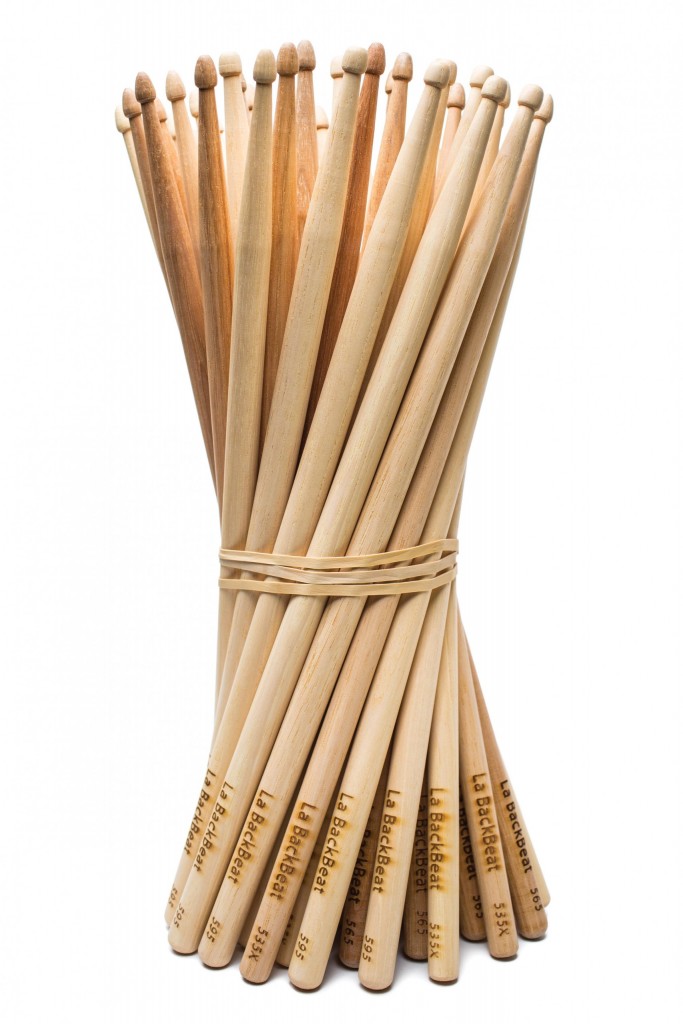 Saturdays always meant chores in the Kincel house. Early mornings brought work in dad's small backyard shed or hours sweating under the car hood in the driveway — all while Frank Kincel's friends were playing ball and biking the roads around Lafayette, wind in their faces carefree.
But not this Saturday.
Kincel was 10, a hoarder of catalogs boasting drums the family couldn't afford and an attacker of his mom's cabinet drawers with anything that could be used to make a beat, when his typically stern father asked him if he wanted to try making a kick drum pedal at home.
The boy's kit was a ramshackle assembly of spare parts, a few busted-up drums from the neighbor's trash coupled with pots and pans and jury-rigged to not implode. But he needed a kick. Led Zeppelin's John Bonham thunders with a kick.
After showing his father some catalog pictures, the pair got to work.
Using a four-speed stick shift knob he'd been eyeing in a junk drawer, an old hinge, two pieces of leftover wood, rubber bands, some copper tubing and a chain, they were done before dinner.
"I was ecstatic, even though it was so primitive," Kincel says. "They couldn't get me off those drums to come to the table."
It was crude. It was loud. It was very punk.
Making his own kit at 10 put Kincel on the path to producing quality, handcrafted drumsticks that musicians across Louisiana and the world are discovering.
"Me and old machines have a relationship — I love them," Kincel says as he pulls a lathe instruction manual from his father's old tool chest, the drawer tops all dented from Frank drumming wrenches on them as a child. "Since I know how to do the work, why not find an old machine, like this lathe, and fix it up? It'll last. They were built to last."
On the edge of the Freetown near downtown Lafayette, Kincel and his assistant work out of a two-room shop with his lathe, planer and band saw, a custom-designed sander, various other machinery, and loads and loads of hickory, the same wood used for axe handles and hammers. Kincel sources his from rural Alabama.
Working in instrument repair shops for years, Kincel was known as "The Fixer." Coworkers would drop broken drums and instruments on his desk without a word, challenging Kincel to both diagnose the problem and fix it in the same day — and he would.
"At some point I realized I could take my knowledge of trade skills and my love for the drums and marry the two," he says.
La BackBeat was born.
Seven years ago, he began immersing himself in the study and trial-and-error of stick-making, from the thinner jazz-oriented varieties to thicker models ready for hard rock.
"I've learned that I can do things I'd never thought I could learn how to do," Kincel says. "The books for one thing. This business is very tight. Managing money is essential."
Now 51, Kincel can crank out more than 400 drumsticks per day, but mostly he just enjoys knowing that musicians are happy with the quality and durability of his sticks.
"What we are doing here is influencing the industry; the major manufacturers are watching and copying some things I do," he says. "On certain processes I've had to become very secretive."
Drummers in Japan, the Netherlands and the UK are watching too, and have bought from him. Some post videos on social media and give a shout-out to La BackBeat which gives Kincel the biggest grin.
"I'm more famous now than when I was a drummer."
If you could get your sticks in the hands of any drummer, who would it be?
Any of the major artists — I'd love that. But I'd want them to play with these sticks because they want to be part of the family. I want my craftsmanship and consistency to stand out for itself, and not push them on anybody or have a big endorsement do that.
With the pandemic hitting musicians and music venues hard, do you see any solutions?
Whether it's grants, unemployment, or low-interest loans, there should be some form of assistance. Most artists and musicians already ran pretty lean in the past and were totally unprepared for a pandemic. Who would've thought this would happen?
You blend multiple things that Acadiana likes to celebrate: nature, craft, entrepreneurship and, of course, music. You're exemplary of your region in that way.
I do feel very grateful to be able to pursue this and touch the world all the way from Lafayette. I have made some trade-offs in life to be able to pursue my musical endeavors, but I feel extremely thankful that I have been able to continue that pursuit.
→ for more information visitlabackbeat.com