Louisiana Made: Well Armed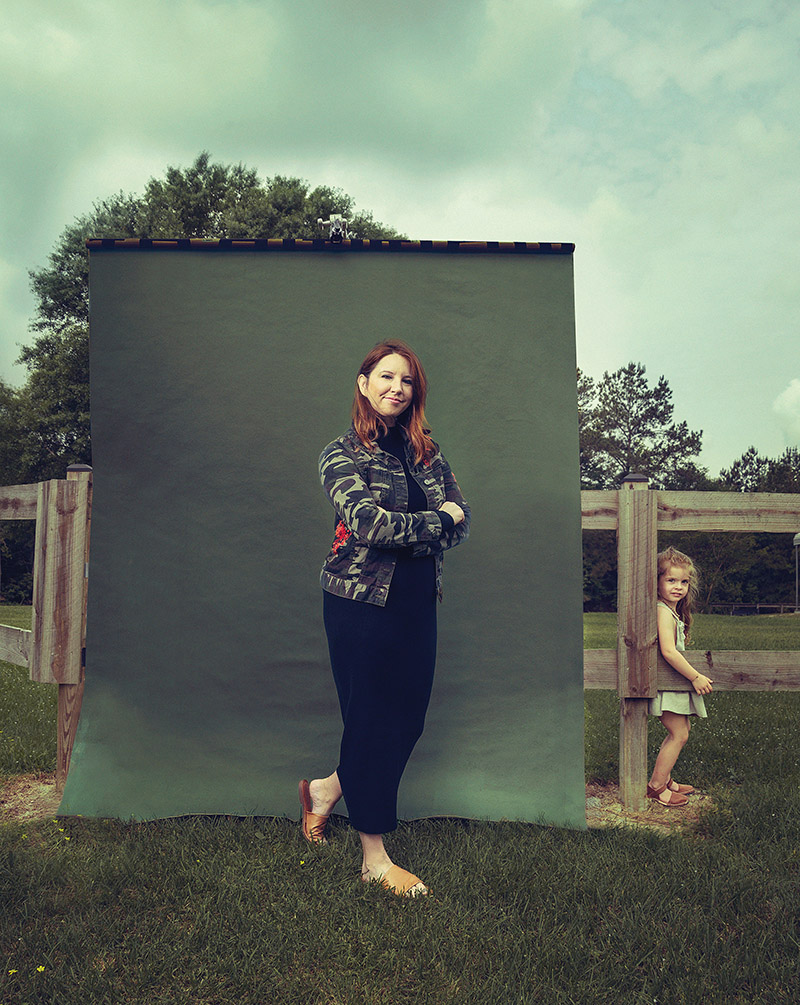 Rounding the corner past a path of palms, ferns and lilies in the expanse of the greenhouse, Harper runs beaming, her arms waving wide like falcon wings. The young girl refuses to take off her new jacket; she pleads with her photographer mom to leave it on, even if this style shoot requires a wardrobe change — eventually. When Harper puts on the reversible, French terry bomber with sunbeams on the back and at the elbows, she feels like she could take flight.
She looks like a little superhero.
"Kids are our sunshine, they give us hope," says the handmade jacket's designer, Ashlyn Major, founder of the Print or Solid line of children's clothing, as she refers to the sunlit accents at the elbows as "armor." "Children don't realize the effects of their successes or their failures yet, they just go out and try. They're just living life with an inspiring audacity. And as they experience failures, they need armor, and that's the inspiration for this jacket."
Major is used to making children feel better about themselves with a greater sense of the world around them. The 34-year-old creative is a practicing pediatric speech therapist in Walker, near Baton Rouge. Her bold, rule-bending clothing design is an ever-increasingly aggressive side hustle.
"I think I'm burning it at both ends, but I have a good momentum," says Major, her coffee cup swamped by a collage of her favorite patterns, recent sketches and concept notes.
The self-taught designer is set to launch Harper's favorite superhero-inspired reversible jacket online the evening of this interview, after teasing it on Instagram. It's just the latest piece in a series of creative garments from the speech therapist who for years shared sketches of her creations with the public at arts markets and then for word-of-mouth clients less than four years ago.
Print or Solid's rule-bending collection feels classic with mad dashes of whimsy. Leather and gingham? Alright. Check-pattern and purple bears? Why not! Major designs and creates each bespoke piece herself, but she keeps time for collecting ideas — she still has her very first sketchbook on hand — and connecting with photographers and mom bloggers while networking online.
The Louisiana native's inspirations can come from anywhere — a vintage car, an eye-seducing mural, a scroll through eclectic Pinterest boards. Ever inheriting her pilot grandfather's bomber jacket as a child, Major has loved gender-neutral looks. She designs her jackets for boys and girls to enjoy equally.
"Growing up, I would cut up my shirts, wear my belt to the side, put some crazy colors and prints together, and just try the unexpected," Major recalls. "I recently looked back on my college photos, and the girl in those photos has no reservations about what she is wearing. Several times my mom expressed embarrassment of the outfits I would put together, but I have no regrets."
Conceptualizing and organizing photo shoots, managing online orders and her own social media marketing, and of course turning out enough clothing to meet demand, Major has had to overcome moments of near burnout.
In March, an electrical fire burned her home. She lost all of her inventory and supplies but managed to save one sewing machine. She's resolute that it's only a setback, and nothing she can't overcome. It just reminds her that, for example in the summer of 2018, she felt overwhelmed with the details of it all and found herself asking: "Why am I so stressed out about a romper?" Her answer was that she had lost connection with her "Why?" — why she had begun to create in the first place.
"It gives me satisfaction on an inner level, because it's a creative outlet but an inner peace," Major says. "There's a difference between something that you just put on your body and something that you're proud to wear.
So being able to give someone the thing that they can't create themselves, but it makes them feel equally good, that connection means so much to me. That's my biggest inspiration.
Q+A
What's one color that people — children and adults — should wear more, and why?
Color is such a fluid marker, in my opinion, so I like to think of colors in clusters or families. I think kids and adults should wear fewer primary colors and wear more earth tones and jewel tones, overall. These colors are warm, pleasing to the eye, and overall they look more high end.
So kids are messy. Sometimes very messy! Did you have to resign yourself to the fact that your beautiful clothes might be covered in all kinds of things?
I hope they are covered in many things. That's a sign that a lot of memories were made in them! In terms of design, I choose fabrics that can withstand many washes and wears, so I hope children wear my garments for occasions and for play.
What do you like to do for fun when you're not designing clothes or working with your speech clients?
I recently became a plant mom. Watering, assessing and researching plants is probably the thing I'm doing the most when I'm not working.
---