Louisiana Pet Parades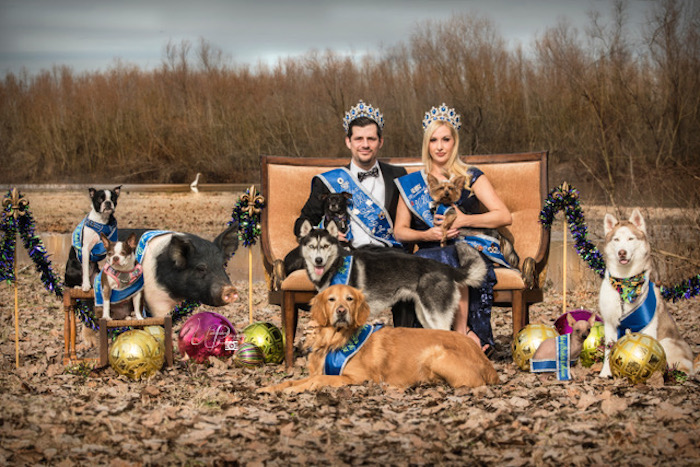 Mardi Gras parades have long gone to the dogs. We can't celebrate the Carnival season without our pets!
Yes, we parade anything and everything here in Louisiana. Most of the pet krewes features the canine variety but a few, such as the Krewe of Barkus and Meoux in Shreveport and the Krewe of Paw in Monroe, parade all types of animals along with their owners.
Here's a list of pet parades happening across the Bayou State. Lease up your pet and enjoy!
Sunday, Feb. 9
Capital Area Animal Welfare Society (CAAWS) Mystic Krewe of Mutts Parade
Galvez Plaza, downtown Baton Rouge
Bark in the Park begins the fun from 10 a.m. to 4 p.m., followed by a noon costume contest and the 2 p.m. parade. The parade is CAAWS' largest annual fundraiser with proceeds benefiting the organization's spay and neuter program.
Krewe of Barkus and Meoux
Events on the Red, 2000 Reeves Marine Drive, Bossier City
The event marks its 21st year in 2020, with a parade, pet contests, vendors and adoption sites. The theme is Woofstock Mewsik Festival, based on the Woodstock Music Festival of 1969. Parade attendees are encouraged to dress in Mardi Gras attire or as 70s musical icons. "Proceeds from this event goes right back into the pet rescue community," said Jean Johnson, captain. "We support local shelters, spay and neuter programs, and more."
Saturday, Feb. 15
Krewe de Paws Olde Town Mardi Gras Parade
Slidell
The event begins at 10 a.m. and continues to noon in Olde Town Slidell with the theme this year being "Bad to the Bone." If you want to join in the fun, the last day to register is Feb. 8.
Krewe des Chiens
West Vermilion Street in downtown Lafayette
The parade rolls at 2 p.m. and includes royalty with crowns. Yes, a canine king and queen. Krewe des Chien raises and distributes funds to several animal assistance organizations in the Acadiana area in need of financial support.
14th Annual Krewe of Paws Mardi Gras Pet Parade
Antique Alley, West Monroe
Pets of all shapes and sizes — this year's theme is "The Magic of Furry Tales…and feathers & scales!" — will roll down the 100 to 400 blocks of Trenton Street beginning at 11 a.m. The event also features food trucks, vendors, and music.
Sunday, Feb 16
The Mystic Krewe of Barkus
Around Armstrong Park, New Orleans
Come out for King Edward VII and his queen (yes, they're dogs) at the 2 p.m. parade, then stay for the Pawty in the Park in Armstrong Park. There will be food vendors, live entertainment, sponsor tents and more from 10:30 a.m. to 5 p.m.
Saturday, Feb. 22
Krewe of Barkus Parade
Lake Charles Civic Center Arcade Outdoor Amphitheater
The parade rolls at 2 p.m. along Gill Street at the Civic Center in downtown Lake Charles. The title of "Mystical Dog" will be given to the best costumed participant.
Saturday, Feb. 29
Inaugural Krewe Du Pooch Parade & Costume Contest
Lakeshore Drive in Old Mandeville.
This new event, to be held from 10 a.m. to 6 p.m., includes the theme "Dressed to the #9s," with a nod to Drew Brees and Joe Burrow, who both wear jerseys with the number nine. Participants are encouraged to wear LSU and Saints costumes and colors. Registration begins at 10 a.m., followed by the costume contest. The parade will roll at 2 p.m. Rain date is March 7.
Sunday, March 1
Mystic Krewe of Mardi Paw Parade
Downtown Covington
The krewe moves to Covington for its 26th year, with the theme being "Beyond all Boundaries." Participants are encouraged to come dressed celebrating the exploration of sea, air and space. Actor Ian Somerhalder will leads the paw-rade that rolls through downtown Covington streets.