Louisiana Plays to its Economic Strengths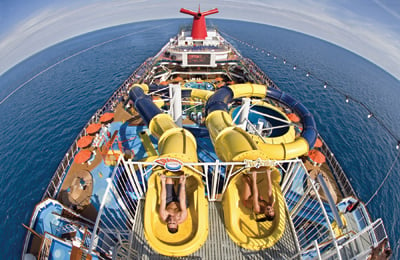 While Louisiana's economy is growing at what some describe as a measured pace, the state's ability to attract jobs is a reminder that slow and steady growth trumps no growth, particularly as many other parts of the country struggle. Southern Business and Development magazine recently named Louisiana its 2014 State of the Year in the 15-state region that the publication covers. The magazine ranks states by their ability to attract large job-generating projects and capital investment in increments of $30 million or more.
The following are snapshots of a few companies that are helping to keep Louisiana in business headlines.
Carnival likes the Crescent City
NEW ORLEANS – The Port of New Orleans and Carnival Cruise Lines recently signed an agreement that will keep the world's largest cruise line sailing at least two ships year-round from New Orleans through 2019. With additional options, the deal could guarantee that at least two ships as large as Carnival's Dream and Fantasy class vessels will sail from the port through 2022. Two Carnival cruise ships currently sail year-round from the port's Erato Street Cruise Terminal. The 3,600-passenger Carnival Dream launched seven-day itineraries from New Orleans to the eastern and western Caribbean in April. The Carnival Elation sails four- and five-day cruises to Mexico. Together, they carry more than 400,000 passengers annually from New Orleans.
Steel tubing company boost north Louisiana jobs
BOSSIER CITY – Louisiana's booming industrial sector has sparked a redevelopment that will bring 80 new jobs to Bossier City. Centric Pipe LLC, an affiliate of Dallas-based SB International, will invest $33 million to expand the plant formerly owner by tubular goods maker Northwest Pipe. Centric Pipe will add new equipment and a rail spur at the facility, which already employs 52 workers. The company will manufacture welded-steel pipe and tubular products for domestic clients in the oil and gas industry. The upgrades will begin early next year and wrap up by late 2017.

Bank taps investors for cash
BATON ROUGE – Investar Bank joined the ranks of Louisiana public companies recently when it raised more than $40 million in its initial public offering of stock. Investors bought some 2.8 million shares at about $14 each. Bank officials said they will use the money to support future growth. The bank in recent years has purchased two former Hancock Bank branches in greater New Orleans and acquired Hammond-based First Community Bank. Investar had a total of 10 branches and $674 million in assets as of March 31. Its stock trades on the Nasdaq market under the ticker symbol ISTR.
Structural component maker bulks up
SHREVEPORT – A $7 million expansion by modular building systems company Module X Solutions could generate 350 new jobs at the company's 750,000-square-foot manufacturing facility. Product lines of Module X include concrete, metal and blast-resistant modular structures used in industries ranging form telecommunications and solar energy to refineries and government agencies. Module X Solutions expects to complete renovation work by the end of 2015.
Fired up about gas
LAKE CHARLES – Houston-based energy company Kinder Morgan has filed an application with federal regulators to build a compressor station near Eunice that will transport natural gas via its own pipeline to feed a plant operated by Magnolia LNG in south Lake Charles. Kinder Morgan previously signed a binding agreement giving Magnolia service rights on the 130-mile pipeline that connects a Sabine Pass LNG terminal in Cameron Parish to delivery points in Cameron, Calcasieu, Jeff Davis, Acadia and Evangeline parishes. Magnolia estimates its plant could produce up to eight million tons of liquefied natural gas each year. If approved by federal officials, construction on project could begin next year.