Louisiana Vernacular
Lauren and Logan Lemoine designed their home and used reclaimed, local materials to reflect the architecture and environs of Bayou Boeuf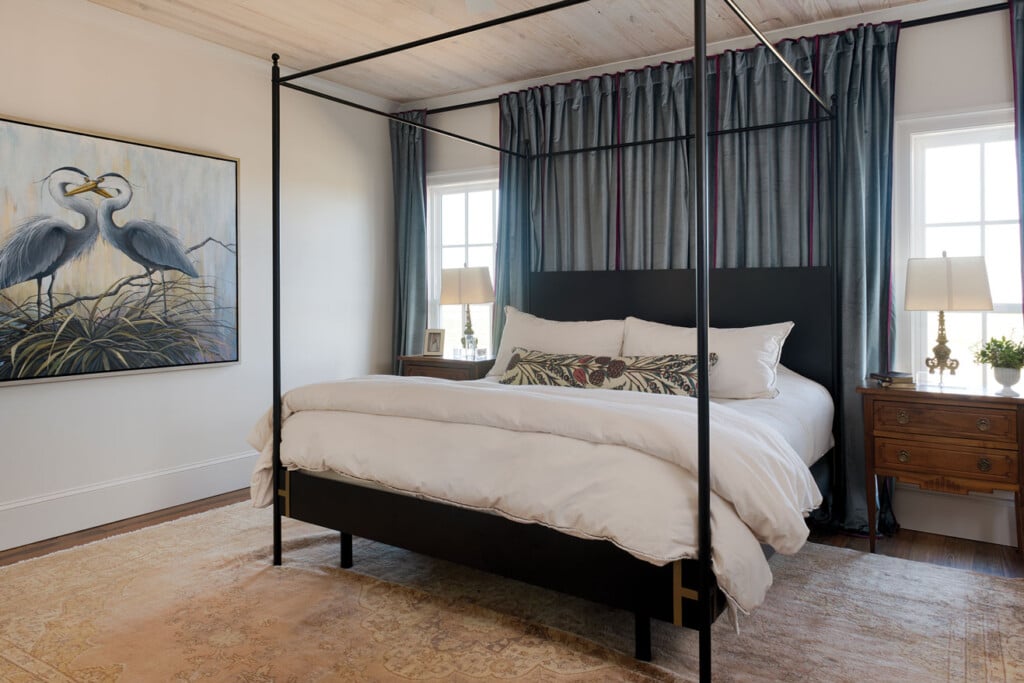 Vernacular architecture is a traditional form of building reflecting local environmental influences, using locally available building materials and is passed down from generation to generation — exactly what Lauren and Logan Lemoine had in mind when they built "a new old house" with a strong sense of place in Cheneyville. The couple share an abiding affection for the Bayou State. Lauren, a psychologist, is originally from New Orleans. Logan, a Marine Corps veteran and third-generation farmer, who now runs the family's 4L Farms, grew up in Bunkie. With marriage and a blended family that includes William, 10, and Evangeline, 8, the Lemoines wanted a house to accommodate their new life and pay homage to their surroundings.
"We always said if we were going to build, we would like to build on the farm," says Lauren of the site they purchased from Logan's brother. "We both love Louisiana so much, so it was kind of cool to be able to build a house that reflected that."
The property's 4.5 acres are surrounded by sugarcane much of the year (the farm also grows soy bean, crawfish and wheat) and is situated across the road from Bayou Boeuf, a picturesque wetland teeming with wildlife. For advice on building a house that fit in with the landscape, the Lemoines consulted Lauren's friend Megan Lord, an Alexandria shop owner and preservationist. Lord put together detailed information on the historically-rich area's 19th-century Greek Revival architecture (Cheneyville was founded in 1811) — from window styles to baseboard heights — and suggested period materials, such as cypress doors. The Lemoines had plans drafted for a a Planter's Cottage, a simplified version of a Greek Revival cottage. The plans were also informed by both Lauren's love of A. Hays Town architecture and Logan's appreciation of the outdoors.
"It took so much guesswork out of [building] and helped with the decision making," says Lauren. "We had a clear vision and felt very prepared."
Classic architectural elements such as wood floors, weathered ceiling beams and French doors impart an "old and indigenous" aesthetic, while the absence of formal living and dining rooms and the open layout of the kitchen and central living space modify the traditional underpinnings of the house for the way young families live today.
Lauren made an effort to buy local and searched online for reclaimed materials from across the state. She found six antique cypress doors, as well as the living room's antique cypress fireplace mantel, and stripped most of them herself. She also visited antique stores and galleries from Baton Rouge to Alexandria for furnishings, local art and other treasures, and ordered custom pieces from artisans such as Doorman Designs, Kathy Slater Designs and Julie Neill Designs, all in New Orleans.
Several of the home's standout features came from historic properties being demolished. The bricks used for the kitchen floor and the outdoor kitchen (a mandate from Logan who loves to cook and boil crawfish) came from an old Lecompte sugar mill and the rustic antique cypress used on the roof of the foyer and for the garden fence outside from a circa 1830s plantation house being razed in Ascension Parish. The tin used for the ceiling of the outdoor kitchen was salvaged from Logan's grandfather's barn. In addition to having the patina of age, reclaimed materials had the benefit of being immediately available.
"COVID presented a whole set of problems with supply delays," says Logan, recalling a long wait for replacement tiles broken during shipping. "It made us plan it out a little better, and order things ahead of time."
Working with builder Shane Dauzat (Lauren knew he was the builder for the project when she walked into his office and saw the same A. Hays Town book she pored over as a child in her parents' home) and Houston-based interior designer Patti Hemingway, who'd also worked on Lauren's parents' residences, the Lemoines broke ground in summer of '21 and moved in the following spring. On the front porch, a pair of cypress pedestals flank a traditional front door with vintage-style, rice-pattern hardware. Grisaille wallpaper enlarges the powder room with boundless views of marsh. A custom shower curtain with a palmetto motif in the children's bathroom mimics saw palmettos. But Lauren, who prefers a mix of old and new, made sure to also add something modern or whimsical in every room. Hemingway found the four-piece marble coffee table with midcentury modern lines for the living room and Lauren sourced the Julie Neill glass chandelier that looks like a bundle of bubbles in the office and guest room.
The children are especially fond of the rural setting that inspired the design of their Central Louisiana homestead.
"We all have our own spaces to do things," says Logan."But they really love playing outdoors."