Louisiana's 5 Star Nursing Homes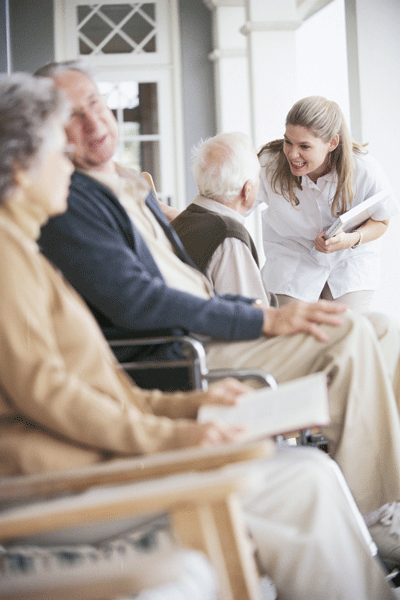 electing a nursing home is often a difficult decision. Listed here are some of the state's top-ranked nursing homes as determined by HealthGrades, a Golden, Colo., company that specializes in nursing home and hospital evaluations.
Below is the company's explanation of its methodology. The list, we feel, is quite credible, though we do offer one caveat. As explained, the evaluations are based partially on Medicare and Medicaid evaluations. There are some well-established facilities in this state with nursing home components that do NOT accept government payments and thus are not be eligible for analysis in preparing this list, yet they are well-respected. We urge those faced with nursing home decisions to consider the many options before making their final decisions.
How HealthGrades Rates Nursing Homes
To rate more than 16,000 U.S. nursing homes, HealthGrades analyzes:
• Deficiencies (standards that were not met) from the four most recent licensing surveys within the past eight years
• Compliant surveys for the past four years
Each nursing home received several scores from the analysis of licensing surveys and complaint surveys. The scores are based upon how unmet standards affected resident care. Next, HealthGrades performs a statistical analysis of these score to produce a weight for each area. The weighted scores are summed to produce an overall score for each nursing home. Based on each nursing home's score, HealthGrades applies the following rating system:
••••• Best – Top 30 percent of all nursing homes within each state
••• Average – The middle 40 percent of all nursing homes within each state
• POOR– The bottom 30 percent of all nursing homes within each state
Data Source: Nursing home ratings are based upon data from the Centers for Medicare and Medicaid Services, or CMS. Licensing survey data came from CMS' Online Survey Certification and Reporting, or OSCAR, database.
Complaint survey data came from CMS' Skilled Nursing Facility, or SNF, Complaint database. Data last updated June 1, 2010.
Alpine Guest Care
4396 Highway 80
Ruston, LA 71270
(318) 255-6492
Audubon Health and Rehabilitation
2110 Audubon Ave.
Thibodaux, LA 70301
(985) 446-3109
Bayou Vista Community Care Center
323 Evergreen St.
Bunkie, LA 71322
(318) 346-2080
Bayside Healthcare Center
3201 Wall Blvd.
Gretna, LA 70056
(504) 393-1515
Belle Maison Nursing Home
15704 Medical Arts Drive
Hammond, LA 70403
Bernice Nursing and Rehabilitation Center
101 Reeves St.
Bernice LA, 71222
(318) 285-7600
Bethany MHS Health Care Center
406 St. Julien Ave.
Lafayette, LA 70506
(337) 234-2459
Chateau Living Center
716 Village Road
Kenner, LA 70065
(504) 464-0604
Christwood
100 Christwood Blvd.
Covington, LA 70433
(985) 898-0515
Claiborne Manor
6942 Highway 79
Homer, LA 71040
(318) 927-3586
Colfax Reunion Nursing and Rehabilitation Center
366 Webb Smith Drive
Colfax, LA 71417
(318) 627-3207
Colonial Nursing Home
426 N. Washington St.
Marksville, LA 71351
(318) 253-4556
Colonial Oaks Living Center
4312 Ithaca St.
Metairie, LA 70006
(504) 887-6414
Columns Community Care Center
3025 Fourth St.
Jonesville, LA 71343
(318) 339-4344
Courtyard of Natchitoches
708 Keyser Ave.
Natchitoches, LA 71457
(318) 214-4361
Covenant Nursing Home
5919 Magazine St.
New Orleans, LA 70115
(504) 897-6216
Cypress Point Nursing and Rehabilitation Center
2901 Douglas Drive
Bossier City, LA 71111
(318) 747-2700
Eastridge Nursing Center
2305 Richard St.
Abbeville, LA 70510
(337) 892-9800

Forest Haven Nursing and Rehabilitation Center
171 Thrasher Drive
Jonesboro, LA 71251
(318) 259-2729
Garden Court Health and Rehabilitation
4405 Airline Drive
Bossier City, LA 71111
(318) 747-5440
Garden Park Nursing and Rehabilitation Center
9111 Linwood Ave.
Shreveport, LA 71106
(318) 688-0961
Gonzales
Healthcare Center
905 W. Cornerview St.
Gonzales, LA 70737
(225) 644-5358
Good Samaritan Rehabilitation and Nursing Center
6400 Hayne Blvd.
New Orleans, LA 70126
(504) 246-7900
Grace Health and Rehabilitation Center
9725 Grace Lane
Clinton, LA 70722
(225) 683-8533
Guest House of Slidell
1051 Robert Blvd.
Slidell, LA 70458
(985) 643-5630
Gueydan Memorial Guest Home
1201 Third St.
Gueydan, LA 70542
(337) 536-6584
Hammond Nursing Home
501 Old Covington Highway
Hammond, LA 70403
(985) 542-1200
Heritage Manor of Baton Rouge
9301 Oxford Place Drive
Baton Rouge, LA 70809
(225) 291-8474
Heritage Manor of Franklinton
2000 Main St.
Franklinton, LA 70438
(985) 839-4491
Heritage Manor of Houma
1701 Polk St.
Houma, LA 70360
(985) 851-2307
Hessmer Nursing Home
3707 Highway 114
Hessmer, LA 71341
(318) 563-4246
Jefferson Manor Nursing and Rehabilitation Center
9919 Jefferson Highway
Baton Rouge, LA 70809
(225) 293-1434
John J. Hainkel Jr. Home and Rehabilitation Center
612 Henry Clay Ave.
New Orleans, LA 70118
(504) 896-1315
Kentwood Manor Nursing Home
921 Ave. G
Kentwood, LA 70444
(985) 229-2112
Kinder Retirement and Rehabilitation Center
13938 Highway 165 Kinder, LA 70648
(337) 738-5671
Lacombe Nursing Center
28119 Highway 190
Lacombe, LA 70445
(985) 882-5417
Lafon Nursing Facility of the Holy Family
6900 Chef Menteur Highway
New Orleans, LA 70126
(504) 241-6285
Lakeview Manor Nursing Home
400 Hospital Road
New Roads, LA 70760
(225) 638-4404
Landmark Nursing Center and Rehabilitation – Hammond
1300 Derek Drive
Hammond, LA 70403
(985) 542-8570
Landmark of Baton Rouge
9105 Oxford Place Drive
Baton Rouge, LA 70809
(225) 293-1003
Lasalle Nursing Home
139 Ninth St.
Jena, LA 71342
(318) 992-6627
Leslie Lakes Retirement Center
1355 Sixth St.
Arcadia, LA 7100
(318) 263-9581
Lexington House
16 Heyman Lane
Alexandria, LA 71303
(318) 442-4364
Louisiana War Veterans Home
4739 Highway 10
Jackson, LA 70748
(225) 342-8998
Mary Anna Nursing Home
125 Turner St.
Wisner, LA 71378
(318) 724-7244
Mary Goss Nursing Home
3300 White St.
Monroe, LA 71203
(318) 323-9013

Naomi Heights Nursing and Rehabilitation Center
2421 E. Texas Ave.
Alexandria, LA 71301
(318) 443-5638
Natchitoches Community Care Center
720 Keyser Ave.
Natchitoches, LA 71457
(318) 352-8296
Northeast Louisiana War Veterans Home
6700 Highway 165 N.
Monroe, LA 71203
(318) 362-4206
Northridge Care Center
3612 Baker Blvd.
Baker, LA 70714
(225) 778-0573
Northwest Louisiana War Veterans Home
3130 Arthur Ray Teague Parkway
Bossier City, LA 71112
(318) 741-2763
Oak Haven Community Care Center
1515 Highway 107
Center Point, LA 71323
(318) 253-4601
Oaks of Houma
400 Monarch Drive
Houma, LA 70364
(985) 876-5692
Ollie Steele Burden Manor
4250 Essen Lane
Baton Rouge, LA 70809
(225) 926-0091
Ormond Nursing
and Care Center
22 Plantation Road
Destrehan, LA 70047
(985) 764-1793
Our Lady of Wisdom Health Care Center
5600 Gen. Degaulle Drive
New Orleans, LA 70131
(504) 394-5991
Port Allen Care Center
403 N. 15th St.
Port Allen, LA 70767
(225) 346-8815
Prairie Manor Nursing Home
1050 Edwin Elliott Drive
Pine Prairie, LA 70576
(337) 599-2031
Resthaven Living Center
1301 Harrison St.
Bogalusa, LA 70427
(985) 732-3909
Ringgold Nursing and Rehabilitation Center
2501 Kenneth St.
Ringgold, LA 71068
(318) 894-9181
Riverbend Nursing and Rehabilitation Center
13735 Highway 23
Belle Chasse, LA 70037
(504) 656-0068
Rosepine Retirement and Rehabilitation Center
18364 Central Highway
Rosepine, LA 70659
(337) 463-8778
Sabine Retirement and Rehabilitation Center
965 Fisher Road
Many, LA 71449
(318) 590-0200
St. Agnes Healthcare and Rehabilitation Center
606 Latiolais Road
Breaux Bridge, LA 70517
(337) 332-4808
St. Charles Health Center
1539 Delachaise St.
New Orleans, LA 70115
(504) 895-3953
St. Margaret's Daughters Nursing Home
3419 St. Claude Ave.
New Orleans, LA 70117
(504) 279-6414
Southeast Louisiana War Veterans Home
4080 W. Airline Highway
Reserve, LA 70084
(985) 479-4080
Southwest Louisiana War Veterans Home
1610 Evangeline Road
Jennings, LA 70546
(337) 824-2829
Southwind Nursing and Rehabilitation Center
804 Crowley Rayne Highway
Crowley, LA 70526
(337) 783-2740
Tangi Pines Nursing Center
709 E. North Place
Amite, LA 70422
(985) 748-9464
Thibodaux Healthcare Center
1300 Lafourche Drive
Thibodaux, LA 70301
(985) 446-1332
Tioga Community Care Center
5201 Shreveport Highway
Pineville, LA 71360
(318) 640-3014
Toledo Retirement and Rehabilitation Center
1009 Obrie St.
Zwolle, LA 71486
(318) 645-2800
Tri-Community Nursing Center
7014 Highway 71
Palmetto, LA 71358
(337) 623-4227
Trinity Neurologic Rehabilitation Center of Slidell
1400 Lindberg Drive
Slidell, LA 70458
(985) 641-4985
Valley View Health Care
7119 Highway 1
Marksville, LA 71351
(318) 253-6553
West Carroll Care Center
706 Ross St.
Oak Grove, LA 71263
(318) 428-9612
Westwood Manor Nursing Home
714 High School Drive
Deridder, LA 70634
(337) 463-6293
Woodlands Healthcare Center
8422 Kurthwood Road
Leesville, LA 71446
(337) 239-6578
Wynhoven Health Care Center
1050 Medical Center Blvd.
Marrero, LA 70072
(504) 347-0777
Zachary Manor Nursing and Rehabilitation Center
6161 Main St.
Zachary, LA 70791
(225) 654-6893 n