Louisiana's Aurora Borealis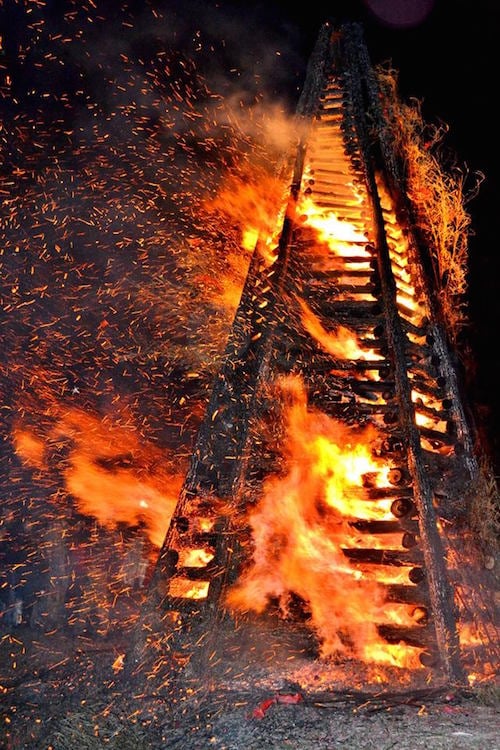 "It's something to see at least once in your life. You get goosebumps, and you'll see some people with tears in their eyes because it is a sight to behold," goes the soft Cajun accent of Elaine Bourgeois Brack. The 74-year old Lutcher, Louisiana native is talking about the blazing Christmas Eve bonfires that straddle the Mississippi River atop the levee from Reserve all the way to Convent, Louisiana. "This is the Aurora Borealis of Louisiana; there's just no words to describe how beautiful it is."
A tradition for more than a century, dozens upon dozens of towering bonfire structures are set ablaze along the Mighty Mississippi in the River Parishes of St. John the Baptist, St. James, and Ascension, the parishes in which the exiled Acadians settled in the 1700s. (Fun Fact: These River Parishes are also referred to as the Acadian Coast.) This magnificent spectacle, steeped in history and built with pride, is organized by the River Parish residents themselves and was passed down by their ancestors.
According to oral history, more than 100 edifices are set ablaze at 7 p.m. sharp on Christmas Eve to light the way for Papa Noel – the custom is also believed to have both European and religious origins. Other oral histories, passed down by the locals, say the bonfires lit the night sky for churchgoers who were heading to Christmas Eve midnight mass. "We were told in the olden days it was because there was no electricity or street lights, and it lit the way for older people to go to midnight mass, to find churches along the river road, like St. Joseph Church in Paulina," recalls Brack. "We were also told it was for Papa Noel to find our houses." (Fun Fact: The unusual yet stunning practice dates back at least to 1884 in St. James Parish.)
Weeks before Christmas Eve, visitors can view all the structures being built atop the levee. While most are a teepee-shape, there are many true works of art. This year, there's a large snapping turtle on the levee in Garyville, Louisiana. Another talk of the town is the large snowman structure in Paulina. You can drive down River Road to see all the aforementioned River Parish towns, which are connected and just minutes from each another. There were at least 110 permits issued this year to build bonfires, and many of those are erected in Gramercy, Lutcher, and Paulina (plus some in Convent).
This labor of love can take families and bonfire enthusiasts a year of preparation, including collecting wood for the logs. Many of the structures are built with willow tree logs and cane reed, and builders start construction in November. (Fact: Prior to legal height limitations, the teepee-like structures, built with logs from various trees, were over 30 feet high. Today, however, there is a 15-feet limit and a permit is required.)
The festive night begins before dark with cars driving at a snail's pace so passengers can look out and take in all the festivities. If you're hungry, grab some gumbo or jambalaya (and some spirits) at one of the numerous open houses along the River Road. The friendly folks set up their carports, put up tents outside their homes – which front the levee – and welcome strangers, some of whom have traveled from across the world. While the open house offerings are free, some visitors will leave a cash donation to the family as a token of thanks.
Though open houses are a customary in all of the participating River Parishes, there is a high concentration of them in St. James Parish.
There are also concession tents set up all along River Road, where jambalaya and pastalaya (same as jambalaya but served with pasta instead of rice) are sold along with other quick bites. Many of these concession tents are located between Lutcher and Gramercy. (Tip: Many locals buy their pastalaya from Veron's Supermarket in Lutcher.) (Tip: If you get there the day before Christmas Eve and are looking for a great place to eat, head to the Creole House on LA-3125 in Paulina. They serve a variety of Cajun dishes including gumbo, poor boys, and seafood platters.)
Right before the fire department gives the go-ahead to light the bonfires, a fireworks show lights up the night sky over the Mississippi River. When it's showtime, the friendly people here don't seem to mind inviting outside visitors and tourists to join them around their structures and watch them burn. (Tip: If you want to see several bonfires lit at one time, the best place to be is on both the east and west banks of the river – from your car on the river road – or standing on top or at the bottom of the levee.)

*Auberge Du Chene Vert
After the fun is over, a great option is to stay overnight on the "Acadian Coast." There are several possibilities, from bed and breakfasts to plantation accommodations – including Oak Alley, Poche Plantation, and Houmas House. There's also the Auberge Du Chene Vert Bed and Breakfast in Paulina. This B&B faces the river levee and was built in the 1940s by Christophe Roussel, a perique tobacco farmer. (Fun Fact: Perique tobacco is grown on five-acres behind Paulina Elementary School near the house.) The plantation-style home has a deep, wide front porch with rocking chairs, and across the River Road there's a pathway that will lead guests to the Mississippi River. (Tip: The Riverside Room, which is the front of the house, is the most popular room. It has French doors that open onto the large porch. In the morning and evening, you can walk straight into your room without going through common area.)
In the morning, enjoy "Lost Bread," a delicacy similar to French toast, but distinguished by the fact that, at this bed and breakfast, real French bread is used. Another option is the tasso and Swiss cheese omelet made with local ingredients and fresh eggs. After breakfast, you are in for a big treat! The Kliebert's, who own Auberge Du Chene Vert Bed and Breakfast, also own the River Road Distillery next to the house. Bed and Breakfast guests can quench their thirsts with a complimentary cocktail made with Kicking Mule's White or Spiced Rum produced, naturally, at their distillery. Guest are also offered a tour of the distillery, which is inside a former tobacco barn.
Another lodging option is to head to St. James Parish and Oak Alley Plantation – one of the most photographed and storied Southern plantations with its world famous alley of 300-year-old live oaks. You are sure to have a good night's sleep along the Mississippi at the Oak Alley Cottages, which are AAA-approved Three-Diamond accommodations.

*Oak Alley Plantation
You can stay in either one of the century-old cottages or a newer deluxe cottage, all of which have kitchens and a Tempur-Pedic mattress. (Tip: Cottage No. 6 is a historic suite with two bedrooms and a back porch with a large oak tree. Room's 7, 8 and 9 are the newer cottages with king size beds.) (Fun Fact: Overnight guests use the flashlights supplied in each cottage to walk around the grounds for a night under the oaks.) Dinner is delivered to your cottage, if you choose to eat at the plantation; and in the morning enjoy a full Southern breakfast, which is included with an overnight stay. There are several choices from plantation-sized omelets, grits, bacon and beignets and Community Coffee's delicious gourmet "Gold Cup" coffee. (Tip: For an additional fee, be sure to reserve the 'Do Not Disturb' package, which includes wine or house-made Mint Juleps, along with a fruit-and-cheese tray and chocolate covered strawberries. This package also includes breakfast delivered to your room.)
There's no question the bonfire experience on Christmas Eve is a crucial part of the culture and heritage of Louisiana and certainly adds to the state's originality. If you can't see the bonfires this Christmas Eve, make plans for next year; and consider taking part in the Festival of the Bonfires, held the second week of December in Lutcher.
For more information go to:
neworleansplantationcounry.com/bonfire