Louisiana's Egyptian Pyramids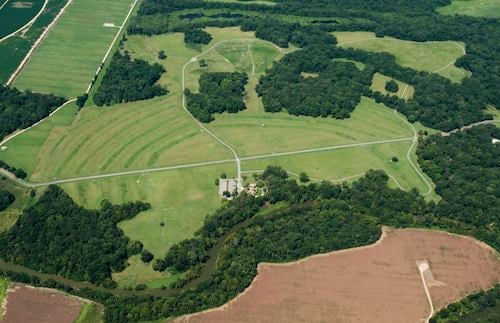 Like Stonehenge, the Grand Canyon, the Great Wall of China and the Pyramid Fields at Giza, Egypt, Louisiana is the proud home to an astonishing World Heritage landmark: Poverty Point, which predates Confucius and Christ.
This massive archeological marvel, in the northeastern Louisiana town of Epps, is also a national monument, and was constructed and occupied between 1700 and 1100 B.C. Scholars believe it took several million hours for men, women and children to build the ancient site, and the indigenous peoples of Poverty Point are considered the earliest advanced and sophisticated society, one with a keen ability to produce this 402-acre engineering wonder of earthworks and mounds.
What this culture left behind has both awed and puzzled tens of thousands of visitors. The enormous complex made from dirt consists of six concentric, c-shaped ridged earthworks, each divided by at least four perpendicular aisles. (Fact: The width of the outer most ridge spans three-fourths of a mile across). Plus, there are several mesmerizing ancient mounds strategically placed in and around this monumental creation which faces Bayou Macon.
The exact purpose of Poverty Point remains a prehistoric mystery. However, many archeologists, historians and scholars believe it may have been used for ceremonial and religious purposes, as a trading center, a settlement, or all the above. (Fact: Scholars believe the ancient inhabitants built the mounds and earthworks by using a human chain system to dump basket loads of dirt in piles.) (Fun Fact: The name "Poverty Point" came from the neighboring 19th century plantation.) This World Heritage site also has a museum chock-full of artifacts that archeologists uncovered at this very spot. But before we talk about this important treasure trove of fascinating relics, you should know the best way to explore poverty point's topography.
You can opt for a 2.6-mile hike around the complex, which park rangers agree is one of the best ways to experience the site; a 45-minute tram tour; or drive around the 2 mile loop circling the site; whichever option you choose, guides recommend you follow along with the brochure and site map, which you can pick up at the main entrance. (Tip: Don't miss walking up the paved pathway of Mound A – the largest mound – which is 72-feet tall, because you will get a feel of the enormity of this site.) (Fascinating discovery: Soil samples from Mound A indicated it was built quickly within one to a three-month period, which, in and of itself, is astonishing because Mound A was the largest structure in Northern America for 2000 years.)
Mounting evidence of just how sophisticated these indigenous peoples were go beyond the building and engineering skills of this archeological phenomenon. The artifacts found throughout the colossal site show the magnificent and intricate skills of this civilization, and adding to their advanced ingenuity, artifacts excavated form the site prove there existed a trading culture with an enormous trading network exchanging items from as far away as the Ohio and Tennessee River Valleys. The aforementioned is proven by the vast array of materials like slate, copper and quartz found at the site used to make everything from jewelry to tools.
Among the plethora of fascinating artifacts exhibited at the Poverty Point museum are female and animal effigy figures, baked-clay cooking objects, pottery, stone vessels, spear points, and stone cooking balls. Perhaps the most interesting and mysterious pieces found were several statues of pregnant females whose heads have been removed, a feature that has puzzled many. Another notable item is a bird pendant carved from red jasper; plus, there are owl pendants, all with drill holes so that the culture could wear these creations. You will be awed when looking at the fine engraving and polishing skills of stone beads they formed into owls, dogs and turkeys among other animals.
After a full day of discovery, you will have worked up an appetite. If you brought a packed a lunch, head to the shaded picnic tables on site and enjoy the natural surroundings. If no packed lunch, head to Champions Bistro, which is located at the Black Bear Golf Club about 10 miles from the site. Here you can grab a mouthwatering burger, steak or blackened catfish dish. Want to stay overnight? Next to the Poverty Point World Heritage site is the Poverty Point Reservoir State Park with a 2,700-acre, man-made lake. The park has deluxe cabins, a lodge, camping site, and marina with swimming beach area all amid a beautiful backdrop.
(Tip: While at the World Heritage Site, be sure to notice the archeological digs underway including excavations right outside of the complex; it's an effort to discover more about how the indigenous peoples were living on the periphery. University students from around the country are more than willing to talk about their efforts and finds.)
Louisiana may not have the Egyptian Pyramids, but rest assured, once you visit this eroding archeological phenomenon, you will never forget it and, like the tens of thousands before you, you will be trying to piece it all together.
For more information go to:
www.crt.state.la.us/louisiana-state-parks/historic-sites/poverty-point-state-historic-site/
www.crt.state.la.us/louisiana-state-parks/parks/poverty-point-reservoir-state-park/