Lt. Gov. Nungesser Announces Atchafalaya National Heritage Area Grant Program Now Open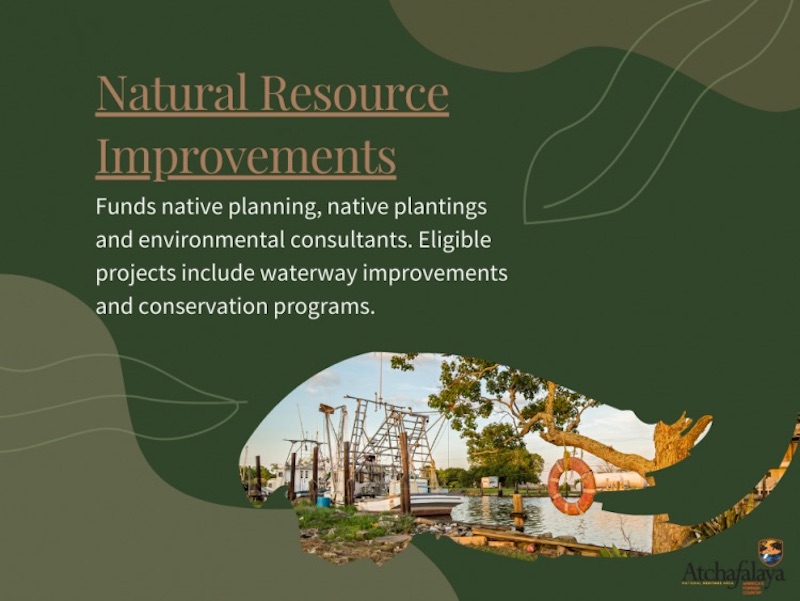 BATON ROUGE, La (press release) – Lieutenant Governor Billy Nungesser proclaimed October 2020 as Atchafalaya Month in Louisiana, and the Atchafalaya National Heritage Area (ANHA) is rounding out festivities with the launch of its updated grant program. The ANHA Grant Program provides funds to promote environmental, recreational, and cultural heritage assets in the area. This grant provides matching funds assistance through reimbursement. The recipient, therefore, must provide proof of payment for 100 percent of eligible expenses when submitting a request for reimbursement. Applications can be submitted starting Monday, Nov. 2. The application period runs through Monday, Nov. 30. Interested applicants can find information on the redesigned ANHA Grant Program webpage.
"The Atchafalaya National Heritage Area encourages entrepreneurship that captures everything about Louisiana that Feeds Your Soul – tradition, customs, beliefs, and folklore to name a few," said Lieutenant Governor Billy Nungesser. "The goal of the ANHA grant program is further build an understanding of the area's key stories, strengthening the sense of place, supporting a healthier ecosystem, and expanding economic opportunities for the Atchafalaya Basin."
The Atchafalaya National Heritage Area Grant Program is a federal-aid option to assist partners located within the boundaries of the Heritage Area in meeting the goals of the ANHA. This option provides matching funds assistance through reimbursement. In the past, the ANHA helped to fund community events centered on distinctive aspects of south-central Louisiana's unique culture. From Atelier de la Nature's Halloween Art & Nature Festival, a family-friendly October event that highlights Louisiana's special natural surroundings, to The Acadian Heritage & Culture Foundation's Archaeological search for the site of the original Acadian Settlers along Bayou Teche, the program has an impact on preserving and enhancing the rich cultural past, present and future within the ANHA.
"We're grateful to help interpret the culture of this special place for our residents, visitors and people all around the world. At ANHA, we want to provide support by building relationships, cultivating community support, and even providing financial support for organizations, projects, programs, and events that further interpretive opportunities within and beyond our 14-parish area," said ANHA Executive Director Justin Lemoine.
An American-Indian word, "Atchafalaya" means "long river." Established in 2006, the Atchafalaya National Heritage Area (NHA) stretches across 14 parishes in south-central Louisiana. It is among the most culturally-rich and ecologically-varied regions in the United States, home to the widely-recognized Cajun culture as well as a diverse population of European, African, Caribbean, and Native-American descent.
With a story around every bend in the river and music from every corner, the Atchafalaya National Heritage Area is an ever-changing landscape. Physically, heritage areas are regions with concentrations of significant natural, scenic, cultural, historic, and recreational resources. The ANHA is comprised of Ascension, Assumption, Avoyelles, Concordia, East Baton Rouge, Iberia, Iberville, Lafayette, Pointe Coupee, St. Landry, St. Martin, St. Mary, Terrebonne, and West Baton Rouge Parishes.
To learn more about the Atchafalaya National Heritage Area, visit the newly redesigned www.atchafalaya.org. For more information and to submit a grant proposal, visit the ANHA Grant Program webpage.