Magical Marksville, Part I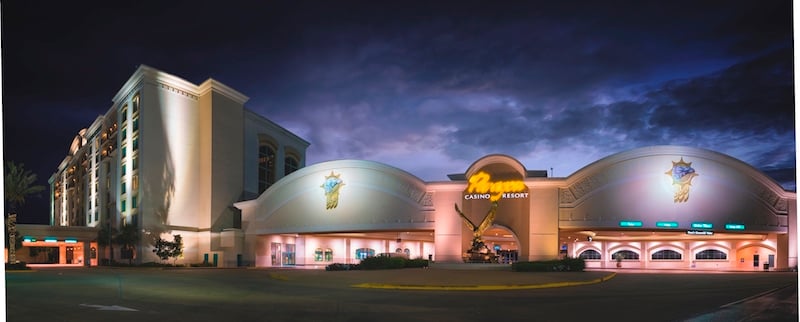 Marksville, Louisiana oozes natural beauty. The city could easily take credit for the state's motto: "Sportsman's Paradise," because of its astonishing playground for outdoor lovers. Couple that flora and fauna lure with its one-of-a-kind Louisiana history, and you can have an experience like no other in state. (Fact: Marksville is home to one of the largest game preserves in the United States.) In the midst of all this appeal is a modern, luxury resort sure to please you and the kids. Before we delve into all the aforementioned intriguing history and Mother Nature's glory found in Marksville, we'll uncover what has become an oasis for weary travelers and a site for fun for all ages in part one of this blog.
If you are looking for a great winter escape from the record-cold temperatures, head to the award-winning Paragon Casino and Resort in central Louisiana and leave your stressors of the day behind. Whether you are on a romantic rendezvous, girl's getaway or family vacation, there is something for everyone's taste at this resort. To begin with, Paragon boasts a world-class casino, which stretches 74,000 square feet and is chock-full of all the gaming options your heart desires.
Live entertainment is offered at the Mari Showroom, which puts on some of the best concerts and comedy in the state. Johnny Gill, Englebert Humperdenck, Wayne Toups, and Brad Paisley are just a few names hitting the Paragon stage during the first quarter of 2018. There are also a handful of bars and clubs, including Club MeZazz, which offers live music performances, as well.
If you're in need of more entertainment, this resort offers a complimentary live alligator show and a Legend Keepers performance, which includes songs and stories about the fascinating history and peoples of the Tunica-Biloxi Tribe.
(Lagniappe Facts: The modern presence of Native Americans can be witnessed at the resort. Paragon Casino and Resort is operated by the federally recognized Tunica-Biloxi Indian Tribe, which has a reservation in Avoyelles Parish and is Louisiana's first land-based casino.)
After a night of fun, you should rest easy in one of the 500 luxury rooms and suites – which surround a stunning one-of-a-kind, eight-story glass atrium that has an alligator habitat, shops, lounges, three movie theaters and a café.
(Tip: For a more rustic home away from home rent a one or two-bedroom cabin, with a kitchenette, dining and living space 1 bedroom and a full bath. Paragon RV Park also has over 200 sites, full hook-ups, clubhouse and a park pool.)
If you're hungry, the casino hosts seven restaurants. Among the most popular eateries are Legends Steakhouse, the Market Place Buffet and Big Daddy E's. Legends Steakhouse serves mouth-watering cuts of beef and seafood, including lobster tail, in a comfortable yet elegant atmosphere. (Tip: In addition to any of their succulent steaks, lobster tail or salmon Oscar, be sure to try the delicious crab cakes and Nola BBQ shrimp appetizers.) The Market Place Buffet has everything your taste buds could want and more including steak, shrimp, and gumbo. (Tip: Kids ages six to 12 eat for half price and under the age of 6 eat for free). Traditional Cajun cuisine, seafood dishes, and po'boys reign at Big Daddy E's. (Tip: The Big Daddy E's Burgers and the Cajun Boil and Grill seafood items are excellent as well.)
A visit to the Paragon Casino and Resort is not complete without experiencing Spa La Vie, a full-service luxury spa that will leave you feeling balanced and whole. A visit to this world-class spa, where rejuvenating rituals to balance the body, mind and spirit are practiced, begins when you set your intention at the spa fountain. From there you can indulge and unwind in their eucalyptus steam room, sauna and whirlpool, either before or after you receive a rejuvenating message or any other luxurious treatments. (Tip: The 80-minute Heave on Earth Signature Massage is one of their most popular services. This massage incorporates Swedish and deep tissue techniques, aromatherapy, a moor mud back treatment, heated stones and light energy work.)
Many guests couple two services together like the Heaven on Earth Signature Massage with the 80-minute Fountain of Youth Facial, which is designed to reveal younger, firmer skin. This luxurious facial is customized to your skin and uses a combination of gentle peels, serums and deeply hydrating masks and moisturizers, all with the finest ingredients to create skin that looks ageless, plumped and lifted. Follow this treatment with the Argan Intense Hydration Manicure and Pedicure and you are sure to feel renewed and refreshed. The spa also has a full-service hair salon and a spa product boutique where you can purchase all the wonderful and rejuvenating beauty and wellness products. (Tip: You can purchase a $25 Amenity Day Pass, which allows you to use a spa robe and slippers to lounge and relax while tasting healthy refreshments and use of the steam room, sauna and whirlpool.)
After relaxing at the spa, you can play a round of golf at the tranquil and stimulating Tamahka Trails golf course, a US Open Qualifier host. This 18-hole championship golf course is indicative of old-school designed golf courses in a secluded, natural environment. Tamahka, which is the Tunica-Biloxi tribal word for alligator, is fitting for the course's unique and challenging layout for all skill levels. Be on the lookout for The Alligator's BITE when your ball enters one of the 75 strategically places bunkers or the tall fescue native areas. (Tip: No need to go back to the resort for a scrumptious meal or for a refreshing handcrafted cocktail, you can enjoy daily lunch specials and signature cocktails at the convenient Tamahka Grill.)
Need a babysitter or more family fun? Paragon has Kids Quest, which is a spectacular space filled with activities for children six weeks through 12 years of age is a great option. Kids Quest includes Quest Café, video games, iPad station, karaoke stage, and Cyber Quest, a unique arcade with family-friendly games for people of all ages to enjoy together.
"This really is a special place with so many amenities and such a beautiful hotel, and you won't be leaving on an empty stomach I can promise you that," says a fervent Darrian Pierite, Paragon Casino and Resort's public relations coordinator.
www.paragoncasinoresort.com/dining
www.paragoncasinoresort.com/attractions/spa