Main Streets
The old Bob Seger song, "Mainstreet" springs to mind when discussing a time when folks headed downtown to shop, dine and converse with good friends on the main streets that served as the city's heart. Louisiana remains blessed with charming towns sporting main streets, and today they're as vibrant as ever and worthy of a visit. We've assembled a few favorites. So, as Seger once sang, find your feet down on Louisiana's Main Streets.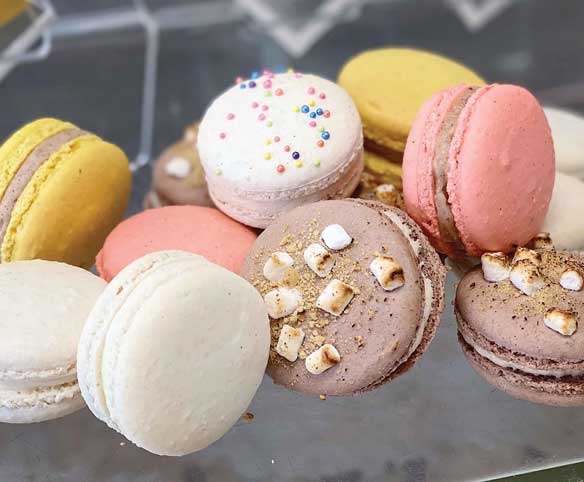 Monroe/West Monroe
West Monroe native Becky Thompson always loved baking, so it was only natural that she earned her degree in hospitality management at Ole Miss, then the L'Art de la Pâtisserie at the French Pastry School in Chicago. She worked for years teaching at the Viking Cooking School in Greenwood, Mississippi, but after 13 years Louisiana called her home. She found a thriving business making custom cakes in West Monroe, but opened the storefront Cake in 2021, more to expand her baking space than retail, she said. But locals wanted in on her hand-decorated cookies, macarons and "cakies," slices baked in special slice pans so no cutting was required.
One year in and things are booming for Thompson.
"In the beginning, I expected it to be 75 percent custom cakes and 25 percent retail and now it's more like 75 percent retail," Thompson said.
Cake lies within the parameters of the equally booming Antique Alley, a collection of West Monroe blocks featuring boutiques, restaurants and, of course, lots of antique shops. It's what Southern Living called "a shopaholic's delight," and the attractions grow every year, said Sheila Snow, vice president of communications for Monroe-West Monroe tourism. For instance, the new Alley Park between Commerce and Trenton streets features outdoor concerts, markets and special events and Flying Heart Brewing opened in a vacant space by the river, serving up craft beers in a 275-seat space.
Across the river in Monroe, there's more shopping and dining, plus several outstanding museums to enjoy.
A visit to these twin cities means twice the main street fun.
Place to eat: Trapp's Louisiana specialties are served with one of the best views of the Ouachita River and downtown Monroe. Chef Cory Bahr, the 2011 Great American Seafood Cookoff "King of Seafood," serves fine dining that's innovative as it's delicious at Parish.
Place to stay: In the heart of Antique Alley Hamilton House Inn offers five guest rooms in a historic building.
Don't miss: Learn about the first bottler of Coca-Cola and tour his home, view a collection of antique Bibles and stroll through themed plantings at Elsong Gardens at The Biedenharn Museum & Gardens in Monroe.
Website: monroe-westmonroe.org, antiquealleyshops.org
New Iberia
New Iberia is a hub of creativity. Author James Lee Burke set his Dave Robicheaux mysteries here, touching on many of the city's real-life landmarks. Artist George Rodrigue hailed from New Iberia, which is why the town dedicated a park in his honor, complete with a Blue Dog statue. It's also home to numerous artists, many of which can be found at the A&E Gallery, owned by artist and author Paul Schexnayder.
But that's just the tip of what downtown New Iberia offers, a National Register Historic District. Shadows-on-the-Teche plantation serves as an anchor on the south end of Main Street, offering tours of the house and gardens along with special events throughout the year, while Cane River Pecan bookends the north end, with its new Pie Bar serving sandwiches, coffees and, of course, delectable pies. In between are numerous attractions, including the Teche Museum with its exhibits that explain the history, culture and industry of Iberia Parish and Bouligny Plaza, site of many festivals. Add a host of restaurants to the mix and New Iberia makes for a fun getaway.
"New Iberia is a great place for a long weekend trip," said Carla Hostetter, a New Iberia author who writes under the pen name of Lynn Shurr.
Place to eat: Bon Creole's overstuffed poboys are to die for, but so are their weekday plate lunch specials.
Place to stay: There are several B&Bs off Main Street, such as the 1906 Estorge-Norton House and the 1880s Gebert House.
Don't miss: Pick up an autographed James Lee Burke novel set in New Iberia at Books Along the Teche, an independent bookstore on Main Street.
Website: iberiatravel.com
Ponchatoula/Hammond
Downtown Ponchatoula was always known as America's Antique City, but it's evolved and grown into an arts mecca, said Emily McKneely Matise, director of sales at Tangipahoa Parish Convention and Visitors Bureau.
"It's changed a lot," she said. "Our new motto is antiques, boutiques and uniques."
Hammond's downtown was just named one of three winners nationwide in the 2022 Great American Main Street Award (GAMSA), which recognizes communities for their excellence in preserving downtown districts.
"It's so cool that we have both of them and they're both so different," Matise said.
Both Ponchatoula and Hammond offer excellent shopping, dining and attractions in Tangipahoa Parish, and both are only a short drive from New Orleans and Baton Rouge. Also since the cities were important railroad stops, Ponchatoula's old train depot is now the Country Market selling art and strawberry merchandise (Ponchatoula is home to the annual Strawberry Festival) and Hammond has created Railroad Park, a pedestrian plaza that tells the city's railroad history and hosts special events such as trivia nights and farmer's markets.
Place to eat: Start the day with breakfast or brunch at Son of a Biscuit in Hammond, then finish with craft cocktails and Mexican cuisine at hip Pink Agave in Ponchatoula.
Place to stay: Quarters Above Courtyard in the heart of downtown Ponchatoula features a spacious deck. The historic Michabelle Inn in Hammond provides Old South elegance.
Don't miss: Twin Steeples Creative Art Center in Ponchatoula consists of two churches facing each other with a courtyard in between. All the arts are celebrated here, including the art of tattoos!
Website: tangitourism.com
St. Francisville
Turn off U.S. 61, known as the "Blues Highway" because it stretches up to the Delta and Memphis, and visitors are instantly immersed into the quaintness of St. Francisville, once the bustling town that served Feliciana plantations.
Today St. Francisville, the heart of West Feliciana Parish, serves as a tourist destination full of boutique shops and fun places to dine with a solid dose of history.
For shoppers, Grandmother's Buttons turns antique buttons into showcase jewelry inside an old bank building. Be sure and check out the heirloom buttons on display, some of which date back centuries. For gifts, clothing, antiques and more, visit District Mercantile, Ma Miles and Prevail & Reign, to name only a few.
Relatively new to town is the St. Francisville Inn, which has been nabbing numerous accolades since its renovation and reopening under new owners. The Victorian landmark includes The Saint Restaurant & Bar, so while enjoying the luxurious accommodations be sure to grab a craft cocktail while kicking back in rocking chairs on the porch or an elegant meal created by Louisiana native Chef Michael Dardenne.
"The crab cakes in the restaurant are to die for," said Missy Couhig, owner of St. Francisville's The Conundrum bookstore.
Place to eat: Magnolia Café has long been a center of the community, serving up Louisiana specialties. Do stop at Birdman Coffee in front for a craft java and sweet treat. Both offer live music on occasion.
Place to stay: Step back in time to when travelers crisscrossed the country and paused at auto courts, basically a room for the night and a car park. The circa-1938 3 V Tourist Court offers just that, individual tiny buildings with a bed and kitchenette but a step up from the old days. Like days gone by, it's affordable.
Don't miss: The Conundrum Books & Puzzles sells not only the latest great read, but hosts book signings and other events. The shop has become a hub of the community.
Website: explorewestfeliciana.com
Ruston
There's a distinctive collegiate atmosphere in Ruston, a quaint city that's home to Louisiana Tech. The historic downtown district offers a variety of shopping, dining and entertainment venues but also a space to celebrate sports victories and university events. During football season, for instance, Railroad Park bursts with live music and cheerleading at its Rock the Railroad rallies and tailgating follows on Saturdays with the Tech Trolley carting visitors to the stadium.
On any given weekend, however, visitors may enjoy Ruston's murals and public art installations, live performances at the historic Dixie Center, or the amazing produce and homemade goods selection at the Saturday Ruston Farmers
Market. The North Louisiana Military Museum is a short walk from downtown and includes a large collection of war memorabilia.
The biggest event of the year, football aside, remains the Louisiana Peach Festival on the first Saturday in June.
Places to eat: Choose Utility Brewing for its brick oven pizza, beer and cocktails or Ponchatoulas for Louisiana dishes.
Place to stay: The Elephant Room, a one-bedroom studio Airbnb apartment, offers a cool space in the middle of everything downtown.
Don't miss: Explore the city to seek out the 11 bulldog statues of the Bulldog Project, a public art installation that honors the mascot of Louisiana Tech. Be sure to share your findings to social media with the hashtag #TheBulldogProject.
Website: experienceruston.com
Natchitoches
The oldest city in Louisiana contains one of the most charming — and most visited — main streets in the South. The 33-block National Historic Landmark District, with its brick streets and ancient live oak trees, sports restaurants, boutiques, antique shops, art galleries and historic homes, among so much more. There's the 1863 Kaffie-Fredericks General Mercantile, the oldest general store in Louisiana, the Natchitoches Art Guild & Gallery featuring artwork of dozens of local artists and the Cane River Candy Company serving up all things sweet.
Sports fans won't want to miss the Louisiana Sports Hall of Fame and Northwest Louisiana History Museum inside an award-winning architectural building. The museum contains portraits and memorabilia celebrating the achievements of Louisiana athletes and sports figures, plus items representing the unique cultural traditions of Louisiana.
Many visitors come to Natchitoches to view the locations used in the popular film, "Steel Magnolias," but so many other movies were made in the historic city. The Natchitoches Film Trail spotlights "Steel Magnolias" spots as well as locations for John Wayne's "The Horse Soldiers," "The Man in the Moon" starring Reese Witherspoon and "The Year Without a Santa Claus" starring John Goodman. A free, guided Historic District Walking Tour or a carriage ride with the Cane River Carriage Company are other great ways to learn about Natchitoches history and culture.
Place to eat: Lasyone's Meat Pie Restaurant delivers the town's trademark meat pies, but don't miss their crawfish pies and other Southern dishes.
Place to stay: The antebellum Samuel Guy House not only offers delectable luxurious accommodations but the owner's extensive antique collections exhibited around the bed and breakfast will amaze.
Don't miss: Take a walking tour of the American Cemetery, the oldest cemetery in town, to visit the graves of the city founders and the site of the dramatic (and tear-inducing) conclusion to "Steel Magnolias."
Website: natchitoches.com
Franklin
More than 400 historical properties make up Franklin's historic district, accented by its charming trademark cast iron lampposts and listed in the National Register of Historic Places. Franklin offers tours of homes throughout the year, plus celebrates its charming Main Street with several festivals. Franklin is also located along the sleepy picturesque Bayou Teche with Main Street running parallel to the bayou.
It's no wonder the town was named in the top 100 small towns in America by Norman Crampton in his book "The 100 Best Small Towns in America." Or described as "… one of the prettiest of Louisiana towns, all cool and green and white, with old homes standing back on smooth green lawns…," by Lyle Saxon in "Old Louisiana."
Some of the impressive homes to be found in and around Franklin include the 1837 Oaklawn, used in the Paul Newman and Joanne Woodward film "The Drowning Pool" and once home to Louisiana governor Mike Foster, the French
Colonial Darby House and the circa-1851 Greek Revival–style Grevemberg House Museum.
In addition to shopping the establishments along Main Street, visitors may enjoy community theater at the 1940 Teche Theatre for the Performing Arts, a bike ride along the Old Spanish Trail and Bayou Teche Scenic Byway or the celebration of the Louisiana black bear at the annual Bayou Teche Black Bear Festival.
Place to eat: Start with beignets and coffee at the Lamp Lighter Coffeehouse & Bistro then progress to lunch or dinner at the longstanding Forest Restaurant, serving up Louisiana favorites and Italian cuisine.
Place to stay: The Fairfax House is an antebellum B&B that's within walking distance of both downtown Franklin and Bayou Teche.
Don't miss: Since most of the historic homes are nestled within the downtown area, a walking tour is a must; visit the tourism website below for a list of historic properties or join a two-hour stroll with Tours by Steven (toursbysteven.com).
Website: franklin-la.com
Art Galleries
Ponchatoula
It's difficult to miss Revival Art House, with its purple exterior and school bus out front. Inside lies 3,000 square feet of artwork and crafts from 200-plus Louisiana artisans. There's a little bit of everything, said Emily McKneely Matise, director of sales at Tangipahoa Parish Convention and Visitors Bureau. "It's a super good mix."
New Iberia
A&E Gallery, owned by artist and author Paul Schexnayder, sells works by Acadiana artists, many of whom, including Schexnayder, use the gallery as studio space. The 2,000-square-foot gallery is housed inside the 1884 Erath Building and also used for poetry readings, book signings and art classes. District Art on Main Street also spotlights Acadiana artists. "We share customers," Schexnayder said.
St. Francisville
St. Francisville is home to two art galleries, Joe Savell's Backwoods Gallery on Ferdinand and Herschel Harrington's Harrington Gallery on Royal Street. Louisiana photographer and author C.C. Lockwood has a gallery in the cottages behind Magnolia Café. Lockwood's gallery is open when he's not in the wild shooting his award-winning photography.
Ruston
The Creative Exchange sells works by local artists and artisans, but saves space for artist demonstrations and classes. Ruston Artisans also supports local artists and Fringe gallery serves as an artist collective that hosts occasional exhibits.
Natchitoches
Natchitoches Art Guild & Gallery, located on Front Street in the heart of downtown Natchitoches, the nonprofit co-operative guild promotes art and local artists in addition to offering workshops and demonstrations.
Franklin
The Acadiana town named for Benjamin Franklin doesn't offer an art gallery, but many of the downtowns stores, such as Gather on Main and The French Door, sell works of art. The Todd Art Gallery highlights the works of Franklin photographer Francis Todd and exists within The Fountain of Youth shop.
Monroe/West Monroe
Numerous art galleries call Monroe and its sister city of West Monroe home and participate in an "Art Crawl" on occasion. Most galleries in Monroe are located along or near North Second Street. For a list of the galleries in both cities, visit downtowngallerycrawl.com.