Margaret Mays Ellerman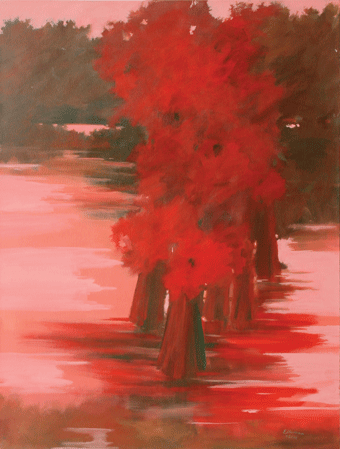 Paul Klee, the acclaimed Swiss expressionist painter, once said, "Art does not reproduce the visible; rather it makes it visible." Driving the rural back roads and highways of Northeast Louisiana, Margaret Ellerman of Winnsboro opens her imagination and her art to the passing landscape: sometimes a cypress stand in a dark lake, a bayou cutting across a grassy meadow or an old cotton gin rusting alongside a dusty road. Her lush, moody images of North Louisiana are like memories of places we have been but never really seen. Like so many landscape painters who explore their immediate surroundings and the familiar, Ellerman helps make the world around her visible through her art.
That world often takes her to the Tensas Wildlife Refuge, Big Lake Wildlife Refuge, Lake Bruin, Lake Bistineau near Shreveport, along Interstate 20 or simply the back roads and dusty lanes that divide cotton or cornfields or cross slow-running creeks. Sometimes she paints familiar places that recall memories from her childhood in Franklin Parish in North Louisiana. Ellerman says that, like novelists, artists should paint what they know best. "You have the most intense feelings about your own surroundings," she says.
While driving across the landscape, she stops her car from time to time and paints a scene plein-air, on location. She prefers, however, to work in her studio from black-and-white photographs or from small sketches or watercolor studies done on location. "I use black-and-white photographs because I like my own color combinations and my own memories and feelings about the scene," she says, her eyes glancing across the room to a painted landscaped hanging on a corner wall. "Some scenes I just paint from memory and don't rely upon sketches or photos. I don't want to be too literal."
When she first started painting landscapes about seven years ago, she almost always included barns and cotton gins but not now. "I think I'd like to go back and do them again but in another way rather than the realism I used to achieve," she says.
Ellerman also seeks solitude. "I look for places that have water, places where people can't get into with mowing machines," she says. "I look for paths that are growing up. I feel like I'm very conscious of noises, the wildlife and birds. It's like being a kid out in the summertime. When I was a child before television, I was always outside and closer to nature, hearing the wind in the trees and fish jumping in the rivers and ponds."
Although Ellerman searches rural areas for scenes to paint, ironically, she doesn't care for the natural colors of the local landscape. "I want the color to be more emotional than literal," she explains. "The Louisiana landscape looks like a plate of spinach –– so green. The blues of the sky don't go well with the greens on the ground or the trees. I like my colors to be more subdued." As a result, she creates her own impressions of the North Louisiana landscape by mixing her palette with warmer tones. She also prefers the soft, warm tones of morning or early-evening light and their long shadows. "The colors are softer, and details don't stand out as much then," she says. "I want more mood and softness and more drama."
That mood, softness and sublime drama can be seen in paintings such as On Interstate 20, Rocky Bottom and Light on the Tensas. In these and other paintings, details seem unimportant. Like the impressionist painters and many other Louisiana landscape artists, she responds more to light, color and only the suggestion of imagery. Or, as she states on her gallery's Web site, "I use emotional color and simplified forms that are not reality but present a sense of place."
Her sense of place is literally all over Winnsboro. She has left a trail of murals around town, featuring images of local historic figures and buildings in places ranging from Franklin Parish High School and the old Princess Theatre in downtown Winnsboro to the Catfish Festival Building, the Prairie Street Historic District and Caldwell Parish High School in the nearby town of Columbia.
"Margaret is one of our most prolific artists," says Tommy Usrey, president and chief executive officer of the Northeast Louisiana Arts Council. "She's a gifted artist. Her work has such depth. The brush strokes almost speak to you. They let me pause and clear my mind and then look deeper into what she is saying and accomplishing in her own mind. Her work is stunning and really speaks to me."
Equally important, Usrey says, Ellerman is a gifted teacher. Like many other artists, Ellerman has found her artistic voice not only in her palette but also in teaching art to others. For many years, she has taught art at Franklin Parish High School; Delta Community College in Monroe; and numerous art workshops for children, teenagers and adults in Louisiana, Mississippi and Arkansas. "She has this ability to work with students and stimulate their creativity," Usrey says. Although Ellerman teaches various grade levels and ages, she prefers teaching teenagers: "They are so eager to learn."
Her early college academic background is English education and library science, but Ellerman later studied art at Louisiana Tech in Ruston, the University of Louisiana at Monroe and at artist workshops from Taos to New York given by nationally acclaimed artists. Her work has been featured in several juried competitions including the Masur Museum of Art, the Southern Watercolor Society, the Southwestern Watercolor Society and Mid-Southern Watercolorists, and in 1998 the Northeast Louisiana Arts Council named her Artist of the Year. She also is a member of the River Cities Art Association, Southern Watercolor Society, Mid-Southern Watercolorists and the Louisiana Watercolor Society.
Until recently, Ellerman has concentrated on landscapes, real and imagined. She is now exploring her imagination in directions away from the meadows and creeks to still lifes and more abstract work.
Margaret Ellerman's painting, along with those of other area artists, can be seen at the Ouachita River Art Gallery in West Monroe. Visit www.orag.org for more information.