Masquerade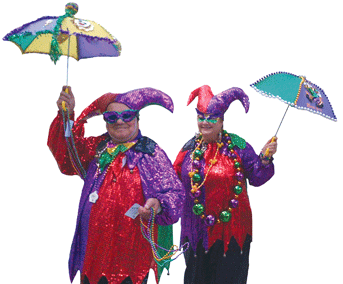 As our carriage approached the building that houses the Mardi Gras Museum of Imperial Calcasieu in Lake Charles, a group of masked revelers was waiting in the parking lot. When the mule stopped, the revelers approached us and began tossing beads while someone toted a boombox broadcasting blasts of Carnival music.
A few explanations here: Yes, I did write "carriage," and it was a mule that came to a stop. Our tour group had just been taken for a ride through Lake Charles' Charpentier Historic District, an area of distinctive older houses built back in the days when there were few architects but many creative carpenters ("charpentiers") who often designed the houses on whims.
At the end of our ride was a converted school that now serves as an arts and humanities center, part of which includes the Mardi Gras Museum. And herein is another explanation. Mardi Gras? Lake Charles? A museum?
Lake Charles has always been a culturally perplexing town; located a little too far east of the border to be totally Texan in character and a little too far west of the Atchafalaya to be totally Cajun, it is a hybrid blended with the other elements of American cross-pollination. Interstate-10 helps integrate all the elements, including the Louisiana Carnival as it has spread from New Orleans.
Mardi Gras, as it developed in New Orleans, can be historically and sociologically deep, borrowing elements from eastern American and European traditions and with some parts linked to the city's social scene.
As the celebration expands from New Orleans, the complexity decreases. Carnival in other places is celebrated simply as an anticipated boomlet for various towns' local tourism, most often with some charitable connections and frequently sold as being family-friendly. At its simplest, it's a great way for other towns to have fun, too.
Lake Charles has not only embraced the Mardi Gras but also positioned itself as the celebration's capital in southwestern Louisiana. The museum is its archive, including what is billed as "the largest collection of Mardi Gras costumes on the Gulf Coast." If someone knew absolutely nothing about the Louisiana Carnival celebration and spent a day in the museum, which even includes a robotic King Cake baby explaining the King Cake tradition, he or she will have mastered advanced studies.
Carnival as it is celebrated throughout Louisiana borrows much from New Orleans (including the second-line umbrellas seen in the picture above) but then, as happens in evolution, it takes on a character of its own. There are elements here of the New Orleans Carnival at its best, including quality float-making and original costuming for float riders, that other places would do well to try to imitate, yet it still maintains its own feel. Like the homes in the Charpentier Historic District prove, for something to become enduring, it may not need a master plan, but imagination and quality will keep it on the map.