Maybe A Walk In The Woods Is In Order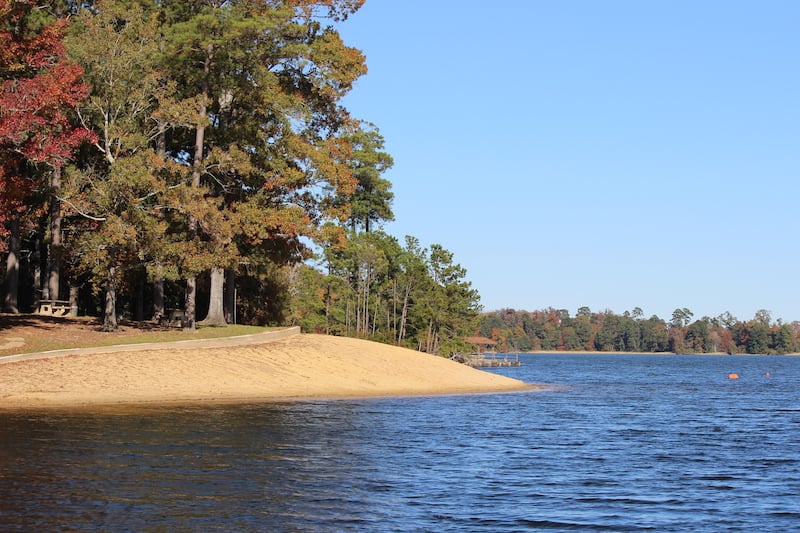 We may be banished from crowds and busy public places, but that doesn't mean we have to give up adventure. You can escape civilization and get back to nature at the many state parks and recreation areas located throughout Louisiana.
An ideal day trip this time of year is the Indian Creek Lake and Recreation Area at Woodworth, this year's recipient of the Campground/RV Park of the Year award by the Louisiana Travel Association. The park south of Alexandria consists of piney woods, a 2,250-acre lake and 250 acres of primitive camping area if a weekend getaway is in order. The peaceful lake was created by damming Indian Creek further downstream to provide irrigation to neighboring agriculture in times of drought. For the rest of us, that means great water recreation and fishing.
There are 109 campsites with water and electrical hookups, three beaches for swimming and bathhouses (although mid-spring may not be the best time to enter the water), a boat launch and 75 picnic sites. A covered pavilion provides for groups of up to 100 people. The Indian Creek Hiking Trail offers a two-and-a-half mile long path through a mixed pine-hardwood forest and traverses uplands and minor stream bottoms. Fishing is permitted year-round and in accordance with state fishing regulations.
The park hosts several events each year such as the Golf Cart & Pet Mardi Gras Parade, Easter egg hunts, Antique Tractor & Classic Car Show, Indian Creek Triathlon, Fourth of July fireworks, and trick-or-treating. Naturally, since closures have become part of our daily lives, it's best to call in advance for event updates.
Visitors can enjoy the park and lake for a $7 day-use fee, which includes use of the boat launch, with a 50 percent discount for veterans with proof of ID. RV and tent camping facilities are available on a first-come basis and cost $14-$54 per night. Reservations can be made during business hours at (318) 487-5058.
Woodworth is the nearest town and offers places to eat and purchase supplies, along with what is believed to be the world's tallest fire tower at 175 feet.
If you're up for a hike, head west-northwest into the Kisatchie Forest and enjoy the 23.9-mile Wild Azalea Trail, designated a National Recreation Trail because of its outstanding scenic views and abundance of fascinating plant species, including several species of orchids and the only known population of bog moss west of the Mississippi. Hikers can work the entire trail in 16 hours, but most people prefer smaller increments. Naturally, the best time to visit the trail is in early spring when azaleas are in bloom. The trail includes shelters, a recreation area for camping and drinking water facilities. For more information, call (318) 445-9396 or visit https://www.fs.usda.gov/recarea/kisatchie/null/recarea/?recid=34655&actid=50. For more information on Indian Creek Recreation Area, visit www.ldaf.la.gov or check out the Indian Creek Recreation Area Facebook page at @indiancreekrecreationareaLDAF.
Note: Bayou Segnette State Park in Westwego is closed to the public, effective immediately. Because of its proximity to New Orleans, the area currently experiencing the most cases of the
virus, the park is being staged as a possible overflow isolation area for suspected cases of COVID-19.