Natural Science
New Orleans artist and environmental steward Pippin Frisbie-Calder's work lives at the intersection of art and science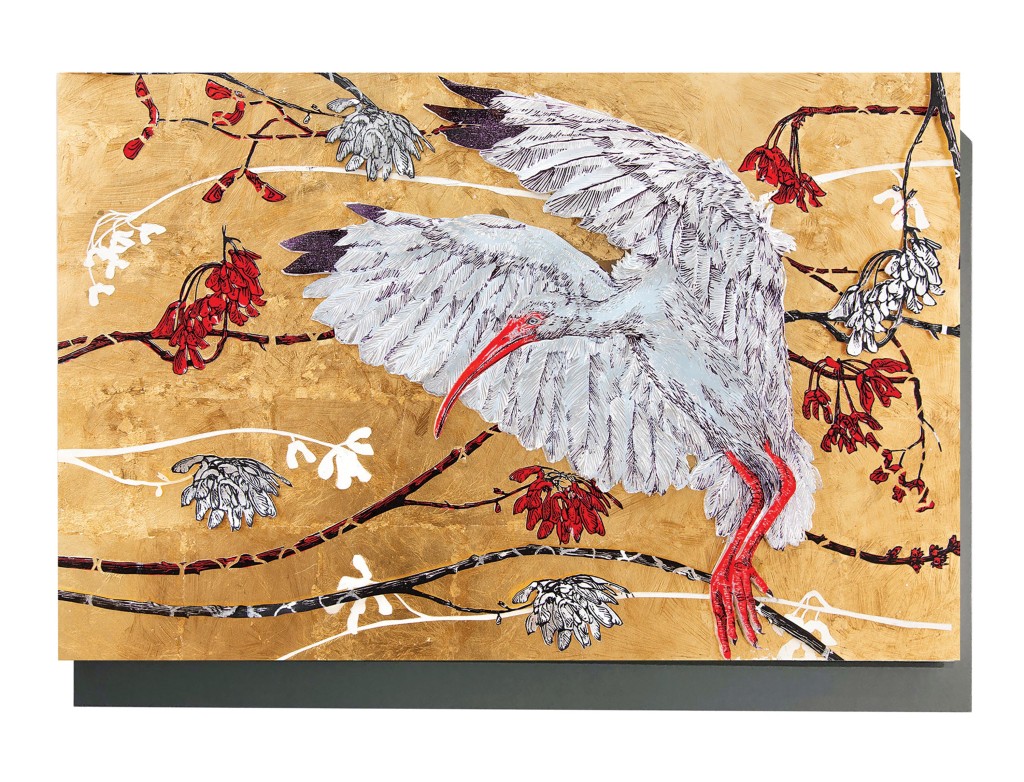 Are science and art really that much different? Not to New Orleans artist and environmentalist Pippin Frisbie-Calder.
Like many artists — including Leonardo da Vinci ­— who draw no distinction between art and science, Frisbie-Calder sees science as an invaluable resource for creating her art. Both require conceptualization, imagination and visualization. They are the foundation of Frisbie-Calder's art.
Working with scientists and naturalists, her visually strong mixed-media images explore today's ecological issues from the smallest aquatic microbes at the bottom of Louisiana's wetlands food chain to the extinction of the ivory-billed woodpecker, the bald eagles' return to South Louisiana, and nesting birds along the coast of Maine.
That interest began early in life. Born in Hammond, in 1985, young Pippin and her parents, whom she describes as "hippies and bird-lovers," summered in Maine and wintered on a sailboat in Mandeville on the Northshore of Lake Pontchartrain and in the Caribbean. Her mother, an artist from Ponchatoula, and her British father named her Pippin after the popular English apple. She went on to get degrees in art from the Rhode Island School of Design and Tulane University. With that background, art and nature were irresistible.
In more recent years, Frisbie-Calder has held residencies at the Joan Mitchell Foundation in New Orleans and at Tulane's Studio in the Woods, located on the Mississippi River below the city's West Bank suburb Algiers. There she teamed up first with Tulane microbiologist Tim McLean to study the micro-ecology of Louisiana's swampland waters. From these microscopic images, she created silk screens and light sculptures to bring greater public attention to the region's threatened ecosystem.
"A lot of my work is about climate change," she says. "We were demonstrating how we don't know anything about the base foundation of our ecosystem, which are the micro-organisms that feed everything in the food chain. While we are dealing with catastrophic land loss, oil spills, climate change and other issues that are damaging these systems, we will not know how they will affect the food chain. There is not enough information."
Pippin's second project joined her with Tulane biologist Jordan Karubian and his ongoing study of lead content found in mockingbirds captured in New Orleans neighborhoods known to have high concentrations of lead. To make people aware of the problem, she and her friends formed the Mardi Gras Mockingbird Krewe to collect beads from people along parade routes. In exchange for their beads, which she says contain lead paint, krewe members gave out small works of art that Frisbie-Calder created to illustrate the dangers of lead to the environment and people. In 2020, she made small wooden disks with silkscreened images of mockingbirds and labels that explained the project's purpose.
Frisbie-Calder says she enjoys working with scientists because they focus on finding new information about what is being lost or damaged.
"Stewardship," she says, "is really important to me whether it's getting people to think about environmental degradation or about the way we've successfully restored species like the bald eagle."
Perhaps her best-known work celebrates the bald eagles' return to South Louisiana. In recent years, Pippin has made numerous trips into swamplands, photographing bald eagles found on the northern edges of Lake Maurepas and along Interstate-10 on the Bonnet Carré Spillway. The resulting series, "Resurgence," is an impressive body of mixed-media silkscreen and digital prints rendered from drawings, photographs and videos.
"When you talk about the environment to people, sometimes their eyes glaze over," she says. "That's why I chose the eagles. People are excited about them returning. There were only five nesting pairs here in the 1960s and four in the 1970s and now there are over 350 nesting pairs just in South Louisiana. They were almost extinct in this area, and they've come back due to environmental policy changes."
To Frisbie-Calder birds are a clarion call to action. In addition to her mockingbird and eagle projects, in 2017 she created the installation "Cancelled Edition – Ivory Bill Woodpecker," decrying the extinction of that once prolific bird. It continues to travel the nation and Canada. She is now working on another installation with the Audubon Society in Maine called the "Puffin Project" that's trying to restore that almost extinct bird to Maine's coast. She is not too hopeful about the puffin's long-term return, however.
"Climate change will probably wipe these puffins out again," she says. "The warming waters make the fish go deeper and farther out and the puffins have to switch to a different kind of fish that are too wide and the baby puffins starve to death. Again, I'm interested in these critical moments where we have decisions to make as to what is important to us."
As to slowing climate change, Pippin is determined to make a difference but is a bit skeptical.
"I don't know if anything will be done about it," she says, reflecting a moment, "but I can still be mad about it. You never know, you might change a few minds, and that's my way of dealing with all this stuff."
Exhibits
Cajun
Vanishing Black Bars & Lounges
New Orleans photographer L. Kasimu Harris, through July 30. Paul and Lulu Hilliard University Art Museum, Lafayette.hilliardmuseum.org
Central
Smith & Wisznia Collection
Features work by 30 Louisiana artists, March 5 through June 18. Alexandria Museum of Art. themuseum.org  
Plantation
In Empathy We Trust
Works by artists Elizabeth Kleinveld and Epaul Julien, through Oct. 30. Louisiana Art & Science Museum, Baton Rouge. lasm.org
NOLA
Queen Nefertari's Egypt
Power of women in Egypt's New Kingdom, through July 17. New Orleans Museum of Art. noma.org
North
William Dunlap
Southern artist William Dunlap, May 26 through Aug. 6, Masur Museum of Art, Monroe. masurmuseum.org