Nature Heals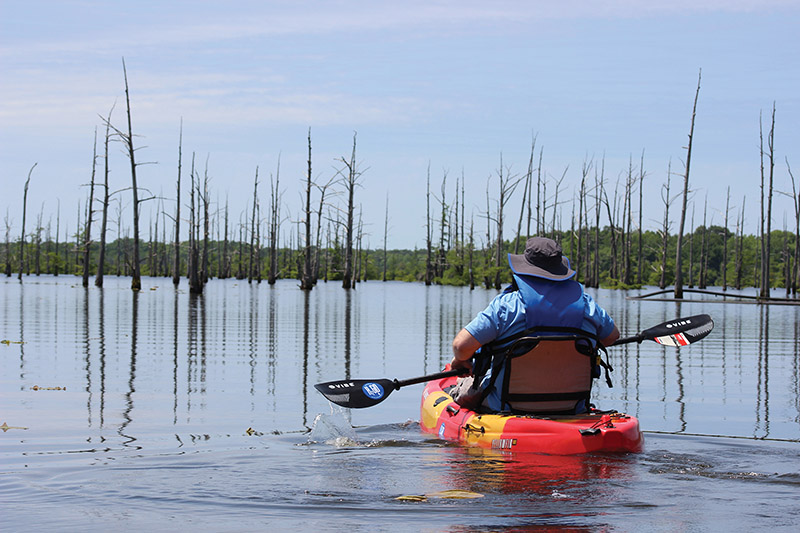 Mark Elliott had spent 70 straight days working in his kayak outfitter warehouse after having to send five of his employees home due to COVID-19.
Spring was usually a time when interest in paddling surged, but the phones weren't ringing in his H2GO office in Monroe.
Lucky for him this travel writer needed a story. Elliott was more than willing to show me the waterways surrounding the twin cities of Monroe and West Monroe, eager to get back outside. As we put in at Black Bayou Lake, a wildlife management refuge just north of Monroe, floating among the cypress trees, gators and a symphony of birds in temperate conditions, he wasn't the only one smiling broadly. It was my first foray outside in weeks, as well.
Louisiana contains some of the most unique outdoors adventures in America, particularly when it comes to water. Visitors travel from around the world to witness our swamps, bayous and the many unique critters, Elliott said. Maybe we've become accustomed to them being right outside our back doors, and when so much inside keeps us busy, but if there's one thing COVID-19 taught us its that nature heals.
It's why Elliott started his business five years ago. His brother had introduced him to paddle boarding but when Elliott tried to purchase a board, the nearest dealer was south of New Orleans. The main office in Destin suggested he become a dealer, selling products through north Louisiana and Arkansas. Eventually, H2GO began selling kayaks, gear and clothing as well.
Elliott's business, however, goes beyond pushing merchandise. His passion for paddling and his belief that Louisiana residents take the beauty around them for granted has inspired him to provide services that range from kayak rentals to overnight camp outfitting. He rents kayaks and paddle boards by the day, allowing visitors to pick up boats and take their time exploring area waterways. Elliott even includes soft cushions for the kayaks to rest upon so even those with small cars can easily transport the boats. And if you're looking for a party, he rents a VESL Bomber board, a massive paddle board for six.
After a day of spotting wading birds, a few alligators and a glimpse of a rare scarlet tanager, Elliott left me with some wise words: "A great day in nature with excellent company is a time to be treasured."
---
Black Bayou Lake
The 5,300-acre National Wildlife Refuge includes hiking trails, butterfly garden, arboretum, educational center and Black Bayou Lake with a designated paddle trail. Best of all, it's minutes from Monroe.
"We're only one block off Highway 165 and 5 miles from town," Elliot said. "It's easy to get to nature."
For those who don't want to transport boats, the Friends of Black Bayou rents canoes and kayaks at the Visitor Center.
---
Bayou DeSiard
Bayou DeSiard meanders through both the refuge and throughout Monroe and makes for excellent paddling. One way to get on the bayou is a public access point behind CenturyLink headquarters off Highway 165.
"You can go about 16 miles to the north," Elliott explained. "To the south, only about a half of a mile because there's an earthen bridge."
The Wesley Foundation at the University of Louisiana at Monroe also rents kayaks and canoes.
---
Ouachita River
A public boat launch at Moon Lake, a semi-circular body of water off the river, allows paddlers to head downstream toward downtown Monroe and pause on sand bars.
"A lot of families use this to get on the bayou," Elliott said. "It makes for a nice day trip. You can easily make that trip in three to four hours in my lightweight kayaks."
Elliott offers a monthly Paddle and a Pint trip to Trapp's restaurant landing in West Monroe.
---
→ For more information on H2GO, call (318) 372-8801 or visit H2GOPaddle.com
---