Nature's Exquisite Song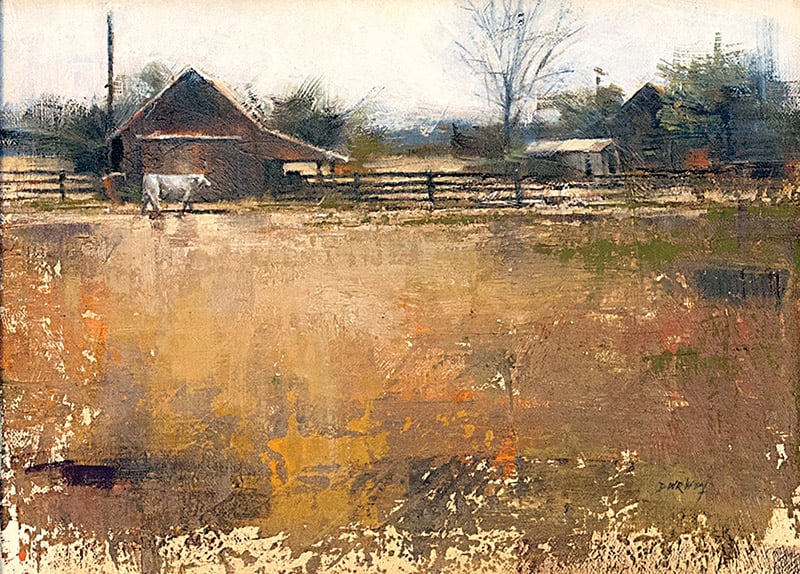 The celebrated 19th-century American artist James McNeill Whistler once wrote that nature "sings her exquisite song to the artist alone." Many Louisiana landscape painters believe Whistler's "exquisite song" is heard best by artists who paint outdoors in the natural landscape.
"In a landscape, every spot has a sense of presence, a sense of place, if you honestly look at it," says Auseklis Ozols, the acclaimed Latvian-born New Orleans artist and founder of the New Orleans Academy of Fine Arts. "You can't get that from a photograph. At the moment you're observing a scene, there's a spirit out there wherever you are. It's something magical that goes into your head, then into your hand, and then into the painting."
Painting "en plein air," as the French say, has been popular in Europe since the late 18th and 19th centuries, especially among the French Impressionists and their American disciples. It has been a steady art form in Louisiana since the late 1800s. Today, artists across Louisiana brave insects, rain, withering heat and humidity in search of Whistler's "exquisite song." Some find it in wetlands, along bayous or in woodlands while others listen for it in towns, cities and farmlands. Some complete their paintings on location while others use their plein air paintings as studies for more detailed works back in climate-controlled studios.
"I love painting everything outdoors," says Phil Sandusky, known for his paintings of old New Orleans neighborhoods. "I like cityscapes the most because there's a bit more danger, which is exhilarating. If your goal is to capture and communicate to others the full impact and nuance of your experience, nothing beats making art in the place where that experience is happening. I started painting plein air seriously in 1984 when I moved to New Orleans because of the beautiful old architecture and lush tropic foliage. The atmosphere is thick and beautiful."
New Orleans artist Alan Flattmann, who has given painting workshops across the United States and Europe, says painting plein air enables him to respond quickly to the nuances of light and "colors that are lost in photographs" without "getting too fussy" about details.
For Dave Ivey of Keithville near Shreveport, painting outdoors brings back childhood memories of his grandfather's farm in North Louisiana. With brushes, palette and canvas, he ventures out into the countryside to a nearby pasture or lake. There, he says, is his "perfect environment, alone with nature."
In Central Louisiana, Margie Tate finds her perfect environment in the woodlands near her home in McNary southwest of Alexandria. Embraced by forests and warm sunlight dappling through overhanging tree limbs, she feels an "intimacy" with nature and the land.
Farther south, Charles Smith explores the Baton Rouge area to "capture the beauty" of the disappearing rural landscape. Though he also paints in his studio, plein air painting has taught him "the reality of color and value" and "how much light and color there actually [are] in shadows."
Over in New Iberia, artist Jerome Weber, who co-founded the annual Shadows-on-the-Tech Plein Air Painting Competition with the Shadows' director Patricia Kahle, says South Louisiana "is the most beautiful place to paint" and that he tries to "tell a story" with each new painting.
In St. Tammany Parish north of Lake Pontchartrain, Mary Monk finds inspiration in the marshes bordering the lake. There, she says, "she has always found peace" painting a sunset and telling "the quiet stories of this place."
On the eastern side of the parish, Carol Hallock, who resides along Bayou Lacombe, paddles her kayak up and down the bayou to capture moments of "soft and inviting" light and stands of live oaks with their "power, rhythm and beauty." Watery scenes along the bayou, she says, are "soothing and mesmerizing, a biological need."
Whether searching for "soft and inviting" light, a "magical" experience, or "exhilarating" city street scenes, Louisiana artists who paint out in nature continue to give us "exquisite" songs up from the land.
---
EXHIBITS
Cajun
"Bridging the Mississippi: Spans across the Father of Waters."
Photographer Philip Gould documents bridges and their historic significance along the Mississippi River, through April 3, 2021. Paul and Lulu Hilliard University Art Museum, Lafayette. hilliardmuseum.org
Central
"Collected Visions: Louisiana's Artistic Lineage."
Features the connected visions of Louisiana artists over the last century, through 2022. Alexandria Museum of Art. themuseum.org
Plantation
"Frank Hayden: Lift Every Voice."
Features work by the influential Louisiana sculptor shaped by Catholic faith and Civil Rights Movement, through Dec. 1. Louisiana Art & Science Museum, Baton Rouge. lasm.org
NOLA
"Louisiana Contemporary."
Statewide juried exhibition featuring contemporary art in Louisiana, through Feb. 7. Ogden Museum of Southern Art. ogdenmuseum.org
North
"Theo Tobiasse: Textural Emergence."
Features 20th century French artist Tobiasse's metaphoric Judeo-Christian paintings, through Feb. 6. Masur Museum, Monroe. masurmuseum.org