New Classic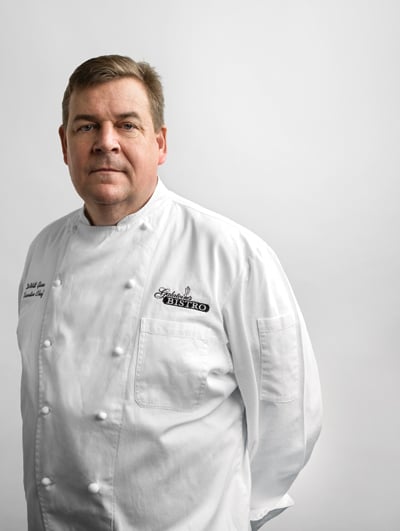 When Louisiana Life last spoke to Chef DeWitt Ginn, he was at the helm of Baton Rouge's Table Kitchen & Bar. Now, he is the captain of a different ship. Ginn took over as executive chef of Galatoire's Bistro in Baton Rouge in August of 2016 and quickly settled in.
"I've just recently changed the bar menu and we're doing house-made charcuterie boards, which I'm excited about," says Ginn.
Though Ginn was trained in the classic French Creole style that Galatoire's is known for, his own style is simple and pure, like his charcuterie boards.
"It really hits the soul of who I am," says Ginn. "I worked in a slaughterhouse in high school and then I was out of the food industry for many years. When I got back into it, I wanted to go back to those roots. It brings me back to who I am as a person, as a chef. It takes a lot of technique to make a good pâté. Not a lot of people can do it, but a lot of people can cook a piece of fish."
Ginn plans to keep most of Galatoire's traditional menu, but new items are also in the works, as well as a rotation of ever-evolving specials to keep him fresh.
"I'm always playing and always experimenting and whatever I put out that day is truly my favorite thing to cook while I'm doing it," says Ginn. "That keeps me enjoying it."
Galatoire's 3535 Perkins Rd. #400 • Baton Rouge • 225-753-4864 • galatoiresbistro.com
Dad's Favorite Fish
FOR THE BEURRE BLANC
1 shallot fine diced
5 cloves garlic minced
1 lemon cut into eight pieces
½ cup white wine vinegar
½ cup white wine
1 sprig fresh thyme
10 whole peppercorns
4 bay leaves
¼ cup heavy cream
1 lb unsalted butter cut
into ¼ inch pieces.
12 pieces saffron
FOR THE FISH AND VEGETABLES
2 seven to nine ounce black
drum filets
1 ½ cups zucchini large, diced 1 ½ cups large, diced
yellow squash
1 teaspoon minced garlic
1 tablespoon fine diced
shallot
¼ cup fine diced red bell
pepper
salt and pepper to taste
white wine
For the beurre blanc
1.In saucepan add all ingredients except cream, butter and saffron. Bring to a boil and reduce until au sec (or nearly dry).
2. Add heavy cream and reduce by half. Take off heat and mount with the butter (emulsify butter into it). Strain through fine mesh and add saffron. The saffron will take a few minutes to bloom and add color to the sauce, so it should be made prior to starting the fish.
For the fish
3.and vegetables Bring small amount of vegetable oil to moderate heat in sauté pan or cast iron skillet. Salt and pepper fish filets and lay them presentation side down in oil. Flip after 2 to 3 minutes. The fish will develop a crispy crust on the edges.
4. In separate skillet, heat small amount of vegetable oil over medium heat. Add shallots and red bell pepper, cooking for around a minute. Add squash, garlic, salt and pepper to taste. As the squash begins to caramelize, add a tablespoon of white wine. The vegetables will cook a little quicker than the fish.
---
"This is a dish that I cook for my Dad a lot. We've fished together since I was a toddler, and he passed his love of gardening to me as well. A few years ago he was coming over for dinner. I had fresh drum from the camp and fresh squash from the garden. He gets a variation of this dish almost every time he visits the restaurant."
---