New Grant From Foundation for Louisiana to Fund Up to 40 Louisiana Artists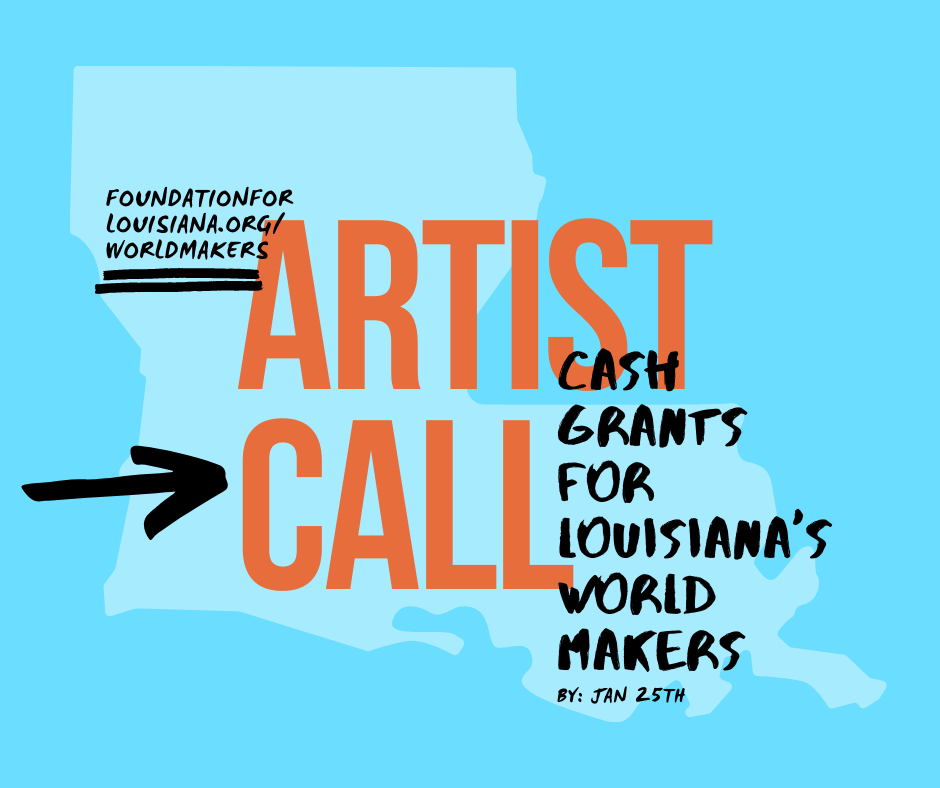 BATON ROUGE, La (press release) – For the first time in its organizational history, Foundation for Louisiana (FFL) has announced a round of grantmaking in support of Louisiana arts & culture. The new opportunity pays homage to the ways in which Louisianans have learned to adapt to survive. FFL will provide unrestricted cash grants ranging from $5,000-10,000 to 30-40 Louisiana-based individual artists or collectives whose artistic and cultural work addresses climate impacts, mass incarceration, cultural memory and legacy, and/or displacement and erasure of Black and Indigenous communities.
In order to increase the flow of financial resources to Louisiana's BIPOC (Black, Indigenous, people of color) artists, those born, raised, and/or with generational ties to Louisiana, elder artists, and BIPOC transgender artists, the foundation has launched an open call for applicants of all artistic disciplines and at all stages of development. "We believe artists can help transform our sense of what is possible," explained Director of Strategic Initiatives, Cherry Rangel, "In these times of great upheaval, we must support visionary creative work that helps point our communities toward justice and liberation."
FFL broadly defines artistic, creative, and cultural practice and welcomes applications from artists working across a wide array of genres and disciplines. The foundation is particularly excited to support Louisiana-specific cultural practices, including (but not limited to):
Cultural and artistic practices of indigenous and Native American peoples of these lands

Black Masking Indian Traditions

Musical traditions from jazz to zydeco to bounce and beyond

Louisiana foodways, cuisine, and culinary traditions
Interested applicants can find more information on the Foundation for Louisiana website and may apply before February 1st, 2021 via the submittable portal.